The Career Development Cycle is the conceptual framework for how we support students and alumni with their career journeys. We talk about this as a cycle because you can start at any point and move through the steps in any direction as you need to. Exploration leads to an internship or a job where you build skills but also discover a new interest, so you might head back to self-discovery before finding your next position.
Below you'll find more about each step along with goals and recommended actions you can take. We've also included relevant Career Readiness Competencies with specific examples to show skills you'll practice with following the Career Development Cycle.

Self-Discovery
This stage (also known as self assessment) is all about building a strong foundation focused on what is important to you. Whether you are just starting your career or are considering a change, we can help you think about your goals, skills, interests, values, decision-making process, and personality type and how these can help you find a career path you'll love.
Self-Discovery: Goals, Steps, More
Self-Discovery and Career Readiness
Exploring Careers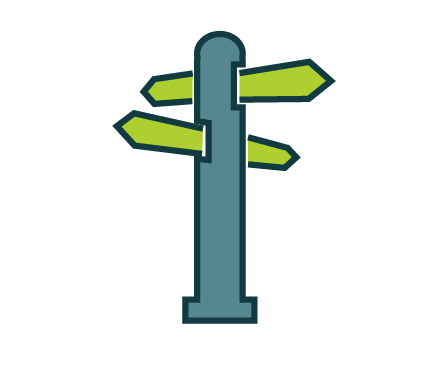 Exploring Careers focuses on collecting information about possible career paths that might interest you and are a good match for what you now know of yourself. While what you explore is up to you, we can help with online resources, events, and advice if you get stuck.
Exploring Careers: Goals, Steps, More
Exploring Careers and Career Readiness
Building Skills
With Building Skills, you'll focus on both the specifics of applying to positions and the hands-on experience and skills from coursework, study abroad, campus activities, and internships/jobs. We can help with how to conduct a search, write and target your resume, pen an effective cover letter, prepare for interviews, and even deliver an elevator pitch.
Building Skills: Goals, Steps, More
Building Skills and Career Readiness
Making It Happen
Building on everything that has come before, Making It Happen is all about taking action to achieve your goals after BU – from that first full-time job to graduate school, fellowship program or even taking a gap year. We can help with how to get from here to there, including if you're stuck or stressed.
Making It Happen: Goals, Steps, More
Making It Happen and Career Readiness
Questions or Concerns
The CCD and BU have many career resources available for you to use at your own pace. But we're also here to help if you get stuck, are having problems making decisions, or just need a helping hand. Appointments are available through Handshake. For other questions or concerns, contact us at 617-353-3590 or future@bu.edu.