Hockey Terriers' season ends in quadruple overtime thriller
By Brian Fitzgerald
During the intermission before the fourth overtime period in a game that had already broken the NCAA hockey tournament's longevity record, Mike Boyle, BU's strength and conditioning coach, stood and stretched his legs as Terrier fans around him looked at their watches -- and each other -- in disbelief.
Boyle is regarded as one of the best weight and cardio training coaches in the country. But BU's players had played the day before, beating St. Cloud State, 5-3, and then they had skated the equivalent of two games in an afternoon that was approaching evening. Several Terriers were suffering from leg cramps. During the third overtime players were having trouble climbing over the boards after their shifts. "There's not much I could do for them at this point," Boyle commented, "except tell them to drink plenty of fluid."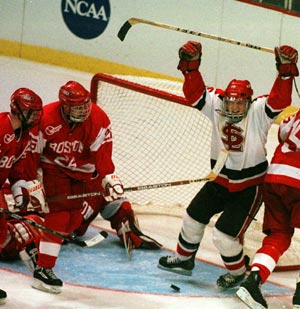 St. Lawrence's Robin Carruthers celebrates his winning goal over BU in the fourth overtime of the NCAA Eastern Regionals March 25 in Albany's Pepsi Arena.
---
That's what the Terriers and the St. Lawrence Saints were doing. The problem was they were sweating it out too quickly. Their bodies couldn't retain water or regain muscle strength. Even referee Duke Shegos skated to the point of near collapse. During the third overtime he asked BU trainer Larry Venis for some Gatorade and pills to prevent dehydration. He was given vitamins. He probably could have used a few energy bars.
And BU fans in Albany's Pepsi Arena March 25 yelled until their voices sounded like that of longtime Celtics announcer Johnny Most. "Go BU" chants turned into synchronized croaks. When their hands hurt from clapping, they stomped their feet.
Then it happened. Six hours after the first faceoff, Terrier goaltender Rick DiPietro (CAS'03) made his 77th save, but St. Lawrence's Robin Carruthers rebounded his own shot and lit a goal lamp that had been dark for more than five periods, breaking a 2-2 tie and the hearts of the BU faithful.
Carruthers was mobbed by his teammates. St. Lawrence's fans went berserk. And the road-weary BU boosters, after several minutes of stunned silence, clapped their sore hands and gave their team a standing ovation.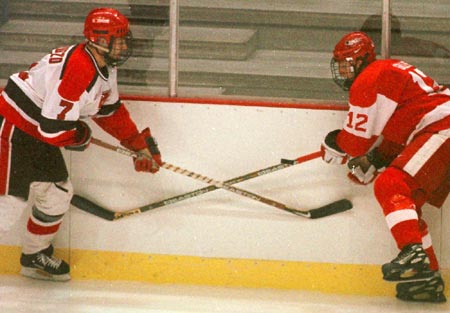 BU's Nick Gillis (MET'03) (right) tries to take the puck past St. Lawrence center Sean Muir during the Terriers' 3-2 quadruple overtime loss to the Saints. BU had rallied from a 2-0 deficit to tie the game in the third period.
---
Gone was a BU-Boston College dream matchup in the Final Four. But Terrier coach Jack Parker put the loss in perspective: this is a squad that was picked to finish fifth in its own conference at the beginning of the season. Boston University didn't even make the NCAA tournament last year. And down 2-1 in the third period against a well-rested St. Lawrence team, BU managed to set the stage for one of the greatest overtime epics ever when Brian Collins (MET'03) tipped in a shot by Chris Dyment (MET'02) with 8:10 left in regulation. Little did the crowd know that there would be plenty of theatrics left in the Capital District.
"I think it was great that we came back from being down two-love," said Parker. "This is one of the most resilient teams I've ever coached." It is also one of the youngest: only five seniors and a freshman starting goaltender who would earn Hockey East's Rookie of the Year honors.
There were immediate comparisons to some of the greatest games of all time: BU lost the 1991 NCAA national championship in triple overtime to Northern Michigan in a game that saw two Terrier shots hit the post in the third OT. Indeed, in the Terriers-Saints marathon, Dyment blasted a slap shot that hit the left post with 2:48 left in the first overtime. After that scare, "I gave the pipe a tap with my stick," said St. Lawrence freshman goaltender Derek Gustafson, apparently a superstitious athlete. When asked why he refused an offer from his bench of a water bottle, the ECAC Rookie of the Year replied, "I don't like water bottles on top of the net." After cramps buckled his legs, however, he accepted the bottle, wet his whistle, and slid the bottle back to his bench.
"It was hard to stay focused for six hours," said BU captain Tommi Degerman (CAS'00). "But nobody wanted to quit."
"We had guys leaving the bench," said Parker. "We had guys missing entire overtimes because of cramping up. We were told that they weren't going to play anymore. Then, by the time we came back to play another overtime, they were up and getting dressed again. It was unreal."
And the BU and St. Lawrence bands played on. After they had gone through their repertoires, they tried new songs. Superfan Brian Zive (CAS'94), a.k.a. Sasquatch, followed his tradition of taking his shirt off and rousing his compatriots in the third period. "Do you want to go to Providence?" he roared at fans, referring to the site of the Final Four. "Then let's hear it!" He repeated the act in the third overtime, and undoubtedly would have been ready if the game had gone to a sixth OT stanza.
"That was one of the greatest games I've ever been associated with," said St. Lawrence coach Joe Marsh. "I said to my team after the first overtime, 'Hey, we'll do this as long as it takes.' But I just didn't think it would take this long. It was really too bad someone had to lose. I have so much respect for BU and what Jack Parker has done. As tired as we were, can you imagine how tired they must have been, having played the day before? I tip my hat to BU. It's a tribute to their conditioning that they still had some jump at the end."