Departments


| | |
| --- | --- |
| Week of 22 January 1999 | Vol. II, No. 20 |
Feature Article

Faculty and students puff pensively as health experts fume
By Amy E. Dean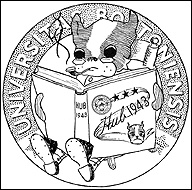 In the 1940s even Rhett's grandfather smoked a pipe. This picture is from the 1943 Hub yearbook.
---
Look at a BU yearbook or an issue of Bostonia from the 1930s through the '50s and you'd think that every male student had been given a briar pipe as part of his orientation package. Smoking a pipe from Ehrlich's, Peretti's, or any of the other local pipe shops was for decades such a visible part of life on campus that it's amazing how completely pipes vanished from the college scene -- whether for concerns of health or concerns of fashion.

But did pipes vanish? Nosing around campus today we find both faculty members and students -- men and women -- lighting neither Macanudos nor Marlboros, but Savinellis and GBDs.

Professors such as Ray Hart, Keith Botsford, and many others -- some of whom declined to be interviewed -- enjoy smoking pipes and have done so for years. Despite health risks (see sidebar), they are among an estimated one million to five million Americans who still indulge in the ritual made popular by Sir Walter Raleigh.

Botsford, COM professor of journalism, owns between 150 and 200 pipes. He started smoking while attending Yale -- "I belonged to the Elizabethan Literary Club," he says.

Safer than cigarettes? Hardly, say medical professionals

Ask Dr. Cheryl Barbanel, director of occupational health at MED, if it is safe to smoke a pipe, and her response is an emphatic no. "Pipe smoking is not a safe alternative to cigarettes," she says. "Pipe smokers are particularly prone to oral cancer, the sixth most common cancer, and cancer of the lip."

The 1998 Indiana University Prevention Resource Center FactLine cites "a false impression of glamour, a false impression of safety" with cigar and pipe smoking. "Like other forms of tobacco," states the report, "use of cigars and pipes brings risks of lung, breast, pancreatic, prostate, colorectal, liver, and oral cancer, lung disease, stroke, and heart attack. Smoke from cigars and pipes also causes respiratory infections, headaches, and burning eyes. Even for pipe and cigar smokers who say they 'don't inhale,' the risk of lung cancer is still four times greater than that of nonsmokers."

"I think it's just terrible," says Barbanel of pipe-smoking students. "There are many other safer social things to do. It's a terrible habit."

"Everybody had his pipes and kept them at the club. It was and still is a shared activity," one that Botsford says he enjoys most while cooking because "I cook and smoke by my nose."

Hart, professor of religion at CAS, started smoking when he was in his first year in seminary. He recalls a philosophy professor "who after class would invite a select handful to have coffee with him in his office to discuss Kant or whomever we were reading. He always got out his pipe when he got into close exegesis. Soon we were all doing it."

After seminary, Hart attended Yale for graduate work and studied with Robert Calhoun, "the great Plato scholar," he says, "for whom a pipe in his seminar was de rigueur." Hart owns about 50 pipes today, although he should have 62. "I was on the T going to the airport for my first trip out of Boston after arriving at BU," he explains. "Not yet being street-smart, I set my day-pack down next to my luggage at the Government Center station. I turned my head and the backpack was gone. I didn't lament all that much the cash and the plane ticket in it, but I had a dozen Dunhill pipes in there, which I'm sure were trashed in the Charles. I've never gotten over that. My wife bought me my first Dunhill when we got to Yale in 1953, paying the then-princely sum of $18. Today the same pipe is valued over $1,000."

Peaceful Pipes
For generations, the male rite of passage in going to college included taking up pipe smoking. BU offered "smokers" to the freshmen as a way of introducing them to upperclassmen. In the 1929 Syllabus yearbook, the editors wrote, ". . . we smoked the traditional 'pipe of peace' at the Freshman-Sophomore Smoker at Huntington Chambers and became quite good friends with the infants."

Amost 70 years later, it was this desire to engage in conversation and camaraderie while smoking pipes that encouraged Kelsey Lemaster (CAS'99) and Aaron Huberfeld (CAS'99) to form BU's Literary Pipesmokers Club. "We were sitting around one night, smoking in my room, discussing our readings, and I said, Why don't we just make this official?" Lemaster recalls. "I was working with the Student Activities Office at the time, so I knew how to set up a club." Lemaster approached Mary Ellen Osburn, coordinator of operations at the GSU, to be the club's advisor.

"I really was flattered," says Osburn. "Kelsey knows I smoke cigarettes, and I work at the GSU, one of the last places on campus where students can smoke." The club -- which has a number of female members -- meets once a month and gathers for one dinner per semester in the basement of Remington's restaurant, where members dine, smoke pipes, and read aloud from the works of T. S. Eliot. Boston's L. J. Peretti tobacco store, located in Park Square, sponsors the club.

"We gave them some tobacco, showed them how we make pipes, and set them up at Remington's," says co-owner Steven Willett (CAS'72). "When I was in college, people smoked pipes. BU professors smoked in class. I find today more and more young people smoking pipes. It's a more interesting way to smoke and offers interesting variations. If you're going to spend $150 a week on cigars, why not make an investment in a pipe?"

Journalist H. Paul Jeffers, who taught for a time at COM, wrote a whole book on the subject: The Perfect Pipe. "At the University of Iowa in the 1950s there were smoke-filled late-night hours working on my master's thesis. Wearing an army uniform, I smoked pipes in bars on Cannery Row in Monterey, California, while listening to stories about pipe-smoking author John Steinbeck and wondering if I would ever see my name on a book jacket. Then came pipes in my faculty office at BU and in the WHDH-TV newsroom in the town of the Kennedys and the Boston Strangler in the early 1960s. In the ABC Radio newsroom stories involved Vietnam and the Civil Rights movement. Working at NBC in the late 1970s and CBS in the Reagan years, chasing the news across the country and around the world, I never left home without a couple of pipes and a supply of tobacco in my pockets or suitcases. When I returned, I usually had at least one pipe that I'd bought to remind me as I lit it of where I'd been and why, of what I'd done, and of the interesting people I'd met."
---
For more information about the Literary Pipesmokers Club, call Kelsey Lemaster at 352-3985 or Aaron Huberfeld at 352-7840. Visit www.pipes.org to learn more about pipes and pipe smoking.
Gone in a puff of smoke. CAS Religion Professor Ray Hart smokes Captain Black white label tobacco in his favorite Dunhill pipe. Photo by Vernon Doucette