The Studios on Three Next Stage Workshops—part of BU's annual Fringe Festival—features workshop presentations of brand-new plays by MFA writers Isabelle Sanatdar Stevens, Brandon Zang, Tina Esper, and Maggie Kearnan.
Presented by the Boston University School of Theatre New Play Initiative in association with Boston Playwrights' Theatre.
The Next Stage Workshops offer free admission. Contact theatre@bu.edu for more information.
—
Like Flies: A Rage Play written and directed by Maggie Kearnan
September 22–23, 2023
CFA 354
When a mysterious new midwife comes to town, a group of women think she might have solutions for more than just childbirth. She might also have something to solve an epidemic of cruel men. Like Flies: A Rage Play is a witchy thriller with movement, sound, murder, secrets, and an ensemble of women claiming the freedom they are due.
MAGGIE KEARNAN is a playwright, director, performer, educator, and scenic artist. She has painted sets for many Boston theater companies and educational programs including Boston Playwrights' Theatre, Company One, Actors' Shakespeare Project, Boston Lyric Opera, and the Boston College Theatre Department. Her play The Mrs. had a virtual production with Newton Theater Company, and IDK [What This Is] and Idawalley have been produced at Boston College. Her 10-minute play 3,247 was a regional finalist at the 2023 Kennedy Center American College Theater Festival.
—
Down Neck by Tina Esper
September 29-30, 2023
Directed by Gregg Wiggans
CFA 354
Inspired by a short story by Brazilian novelist, Clarice Lispector, Down Neck explores the meaning of womanhood and its ripple effect on an immigrant family in Newark, New Jersey.
TINA ESPER is a first-generation American playwright of Lebanese-Brazilian and Portuguese descent. Her multi-cultural background informs her writing and underscores themes of dislocation, assimilation and the pursuit of personal freedom. She's also dedicated to telling the stories of older women that frame the political implications of aging in America.
Tina's play, Neighbor Jane, is the co-recipient of the 2023 National Partners of the American Theatre's Julie Jensen Playwriting Award. Neighbor Jane was also selected for the 2022 Great Plains Theatre Conference and was developed at The Workshop Theater's Spring Intensive 2021 and the Sewanee Writers Conference 2021. Her play Fireflies was a 2021 Woodward/Newman Drama Award Finalist as well as a 2020 O'Neill Semifinalist, a 2022 Athena Project Semifinalist, a 2021 Garry Marshall New Works Festival Semifinalist and a 2021 Cimientos Semifinalist.
—
broke (not broken), lost n found written and directed by Isabelle Sanatdar Stevens
October 6-7, 2023
CFA 354
College is hard, and being a low-income, first-gen American student can make it even harder, but when the highest paying job on-campus is as an RA, you do what you gotta do to try and bridge the gap. Four students bond over their shared role in the campus community, and the shared aspects of their backgrounds. Challenges arise as they navigate the high demands of the job while balancing schoolwork and the ever-evolving nature of their personal lives. They may be broke, but they're definitely not broken—especially now that they have each other.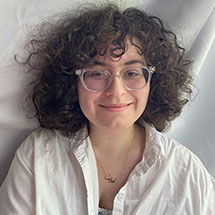 ISABELLE FERESHTEH SANATDAR STEVENS is a writer, performer, and artist whose work tends to center love and loss and responds to questions that don't have concrete answers. Low-income, Queer, first-gen Iranian-American with a found family of immigrants and refugees from different backgrounds, there's a dream in her heart that is always reminding her of its presence: to amplify her communities' voices, experiences, and languages, and put them on U.S. stages front-and-center. A 2023 Pipeline Project Artist-In-Residence at NewRep Theatre, she's developing a solo performance piece in response to the current Revolution in Iran. She's also workshopping her play Honey Girl with Fresh Ink Theatre Company in October (public performances Oct 21-22 @ the BCA). Isabelle is currently a second-year MFA Playwriting candidate at Boston University. Zan, Zendegi, Azadi—Woman, Life, Freedom.
—
Ginkgo Express written and directed by Brandon Zang
October 13-14, 2023
CFA 354
As the world comes to an end in 2099, a teenager boards a train across the Pacific Ocean to reunite the last two ginkgo trees. On the other side, in the ancient Chinese village of Tianmushan, a jaded college grad has returned to take over as chief and preserve her father's final legacy. With each day that brings them closer, relationships rekindle and bridges are burned. As the prospect of saving the ginkgo tree becomes less and less plausible, both must decide if their earnest—or futile—attempt to save their history is worth the price of a future shrouded in the ashes of their mistakes.
BRANDON ZANG is a sci-fi and fantasy playwright who uses world-building to distance, deconstruct, and dissect the complex issues of today. His award-winning steampunk play Ah Wing and the Automaton Eagle will receive its festival premiere in Charlottesville next summer, and he is currently developing his Shakespearean adaptation Nüwa in Fairyland at Lifeline Theatre. He is currently completing his MFA in playwriting at Boston University under the mentorship of Nathan Alan Davis, Ronán Noone, and Melinda Lopez, and he holds a BA from the University of Chicago.
Learn more about the Fringe Festival
Find more performances