On May 25, 2021, we paused Boston Theater Marathon XXIII: Special Zoom Edition to mark the one-year anniversary of the murder of George Floyd and shared the following statement: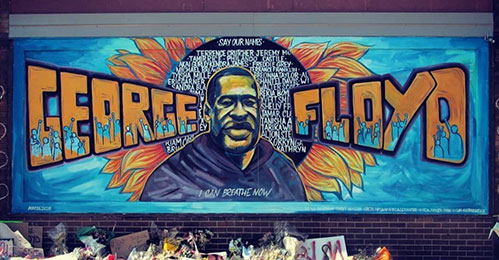 Today we pause Boston Theater Marathon XXIII to mark the one-year anniversary of the death of George Floyd. Floyd's murder at the hands of police sparked the largest protest movement in the history of this country and brought long-overdue conversations about systemic racism to the fore.
Hate crimes, restrictive laws, and brutality against all people of color, along with patent hostility toward the LGBTQIA+ and transgender communities, increased dramatically this past year. Most recently, increased acts of violence against the Asian-American and Pacific Islander communities have made national headlines.
Long-lived culture is resistant to change, so there is much work to be done.  We encourage you to take the time you would have spent at the Marathon today to reflect upon how you may make our society anti-racist and safe for all people of color, and then…to act.
"The ultimate tragedy is not oppression and cruelty by the bad people
but the silence over that by the good people."
—Martin Luther King, Jr.
BU School of Theology, 1955
Here are some resources where we all can help:
Boston University Center for Antiracist Research
National Alliance for Hispanic Health