BPT Talks About Design: a tiny q&a with GONE NOWHERE director Noah Putterman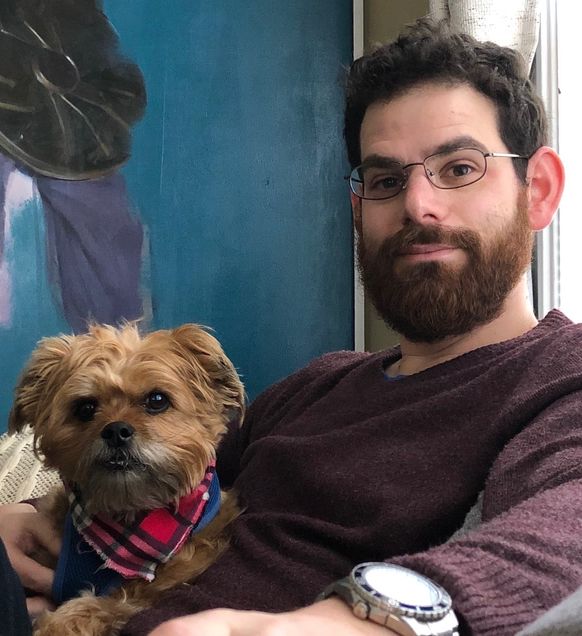 BPT's 2020-21 season of new plays—thesis plays by our cohort of third-year playwrights—has been postponed until next year due to the ongoing coronavirus pandemic. In the meantime, all five plays are currently being workshopped in collaboration with our friends at BU's College of Fine Arts School of Theatre. A series of conversations about these plays, BPT Talks, was begun last fall via the videoconferencing tool Zoom.
BPT Talks About Design (moderated by BPT Technical Director Jeffrey Petersen) will further expand the discussion with a focus on the contributions of designers and the role of design in new play development.
On March 16, we'll talk about Daniel C. Blanda's new play Gone Nowhere:
At an old cabin in rural Minnesota, something is lurking in the corn. In the wake of his father's death, straight-laced Riley has left his fiancé and the big city behind to search for peace by visiting his old friend. Luckily Hunter knows the cure for grief — old stories, the great outdoors, and plenty of beers. But soon, it becomes clear that Hunter is running from his own demons, and no one will be spared a battle. They spiral through a reckoning of biblical proportions, and neither of them will emerge as the same man…if they make it out at all. Read a Q&A with playwright Daniel C. Blanda
We asked Gone Nowhere Director Noah Putterman to share a little bit more about the role of the director in the development process:
What do you do when things aren't working? How do you know when you've given a particular idea/approach enough consideration? How do you know when it's time to move on?
For me, something "not working" means not moving. There's that old adage that you should try something at least three times before throwing it away, but as anyone who has worked with me will probably tell you, I rarely have the patience for that! I think it's usually pretty apparent when something has run its course and is no longer useful. Of course, it's all so subjective. Someone might come in with fresh eyes and say, "You know, that part doesn't really work." And I think to myself, "What!? That's the best part in the whole play!" Ultimately, all you have is your own gut and the energy of the room to guide you. And then sometimes, if you're really lucky, you get this magical thing called "previews."
What do you do when you are not getting what you need from your collaborators?
Hopefully, I find a way to tell them, in the kindest way possible, what it is that I feel the play needs from them.
What's the hardest part of directing?
Getting hired.
What has been the most memorable experience of your directing life so far? Why?
I was working at a theatre in Texas for several years, and my last show with them was with their apprentice company, high school juniors and seniors and college freshmen. We did Sweeney Todd, a dream show of mine. I had the most incredible time working on that piece. No matter how well I thought I knew it, the material always surprised me with something new. There's always more to uncover. It's truly a work of pure genius. Plus, I had an insanely talented company of young actors to work with, and some truly wonderful collaborators who I love so much. That show was pure joy for me.
What do you like to do when you're not directing plays?
I love to watch basketball. I love the game. I played a year in high school and was terrible. I'm in awe of great athletes in general. Their talent, discipline, and dedication inspire me.
What was the last play you saw before the coronavirus shutdown? How do you reflect on that experience today?
The last show I saw was the Broadway revival of Company, which was still in previews at the time. I hadn't seen a show on Broadway in years. Unbeknownst to me, a childhood friend was going on that night as an understudy for one of the bigger parts. Even though we'd worked together as adults, I still had this image of him from our adolescent years, so I couldn't imagine that I was about to see him in a Sondheim musical on Broadway! (He was always more of a Jesus Christ Superstar sort of guy.) He really impressed me. In fact, watching him was my favorite part of the show. I was so proud of him—which is funny, because I think in an earlier phase of my life, I probably would have been insanely jealous. It was humbling to see how our lives had taken such different paths. My wife and I went out for drinks with him after; we reminisced about the good old days and wondered if the show was going to have to shut down for a few weeks because of the virus. We had no idea what was coming, obviously. Looking back, it feels something like fate that we were together that night before Broadway shut down.
—
We hope you'll join us on March 16 to talk about Gone Nowhere! You'll need the Zoom app (it's free!) to participate, and it is recommended you call in a few minutes before "curtain" time. The Zoom link will be available here (scroll down); click here to learn more about the other plays featured in the BPT Talks line-up.