BPT Talks About Design: a tiny q&a with RX MACHINA director Blair Cadden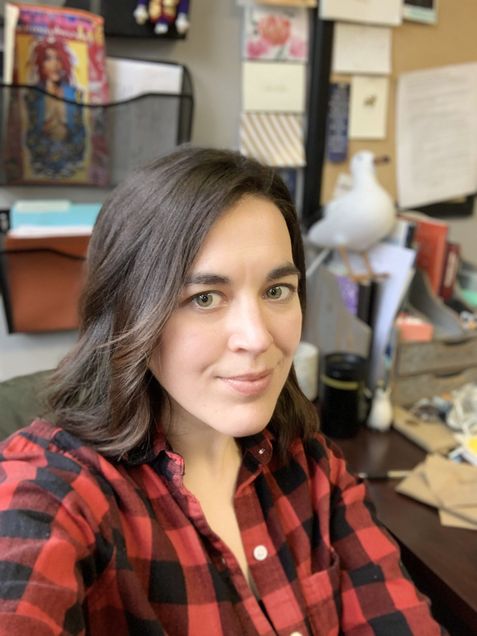 BPT's 2020-21 season of new plays—thesis plays by our cohort of third-year playwrights—has been postponed until next year due to the ongoing coronavirus pandemic. In the meantime, all five plays are currently being workshopped in collaboration with our friends at BU's College of Fine Arts School of Theatre. A series of conversations about these plays, BPT Talks, was begun last fall via the videoconferencing tool Zoom.
BPT Talks About Design (moderated by BPT Technical Director Jeffrey Petersen) will further expand the discussion with a focus on the contributions of designers and the role of design in new play development.
On March 2, we'll talk about Caity-Shea Violette's new play Rx Machina:
Rx Machina unpacks big pharma's impact on everyday American culture and illuminates the search for humanity in a healthcare system that views patients as consumers and pain as profitable. An ambitious pharmaceutical sales representative's relentless pursuit of a rigidly principled pain management doctor leads to an intoxicating, forbidden relationship that comes with a cost. Ethical boundaries are blurred in a literal manifestation of doctors being in bed with drug reps that form a love triangle fueled by money, sex, and power. Set in 2015, two years before the federal government would officially recognize it as the Opioid Epidemic, Rx Machina explores who gets to get better and who gets left behind. Read a Q&A with playwright Caity-Shea Violette
We asked Blair to share a little bit more about the role of the director in the development process:
What are some of the inherent challenges of directing a new play as opposed to directing a more established play (one that has received at least a few productions)?
There's an incredible amount of freedom in being the first to bring a new story to life, which is both exciting and intimidating—the options feel endless, so where do you start? At the same time, though, it's kind of thrilling to be free from any preconceived notions passed down from previous productions! There's also a great sense of responsibility to honor the playwright's intentions and work in service of their vision—it's not just about how I see this play, it's about being really faithful to the world the playwright is striving to create.
How did the playwright's work inspire the direction for the production design? Share something about the design concept for your project.
As suggested by the title, Rx Machina plays a lot with the idea of the pharmaceutical industry as a machine. That sense of a cold, unfeeling machine in which these deeply human characters find themselves trapped has informed a lot of our ideas about how that world might look, sound, and move.
As a director, you're responsible for overseeing and guiding the vision for the play. How do you prefer to begin?
I like to start with everyone's big picture response: What ideas, images, or moments stand out? What big questions are we all mulling over? I try to start broad so that we can all respond to the story itself before we start narrowing down into our own disciplines and focusing on just sound or just costumes, and so on. This way we're hopefully all on the same page about what story we're telling, and the more specific work of designing and staging all happens with that shared understanding as the guiding principle. Making sure we're all steering the boat in the same direction, so to speak.
As the pre-production/rehearsal phase progresses, how do you stay open to new ideas? How do you encourage your team to stay open to new ideas?
I love this question, because I do think it's so tempting to latch on to something early in the process and decide, "This is it! This is the answer!" Which sounds great, because it's seems like you've got it all figured out…but in reality, what you've done is close the door to a million new discoveries that might come up later. For me, it's a lot about the language I choose. Rather than saying we've made a decision or found the solution, I like to talk about hunches and hypotheses that we get to test out in rehearsal. Especially when we're talking about design concepts before a show has even been cast, I think it's really crucial to leave this door open to experimentation in the room—you have to take the actual humanity and insights and impulses of the actors into account, and treating those early ideas (even the really exciting ones!) as subject to change makes space for that.
What do you do when things aren't working? How do you know when you've given a particular idea/approach enough consideration? How do you know when it's time to move on?
This feels like a tightrope we're always walking…you never want to throw something out as soon as you encounter resistance, but it's also so important not to be overly precious with your ideas. One of my professors in undergrad always said (somewhat grotesquely) that you had to be able to kill your darlings. I think it's important to identify whether you're wanting to move on just because something is difficult, or because it's genuinely not serving the story. A tricky quick change might be worth trying again before you throw in the towel. A piece of staging that simply makes no sense to the actor isn't worth forcing when there are a million other possibilities that can tell the story of that moment.
What do you wish audiences knew about the role of director?
We're not just here to move actors around and tell people what to do. (Or, at least, we shouldn't be.) We're not here to have all the answers, but rather to ask the right questions, invite input from all of our collaborators, and keep the team moving in the right direction to tell a clear and compelling story that's been shaped by everyone's contributions. The odds are, a lot of what you end up seeing on stage wasn't actually my idea to begin with. It's the product of me pulling the best ideas from a whole team of amazing artists.
What do you like to do when you're not directing plays?
I'll be honest, I'm definitely a sucker for a Netflix binge with my dog when I just need to turn off my brain for a bit. But I also love to be outside when the weather allows, and even better to be near water if I can. I also love baking… my roommate gave me a whole book of cupcake recipes for Christmas, so I've been trying some fun new things.
What was the last play you saw before the coronavirus shutdown? How do you reflect on that experience today?
I feel so lucky to have seen Lauren Yee's Cambodian Rock Band (masterfully directed by Chay Yew at the Signature Theatre) about a week before everything started to shut down. The play captured so much of what I love about theatre—the intersection of the political and the personal, the ability to leap through space and time, the existence of humor and tragedy side-by-side, I could go on and on. I also remember it so fondly now because it really got at the heart of what's so magical about experiencing those things side by side with other human beings in shared space. When tragedy struck just before the act break, you could feel the audience holding our breath together. When the play ended with joyful music, we all got up and danced together. I've encountered a lot of really powerful and innovative virtual storytelling during the pandemic, but I will be a puddle of joyful tears when I finally get to have that kind of physical communal experience again.
—
We hope you'll join us on March 2 to talk about Rx Machina! You'll need the Zoom app (it's free!) to participate, and it is recommended you call in a few minutes before "curtain" time. The Zoom link will be available here (scroll down); click here to learn more about the other plays featured in the BPT Talks line-up.