BPT Talks: a tiny q&a with Ally Sass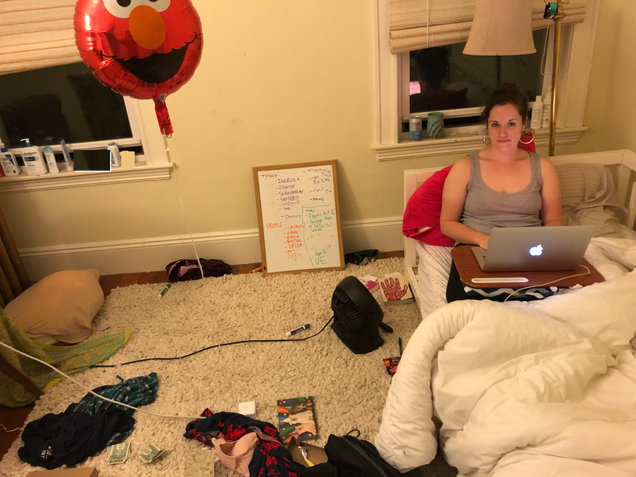 BPT's 2020-21 season of new plays—thesis plays by our cohort of third-year playwrights—has been postponed until next year due to the ongoing coronavirus pandemic. In the meantime, all five plays are currently being workshopped in collaboration with our friends at BU's College of Fine Arts School of Theatre. A series of conversations about these plays, BPT Talks, will be held this fall via the videoconferencing tool Zoom. BPT Talks will convene on Zoom each Tuesday evening at 7:30 p.m. (with the exception of Election Day, Nov. 3) until Nov. 24.
On Nov. 24, we'll talk about Ally Sass's new play Incels and Other Myths, which she describes this way:
After bullying forces Elaine Roberts's 15-year-old son Avery to leave his high school, Elaine is increasingly unsettled to watch him find solace in a constant glow of YouTube videos, Reddit pages, and the intense battlegrounds of World of Warcraft. It is when Avery informs Elaine that he's found a home among the much reviled "incel" community that Elaine, a professor of Women in Mythology, decides she must covertly follow Avery into these online realms, going so far as to make her own account on World of Warcraft. In this digital landscape, Elaine taps into an intoxicating new reality that begins to shape how she sees her own world. Incels and Other Myths takes us on a modern, mythical journey deep into the underworld of a mother and her son. What starts as an investigation of various internet communities, becomes a surreal exploration of gender, power, and masculinity.
We asked Ally to share a little bit more about her play, and influences on her writing life:
What inspired your thesis play?
The seed of this play was planted when I first learned the story of Elliot Rodger, who, in 2014, drove his car into a crowd of people in Isla Vista, California, as an act of "retribution" for his perceived social and sexual rejection by women. I looked further into his story, which led me to learn of an online group in which Elliot spent much of his time: the incel community.
"Incel" is a portmanteau of "involuntary celibate." This is an existing community, mostly comprised of white, cis men on the internet, who feel a general sense of misanthropy and rage towards women for not wanting to sleep with them. When I learned of this community, I was of course very perturbed, though also overcome with a nauseating awareness that these young men were not some anomalies in an otherwise healthy society. Rather, they were a direct product of a culture that both implicitly and explicitly validates their most violent thoughts and behavior toward women. That, in combination with my curiosity to better understand the feelings of isolation among men, is what made me want to dive deeper into the incel world.
This play is not merely a cold and overt examination of this community, but rather, a more nuanced look of all that surrounds it. It is a woman's story; a mother's journey into a digital landscape, in search for her son. The further into this world Elaine journeys, the more she is forced to examine in her reality. Plus, there's a backdrop of Greek mythology, so that's pretty cool.
Why this play? Why now?
I've always been interested in looking deeper into the roles that boyhood and patriarchy play in our society; how it affects us well into our adult years; how it permeates the family unit. This play is a continuation of an ongoing fixation I have with maleness, a fixation that often comes as a surprise to people who know me, as I was raised by two gay women. Though, I have integrated much of the female perspective in this play, not only because the central character is Elaine, but also because I have continued to understand my role in this play, as a female writer. Also, this play largely takes place on the internet, which is of course very relevant for this period.
What writing rituals do you have? What is your routine?
My steadiest routine is waking up every day with the hopes of establishing a routine. I've never been great with routines. The best I can do is notice my patterns and proclivities as a writer, and lean more into those. Apparently, I speak my characters' lines aloud as I write them. I hadn't noticed this about myself, but my mom pointed it out my first year of grad school when I was living with her. I also have a method where I text myself ideas for the play throughout the day. I guess I just like the feeling of sending them somewhere, if even only to me.
I have always written very late at night, usually until three or four in the morning. It's the time I feel most centered in the world of the play. While I'd always prefer to write at night, it's not always sustainable in a world of early risers, so I've tried to lean into daytime writing. This typically requires a quiet space, a white noise machine, and watching eight hours of Real Housewives until it's night again.
How do you combat writer's block? What motivates you to keep going?
While I once thought the solution was to isolate myself until my brain worked again, I've come to learn that that's actually the worst route I can take. I'm endlessly curious about people, so when my characters run out of things to tell me, I know it's time to go out and be with people. I find that a single hour of being with other humans results in a surge in my writing; whereas a three day solo writing retreat will make me lose my mind.
If you could go back in time and talk to yourself when you were just starting to work on this play, what would you say to yourself?
I would tell myself: "This play will take you on a ride. You will scrap entire drafts. You will retitle it three times. You will work with an incredible director named Erica Terpening-Romeo, who tells you it's okay to write little bits at a time. And all of that is great."
We hope you'll join us on Nov. 24 to talk about Ally's new play—our final installment of BPT Talks this fall! You'll need the Zoom app (it's free!) to participate, and it is recommended you call in a few minutes before "curtain" time. The Zoom link will be available here (scroll down); click here to learn more about the other plays featured in the BPT Talks line-up.