BPT Talks: a tiny q&a with Eliana Pipes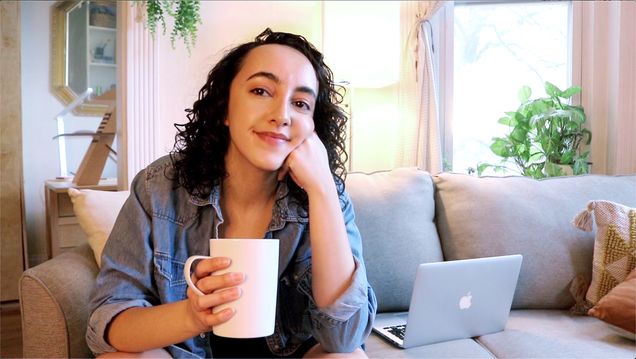 BPT's 2020-21 season of new plays—thesis plays by our cohort of third-year playwrights—has been postponed until next year due to the ongoing coronavirus pandemic. In the meantime, all five plays are currently being workshopped in collaboration with our friends at BU's College of Fine Arts School of Theatre. A series of conversations about these plays, BPT Talks, will be held this fall via the videoconferencing tool Zoom. BPT Talks will convene on Zoom each Tuesday evening at 7:30 p.m. (with the exception of Election Day, Nov. 3) until Nov. 24.
On Oct. 20, we'll talk about Eliana Pipes's new play LORENA: a Tabloid Epic, which she describes this way:
LORENA: a Tabloid Epic spins out of the media hailstorm surrounding Lorena Bobbitt, who became a sensation after she used a kitchen knife to cut off her abusive husband's penis in 1993. The tacky dystopia of American pop culture tumbles onto the stage in a series of funhouse vignettes that know no bounds, while The Playwright desperately tries to protect Lorena from the play which has clearly gotten out of her control. Then, a twist ending re-contextualizes Lorena's outsized epic through the lens of a quieter sexual assault story that's all too common. LORENA merges the personal with the political to reckon with our cultural sins, and bring Lorena's story into the present day.
We asked Eliana to share a little bit more about her play and influences on her writing life:
Are there any new discoveries you've made about your play in quarantine? If so, do you feel you would've gone that direction/made that choice otherwise (if coronavirus hadn't happened)?
Obviously I wish that I were heading into the thesis production of the play as-planned, I miss BPT so dearly. But at the same time, I must admit that in many ways it's a gift to be able to spend more time in the development stage without the pressure of an imminent performance.
The director on the piece Erica Terpening-Romeo is a real gem of a collaborative partner—this play is also her thesis project and I've been incredibly thankful for the extra time we've been able to spend developing the script. The same goes for every branch of the process, we're working with designers and considering BPT's spaces, but also allowing ourselves to dream about designing the play for a stage with infinite capacities.
How do you combat writer's block? What motivates you to keep going?
I went to a panel once where a wise and brilliant playwright (I think it was Sarah Ruhl, but don't hold me to that) said something that's always stuck with me. She said there's no such thing as writer's block, you're just not writing—and there's no need to pathologize that, just accept that it is what it is, and start again when you can.
That idea has been really constructive for me, it helps ensure that an off day or two (or week, or month) doesn't turn into a permanent cycle of fear. My mother, who's also a writer, always talks about the ever-valuable "marination phase" where you have to just hold an idea close and sit with it before there's any writing to be done. And while, of course, the time does always come when I have to drag myself back to the blank page, I feel much better telling myself that I'm simply cooking up my marinated idea rather than trying to break through some kind of "block."
What other art forms inspire you?

There are a lot of individual artists in really diverse mediums that inspire me—and sometimes it's nice to take some headspace away from the theater. I'm inspired by visual artist Kara Walker, tightrope walker Philippe Petit, musician Tierra Whack, drag queen Juno Birch, hairdresser and reality TV personality Tabatha Coffey, among others.
Which play (written by someone else) do you wish you'd written yourself? Why?

Underground Railroad Game, which was devised by Jennifer Kidwell and Scott Sheppard absolutely electrified me, it's so much of what I aspire to in the theater. To me the play is evidence of the magic of devised theater—I actually don't think that what they created ever could've been captured on the page alone by a single playwright. But I'd certainly be proud if it had been.
—
We hope you'll join us on Oct. 20 to talk about LORENA: a Tabloid Epic. You'll need the Zoom app (it's free!) to participate, and it is recommended you call in a few minutes before "curtain" time. The Zoom link will be available here (scroll down); click here to learn more about the full BPT Talks line-up.