St. Lucia, January 23, 2017
Today I'm flying back to Boston from St. Lucia on Derek Walcott's birthday—January 23. He is 87 years old today. I have been coming here for years on this week where the entire island celebrates his birthday with readings at the Governor's House and with the "Nobel Speech"—this year given by Jamaica Kincaid. Many of Derek's friends come from all over the world to celebrate with him as well—Esperanza from Spain, Mindy from China (via Los Angeles), Caz from North Carolina (via Yale and St. Kitts), Glyn and Marie-Cristina from Essex and London, Adriana and Martin from Transylvania and Canada, Michael from North Dakota. This year we are missing some stalwart visitors like Stephanos from Greece, Derek's translator Matteo from Italy, John from New York, and many more. But all of us have become a staunch, if mismatched, team of celebrants, and Derek and his partner Sigrid traditionally take us to dinner, honor us with a boat ride up to Soufriere to have lunch near the active volcano at the Ladara resort (a honeymooners' paradise where there are no confining walls, only spectacular views of the Pitons); then the return back up the coast to Castries with a late-afternoon stop for a dip in the Caribbean sea.
At his home outside of Castries yesterday, Derek asked me "What do you love about this island?" I replied, "You." "No, no, aside from me, what do you love?" I knew he wanted to hear something wise, something with which he, too, agreed, something…"poetic?" I am not a poet. Far from it. But wanting to please him, I said "I love the sound of the sea." We could hear it from where we were sitting with friends Caz and Glyn. He was silent. Then he said "That is so cliché." I laughed. He was right. But then again, there is no "right" answer to the question because St. Lucia will be forever Derek to me. I cannot separate the two. He wrote about his birthplace, he filmed it, he painted it, he nurtured it, he returned to it, he loved it. St. Lucia—this stunningly beautiful, deeply flawed rain forest of an island suffering from all the classic Caribbean riches—crime, poverty, political corruption—an island existing on tourism, colonized by the Spanish, French and British, and with a language combining an Englishman's flair with a French patois, rhythmic and musical. Because Derek loves it, so do I. St. Lucia is Derek.
I am not alone in loving Derek, and those of us who love him do so at our risk. He is inordinately kind, but I have seen him angry and dismissive in the face of ignorance or what he perceives as betrayal. Yes, he is a brilliant poet and playwright (it's not a lucky coincidence he was awarded the Nobel Prize for Literature). As a poet, he is a visionary—he paints with his words and surprises us with moments of true beauty and power. His plays are homages to the Caribbean—adaptations of his life in St. Lucia, Jamaica, Haiti, and Trinidad. All this is common knowledge.
But he is also an intuitive and prolific watercolorist who paints his friends, his island and the people in it with deep respect and admiration. He tells very, very, very bad jokes (puns are his favorite). He plays the bongos. He calls himself "a crier," and he will cry at the drop of a hat when something touches him (which is surprisingly often). He loves actors, and he loves to direct them in the theatre. He learns about his plays from actors (and he will tell stories about his failures with those artists more than he will brag of his successes). But this last has to do with his great love—Teaching.
Many of us who come to celebrate Derek's birthday are, or were, his students at some time or another. We are representative of hundreds—maybe thousands—of students Derek has mentored over the years, and we have hung onto his mentorship like a talisman: "I worked with Derek Walcott."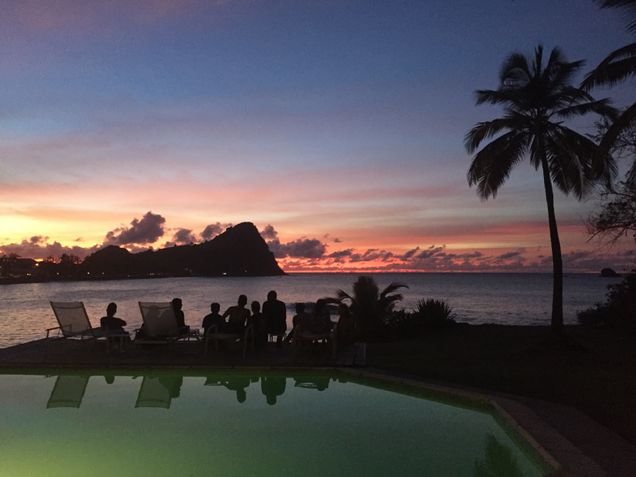 I was lucky enough to sit in on his playwriting classes for over 20 years here at Boston University where he taught playwriting and poetry in the Creative Writing Department. Derek is not an easy mark as a teacher. He is demanding, curious, and uncompromising. For Derek, "the play's (or the poem's) the thing," and we all must bow to that. "In the beginning was the word," and this is why so many times in our playwriting classes he would stop the reading one minute (or less) into the play. He sees the play as a painting, as a visual thing to be fleshed out, and if the beginning doesn't work, the rest of the play will follow (that is, it won't work either). That's a hard lesson for those of us who love the sound of our own voices and who want to hear our plays read to the very end. But it's also an invaluable tool we must remember when he's not in the room to stop us. I have held onto this in my own writing and teaching, and I am a religious convert.
Derek is very ill right now—his body is failing and his mind is slowly following. But two days ago, he sat on his veranda with a young soon-to-be Rhodes scholar talking through four of the young man's poems. It is this passion for teaching that I love most of all about Derek (well, that and the bad jokes). He gives back into the caldron from which we all came. He demands excellence but forgives youth. He understands that we will get better if we keep writing. He teaches by example.
Derek is a Nobel Prize winner in Literature, yes. He is a poet and a playwright, yes. He is a teacher. Most certainly, yes.
—Kate Snodgrass