Boston Theater Marathon XVII's Warm-Up Laps and One-Minute Sprints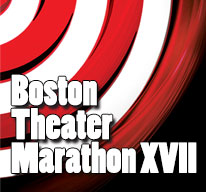 Boston Theater Marathon Weekend kicks off on Saturday, May 9 with the Warm-Up Laps—readings of three full-length plays—presented in collaboration with the Boston Center for the Arts and its resident theatres in the BCA's Plaza Theatre. The readings are free and open to the public.
On Saturday, May 9, the Warm-Up Laps will feature:
11:50 a.m. Sprints
Hortense Gerardo's To Have and to Hold
Brandon M. Crose's A Quick Meeting
Susan Buttrick's Blind Sticking
Edmond Chibeau's Impoverished Scholar Sitting by the Side of the Road Meditating on the Transience of All Things Physical
Martha Patterson's Harry, A Monologue
12 noon
Sponsored by Huntington Theatre Company
Hair of the Dog
By Constance Congdon
Directed by Stephanie LeBolt
Christopher Marlowe is dead. It is the day of the interment, and a mourning Shakespeare is sequestered in his own rooms at Bishopsgate when unwanted "guests" arrive. Marlowe's sisters have questions about the death of their famous brother. In fact, Marlowe himself has questions—Am I really dead? How did I die? And, most disturbing of all—Why was I murdered?
1:50 p.m. Sprints
Debbie Wiess's No Exceptions Allowed
Erin Striff's Strikeout
Richard Seltzer's Wallflower
Frances Galton's Paying the Bill
Lawrence Hennessy's Cute
2 p.m.
Sponsored by Company One
The King of Love is Dead
Adapted by Liana Asim
Directed by Josh Glenn-Kayden
Based on A Taste of Honey: Stories by Jabari Asim, the play is set in the imaginary Midwestern town of Gateway City. It is 1968, and Martin Luther King, Jr., has been assassinated. Police brutality is on the rise, and the civil rights movement is gaining momentum. With wars raging at home and abroad, the Gateway City community stands on edge. Townspeople struggle with everyday grievances, love, child-rearing, adolescence, and domestic abuse, creating a piercing portrait of humanity in one of the most turbulent years in modern American history.
3:50 p.m. Sprints
A. M. Shea's Celebrity
Livian Yeh's The Dragon
Margaret Bruchu's Big Boys
Aoise Stratford's Round / Square
Peter Diamond's Father
Mary Griffin's Telling Mom
4 p.m.
Sponsored by SpeakEasy Stage Company
Uploaded
By Gregory Fletcher
Directed by Thomas Derrah
Grieving makes Lil do crazy things—like take a golf club to her entire house. When she takes shelter with her widowed neighbor Bess, Lil makes a discovery that jump-starts her life again. When she's forced to share her secret with Bess, both of their lives break from the senior clichéd existence into ones that are extraordinary and lifesaving. A warmhearted comedy with senior situations (not suitable for children).
One-Minute Sprints
In collaboration with the Dramatists Guild of America, a selection of one-minute plays—the One-Minute Sprints—will be read prior to each of the full-length plays featured in the Warm-Up Laps. (Start times for the One-Minute Sprints will be 11:50 a.m., 1:50 p.m., and 3:50 p.m.)
About the Boston Theater Marathon:
On Sunday, May 10, Boston Theater Marathon XVII will feature 50 ten-minute plays, by 51 New England playwrights, produced by 51 New England theatres…in ten hours! For almost two decades, this all-day event has brought together playwrights, directors, and theatres in an effort to foster collaboration between artists and producers. Many playwrights have enjoyed full-length productions with collaborating theatres because of relationships forged during the Boston Theater Marathon. Tickets to the event are $25 ($35 at the door), and net proceeds from BTM ticket sales will benefit the Theatre Community Benevolent Fund, which provides financial support to theatres and theatre artists in times of need.
The Boston Theater Marathon is supported in part by the Boston University Center for the Humanities.