@PLAY: 'She Eats Apples' by Stephanie K. Brownell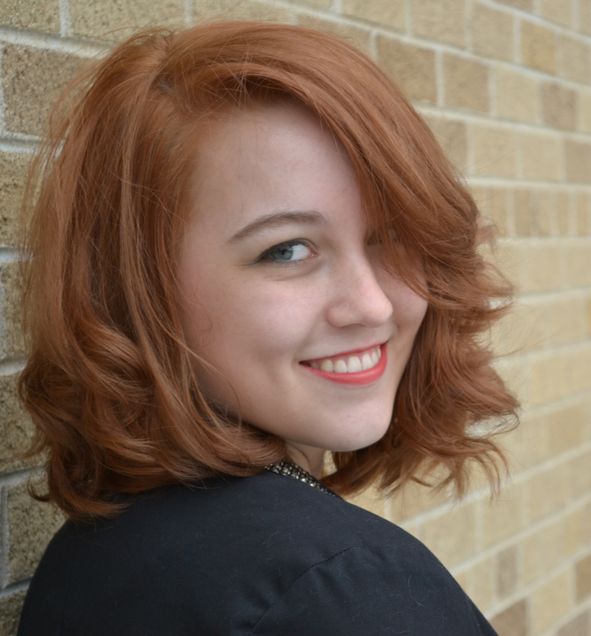 Stephanie K. Brownell's She Eats Apples is a BU New Play Initiative production and the first of five events in the @Play Festival of New Work, a season-long celebration of the MFA Playwriting class of 2015, co-produced by Boston University Graduate School of Arts & Sciences and the College of Fine Arts School of Theatre in collaboration with Boston Playwrights' Theatre.
We thought we'd take this opportunity to learn more about Stephanie's play, and find out what's next for this playwright and costume designer…
Tell us a little about 'She Eats Apples.'
She Eats Apples is an exploration of rape culture as seen through the eyes for four teenagers embroiled in the complexities of growing up. The structure of the play mimics the structure of life in our digital age, as various and contradictory media pervade every moment of our lives. But it's not all about modernity, here. We're drawing connections across time about gender-based expectations of the body and their role in the way men and women see each other and themselves. Plus hopscotch, biology, Super Mario Brothers and all sorts of other fun stuff!
What makes you passionate about this idea?
I'm all for having fun at the theatre, but to me the best theatre is that which also makes me see the world in a new way. Theatre should not exist in a bubble. I'm concerned about restrictive gender roles for both women and men, so I'm using theatre to address that. From Steubenville to the more recent celebrity nude photo leaks, Apples is responding to very current issues. Our dramaturge, Samantha Noble, has been curating a blog of relevant issues, which you can check out here.
Rape culture isn't just about objectifying women, it's about the expectations we place on men: strength, dominance, the imperative not to show emotion or ask for help. All of this is especially potent for teenagers, who are navigating uncharted waters. Our culture can be dismissive of "kids these days," but I aim to talk honestly to and about them and legitimize their experiences of the world. It can be a challenge for everyone to sift through the onslaught of information we encounter throughout the day. Apples is all about recognizing and challenging that experience.
Does this production of 'She Eats Apples' align with your original vision for the work, or did the play change shape as you went along?
Yes, I think the play is consistent with my original vision. While it's certainly developed a lot since I started writing in fall 2013, I think of the changes more as expansions upon the original goal. For instance, while the use of classical art pieces was a part of my concept from the start, the incorporation of pop culture was a later addition that helps link the historical references with our main characters, who are teenagers living very much in the now. I've incorporated everything from science lessons to videogames, to children's rhymes and biblical allusion.
How would you describe your writing to people unfamiliar with your work?
I'm interested in making theatre at its most theatrical, so my plays often experiment with style and structure. I don't experience my life as a linear course of events, but a series of memories, dreams, might-have-beens, and déjà vus that collide with the present to form my self, a view my plays reflect. My characters talk over each other, trip over words, express vocal pauses, spend moments in silence, and also occasionally happen upon an elegant turn of phrase that communicates exactly what they mean—just like real humans! I also write a lot of female characters because I think we need more of them in our theatre.
What's the least likely thing you've gained inspiration from?
I had a terrible movie-going experience this summer when I went to see The Fault in Our Stars, but it translated to directly into one of the characters in Apples. You know those people in the movies who just can't shut up? Yup, now combine them with teenagers on date night. You got it. I often take inspiration from overheard snippets of conversation, but I know I have a play when I have an image of the structure in my head that won't quit. That, and usually a title.
What's next for you?
Right now I'm working on a play based on the weird series of meteorological and cultural events in Boston in 2012-2013. It'll start with an earthquake and progress through the hurricane, blizzard and Boston Marathon bombing. I'm exploring what happens among a group of roommates when they're stuck together in close quarters and high stress situations over the course of a year. I'm also brainstorming a future play called NPC about domestic violence and pursuing my other passion, costume design. You can catch my work in that field on Boston Public Works' season opener, Turtles, coming up October 24-November 8 at the BCA.
Read more about 'She Eats Apples' and the @Play Festival of New Work. We hope you'll join us!