The Department of Biology is excited to announce the three recipients of this year's Dr. Marion R. Kramer Scholarship: Tina Barbasch of the Buston Lab, Shawna Henry of the Ho Lab, and Diane Lebo of the McCall Lab.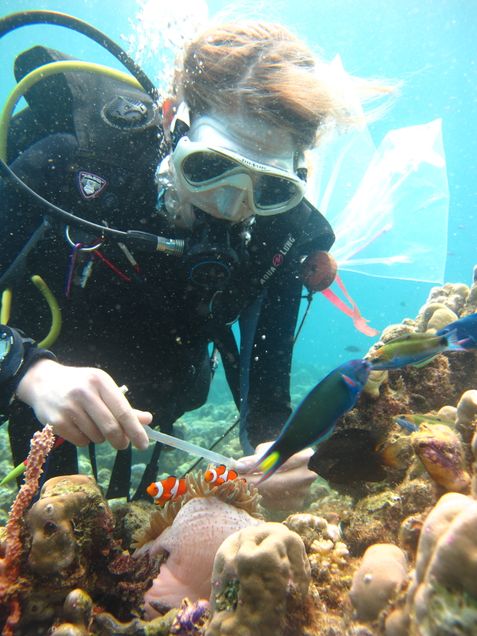 Tina's research uses the clown anemonefish (Amphiprion percula) as a study system to answer broad questions in the field of animal behavior. Her dissertation focuses on understanding the environmental and social factors that influence individual variation in parenting strategies. She combines theoretical and empirical methods to study how and why parents provide care when it is costly. First, she conducted a 12 month laboratory experiment characterizing plasticity and personality in parental care. Next, to determine the consequences of this plasticity Tina led a field expedition to Papua New Guinea and tested how variation in environmental quality influences plasticity in reproduction and parental care. Expanding on this work, she asked how social interactions influence plastic behavioral strategies. Tina developed a game theory model of how power and punishment influence negotiations between parents over parental care, done in collaboration with Dr. Suzanne Alonzo at the University of California Santa Cruz. She then conducted an experimental test of this model in the field and she is currently writing up the results, which found support for her model. Together, the results of her research extend our understanding of how and why parents provide costly parental care and create a framework for studying parental care in other systems.
Shawna studies how preventing the interaction between Mint1, a neuronal adaptor protein, and amyloid precursor protein (APP) can be a potential therapeutic target to decrease Aβ production associated with Alzheimer's disease (AD). Her work employs both a non-binding Mint1 mutant as well as a competitive APP mimetic peptide in vitro to prevent Mint1-APP association and decrease total Aβ production. Future studies will move this peptide in vivo to ascertain if the APP mimetic peptide strategy can decrease Aβ accumulation in an AD mouse model.
Diane's research seeks to identify the network of processes that regulate cell corpse clearance by non-professional phagocytes using the Drosophila ovary. Her first project utilized high-throughput techniques to identify the translatome of the entire epithelial follicle cell layer as well as a subset of follicle cells specifically engaged in clearing dying cells. By comparing these two groups of genes, Diane hopes to identify processes that are differentially regulated during clearance. Her second project was performed as a collaboration with 8 other members of the McCall lab. Together, they screened hundreds of kinase lines during two different death modalities in an effort to identify phagocytic pathways used during apoptotic and non-apoptotic death. Together, the translatome and kinome give them a big-picture view of cell corpse clearance by non-professional phagocytes.
This award provides support for high-achieving female students majoring in Biology. The award was established in 2001 in honor of Dr. Marion Kramer who earned her Bachelor's degree in Biology from Boston University in 1963 and went on to a long and satisfying career in biology and medicine.
The Department of Biology gives this award to graduate students in the spring, and to undergraduate students in the fall. Read about our fall 2019 undergraduate recipients here.
Congratulations, Tina, Shawna, and Diane!