Introducing Hospitality Stockwatch – February 2023
Authors
Arun Upneja, Ph.D. MBA, Dean, Boston University – School of Hospitality Administration
Steve Kent, Ph.D., CFA, Assistant Professor, Molloy University-School of Business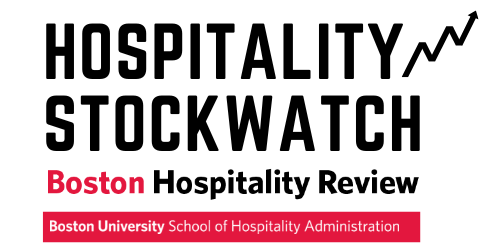 Boston Hospitality Review is proud to present a powerful new monthly feature, Hospitality Stockwatch. This tool provides access to detailed data on the performance and valuation of stocks within the hospitality sector. 
The sheer quantity of data and information about companies that could potentially help inform investments, business decisions, and even one's career path is staggering. Today, we have the power to access instantaneous reports on topics ranging from hotel trends to airline industry performance, restaurant traffic, and more — all thanks to a variety of resources including GPS technology, ID card swipes, and third-party providers. Additionally, we are able to keep abreast with economic data released by public national entities such as government agencies. There are consultants and experts who synthesize all these factors into cohesive analyses and forecasts which can be incredibly helpful and create dialogue. The conglomeration of this data can be used to help project future operating prospects for various industries or companies in question. 
However, rather than layers of informatics, what if there was just one focal point to capture all this information? Some would argue that a company's stock price encapsulates much of the story, and you don't have to look much further. 
With this streamlined approach in mind, Boston Hospitality Review is excited to offer a groundbreaking resource that's sure to revolutionize the hospitality industry. Our work in progress provides regular access to essential pieces of information.
Click here to download Hospitality Stockwatch – current as of Wednesday, February 1 2023
This Hospitality Stockwatch is a dataset that includes over 100 firms. Our snapshot includes the latest stock price of publicly traded firms such as airlines, amusement parks, casinos, cruise lines, dining and food services, entertainment, hotels and resorts, recreation, and much more. This array of insightful financial information is intended for students, faculty members, industry practitioners, and all those interested in engaging with this essential space more deeply. We invite you to dive into our comprehensive database today and see what gems of insights you gather from this treasure trove. 
As we continue work on further developments of this innovative resource, please let us know what would make this information even more useful.  What additions or revisions would make it even more valuable? 
Please note: We are devoted to helping you understand the financial performance of companies in our industry by providing critical information. This tool is not intended to provide stock recommendations or tips.