Hospitality Stockwatch – September 2023
Authors
Arun Upneja, Ph.D. MBA, Dean, Boston University – School of Hospitality Administration
Steve Kent, Ph.D., CFA, Assistant Professor, Molloy University-School of Business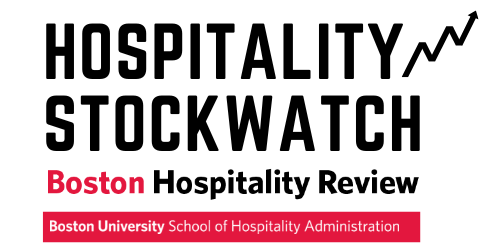 Are you a Swiftie? Are you in the BeyHive? Did you see Barbenheimer? 
Either way, you are well aware that the experiential consumer is back. Spending on Taylor Swift concert tickets, Beyonce concert tickets, and going to the theater to see Barbie and Oppenheimer movies reflects a shift from product purchases to investing in experiences – which took a pause during Covid-19. The clearest evidence of consumer trends is the boost in hotel and restaurant spending in cities hosting these concerts as well as the return to the movie theater (Saraiva 2023). 
The shift in spending continues to be positive for our industries. The question is how long this change will continue and will September give us some answers.
Over the past few years, the focus for our sectors has been on the demand side of the equation. Fiscal stimulus, lower interest rates, rebound travel, catch-up meetings, and the combining business with leisure trips also known as "bleisure," have all resulted in increased demand for the almost 110 stocks we monitor.
Growth in services spending may have also reduced inflation trends. For many products, there are manufacturing constraints or long lead times. For example, if we all want bicycles, the manufacturer will only boost production so far to meet demand. Thus, they will instead raise prices.
However, these constraints do not exist for services spending, which alleviates inflation concerns. If there is more demand for dining, restaurants can open up earlier and close later. If there is more demand for hotels, they can open a floor or shift consumers to weekends. In most casinos, not all of the slot machines are being played even on a Saturday night.
It appears that the shift of leisure spending away from products is already showing up, as both Dick's Sporting Goods (Nassauer and Kepner, 2023) and Foot Locker (Tabassum, 2023) reported disappointing sales.  At the same time, July restaurant trends were strong for the third month in a row (National Restaurant Association, 2023).
In addition, casinos, cruises, and hotels were also generally constructive during their Q2 earnings calls.
In the battle between experience versus product, our sectors may have been winning on the spending front. The issue for the stocks is whether the shift in expenditures is priced in (valuation and under or over-performance) to shares and are investors over- or under-estimating the impact on earnings. September may start to give us some insights into this debate.  Key macro factors that could impact the whole market include higher interest rates, a recent surge in oil prices, a federal government shutdown, labor strikes, and a slowdown of home sales. More specifically, higher fuel prices target cruise line profitability while higher interest rates can hurt timeshare loan metrics.
From an individual stock perspective, the BofA (Bank of America) Securities 2023 Gaming and Lodging Conference on September 7 may give management an opportunity to set expectations for Q3 and the balance of the year. For example, more states have rolled out sports betting. As much as consumers like this experience,  investors will be looking to see if online sportsbook business can finally turn a profit. So far, marketing expenses and intense competition have far outweighed the ever-increasing legalization of betting.
Winners and Losers: August 2023 Performance Review
Fellow Swifties love "August" by Taylor. Too bad, the same affection doesn't hold toward this past August's Hospitality Stockwatch performance. All the major indices were down (S&P 500 -1.5%, Dow Jones -1.9%, and Russell 3000 -1.8%), and all 18 of our sub-sectors were negative.  
Once again the SPACs led the way down 29.6% but as we have noted with most of the stocks trading under $1.00 any movement is magnified by the small base. Airlines (-16%) and cruise (-18%) may be reflecting energy price concerns as well as management commentary that was just "okay."
The best-performing group was the car rental companies reflecting strength in summer booking as well as used car prices plateauing.  After an incredibly bad year-to-date (-1755) performance the online sports started to stabilize and were only down 4.2% maybe in anticipation of more rational marketing for the football season. Hope the broader market and our 110 stocks start to, in the words of Taylor Swift, "Shake it Off."
If you would like to receive the Boston University Hospitality Stockwatch data weekly, please email us at skent@molloy.edu.  We are one of the few publications offering earnings, valuation, and performance data on virtually every US public company in the world of Hospitality.   
Click here to download Hospitality Stockwatch – Current as of August 31, 2023
View last month's Hospitality Stockwatch – August 2023
---
References