Hospitality Stockwatch – October 2023
Authors
Arun Upneja, Ph.D. MBA, Dean, Boston University – School of Hospitality Administration
Steve Kent, Ph.D., CFA, Assistant Professor, Molloy University-School of Business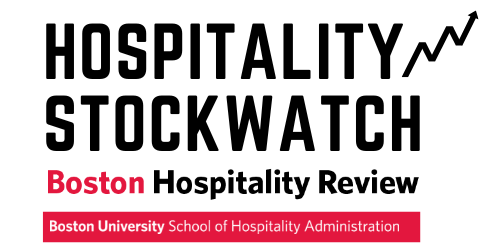 Winner and Losers  
Are higher interest rates slowing growth? This question captures a top-of-mind concern for investors, especially our hospitality stockholders. The broader market had a very rough September. The S&P 500 was down 5.0%, and the Russell 3000 was down 5.1%. Interest rates moved up more than expected and may stay at elevated levels for a while. The ten-year Treasuries now stand around 4.56%, almost a half a point higher than the start of the month. 
For the companies in the Hospitality Stockwatch, interest rates impact consumer spending (due to "have-to" spending on mortgage and credit card bills) and reduce discretionary spending. For corporations, higher interest rates cause higher finance costs to build or grow.  Other factors weighing on growth involve higher oil prices (potentially heading to $100/barrel), student loan payments starting up, and the potential for prolonged labor strikes. 
The worst-performing sectors were car rental, fitness, and SPACs.  Both car rental companies declined, Avis down 15% and Hertz 29%, as some investors are concerned about intensifying price competition and mellowing prices for used cars. However, if the auto strike continues, we may see less inventory which could boost used car prices. Fitness stocks may be responding to the concerns about management turnover and the strength of franchising.  
The best-performing stocks were the online travel agents (OTA's), online sports, and lodging REITS. Online travel and sports appear to be benefiting from increased utilization without dramatic capital expenditure/build-out needs. Lodging REITs have been underperforming most of the year, most likely due to higher interest rates. In September, the underperformance took a pause, which led to better relative outperformance of a very weak broader market.  
If you would like to receive the Boston University Hospitality Stockwatch data weekly, please email us at skent@molloy.edu.  We are one of the few publications offering earnings, valuation, and performance data on virtually every US public company in the world of Hospitality.   
Click here to download Hospitality Stockwatch – Current as of October 1, 2023