Inclusive Marketing: Building a Loyal Customer Base Through Accessible Digital and Physical Experiences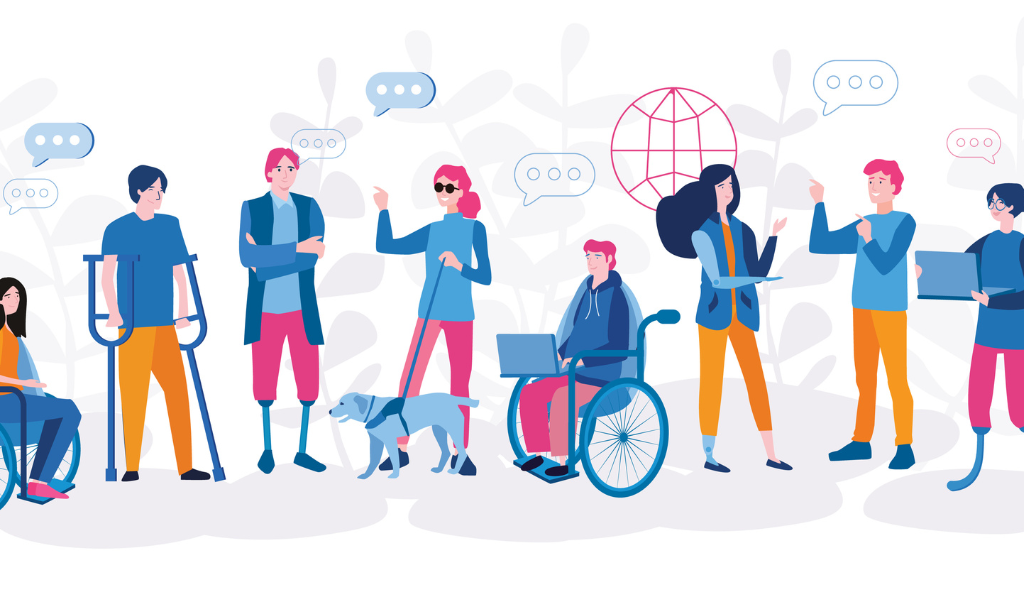 ---
By Mai Shalvi, SHA '22, MMH '22
Marketing is powerful. It allows brands to connect with customers and enhance experiences. It can uncover the needs of consumers and build strong relationships. It can also foster positive social change. Research suggests that consumers expect brands to be socially responsible, with 70% of Americans believing it is "somewhat" or "very important" for them "to make the world a better place" (Schaeffer, 2019; Stobierski, 2021).
One important social topic is inclusivity. Fifteen percent of the world's population lives with a disability (WHO, 2021). This 15% is often underrepresented and ignored in marketing efforts (BBC, 2021; Mallon, 2019). Alison Wong, a "disabled activist, writer, editor, media maker, and consultant" wrote in her book, Disability Visibility, that "disability is both apparent and non-apparent… [it] is sociopolitical, cultural, and biological" (Disability Visibility Project; Wong, 2020 p.30).
So how can marketing be more inclusive? 
Hospitality and digital travel tech strategist Max Starkov, explains that individuals with disabilities are "active participants in everyday life. They are active travelers and have active social lives. Therefore, to be inclusive, companies have to be more creative, welcoming, and go beyond the required regulations. Such initiatives give businesses a competitive advantage, and should be proudly promoted." Sonia Thompson, the author of a 2021 Forbes article writes, "business is about belonging." When "customers feel like they belong with you, they reward you with their loyalty" (Thompson, 2021). Studies indicate that nearly "64% of consumers want brands to connect with them" (Sprout Social). Additionally, 65% of customers find that "a positive experience with a brand [is] more influential than great advertising" (PWC). Such "connection breeds loyalty and bottom line growth" (Sprout Social).
One way to provide a better experience for individuals with disabilities is inclusive marketing. But how can that be achieved?
What is Inclusive Marketing?
Inclusive marketing is the process of creating campaigns and initiatives that "enable marginalized or underrepresented groups to fully experience and connect with brands" (Xavier, 2020). Thompson refers to it as the "future of marketing" and predicts it will "soon transform from a 'nice-to-do' to a 'must-do'" (Thompson, 2021). It elevates underrepresented voices and can influence positive social change. With Diversity, Equity, and Inclusion (DE&I), a core value for many companies, it should be expected for brands to follow through on such promises (Brodzik et al., 2021).
Disabilities are extremely diverse, thus it is challenging to capture them all. It is about intentional progress and having awareness. The Center for Disease Control (CDC) outlines six (6) disability types: Mobility, Cognition, Independent Living, Hearing, Vision, and Self Care. The World Health Organization (WHO) projects that by 2050, about 2.5 billion people will have some degree of hearing loss. The 2018 National Health Interview Survey found that over 32 million American adults "reported experiencing vision loss" (The American Foundation for the Blind, 2020). Furthermore, approximately 200 million people have an intellectual disability (Special Olympics, 2020). More recently, following the pandemic, more than 12% of individuals who contracted the virus have olfactory dysfunction that "persists in the form of ongoing reduction in the ability to smell… or changes" in perceiving a smell (NYU Langone, 2022). Marketers have a distinct opportunity to connect with individuals who live with a disability.  
Best Practices: Digital
Despite our heavy use of technology, there are no explicit requirements for accessibility. Yet, in recent years, there has been a rise in lawsuits against companies whose websites, apps, and videos were allegedly inaccessible to individuals with disabilities (Alcántara, 2021).
However, there are some guidelines and best practices that can be followed to ensure a more inclusive experience. The goal is to raise awareness and anticipate the ways individuals interact with your content. Examples of digital content accessibility include the following:
1. Web Content Accessibility Guidelines (WCAG): WCAG was established by the World Wide Web Consortium (W3C): "an international community that develops open standards to ensure the long-term growth of the Web" (W3.org). These parameters are updated regularly and allow content to be more accessible to individuals with varying disabilities, some of which include "blindness and low vision, deafness and hearing loss, limited movement, speech disabilities, photosensitivity…learning disabilities, and cognitive limitations" (W3.org).
The WCAG is divided into four principles (https://www.w3.org/TR/WCAG21):
Perceivable:

"users must be able to perceive the information being presented. (It can't be invisible to all of their senses.)" 

Operable:

"users must be able to operate the interface." 

Understandable:

"users must be able to understand the information as well as the operation of the user interface." 

Robust:

"content must be robust enough that it can be interpreted reliably by a wide variety of user agents, including assistive technologies" (W3.org).
2. WAVE by WEBAIM (https://wave.webaim.org/): Marketers and designers can use this tool to evaluate their website's accessibility. Wave is a free online platform that points out typically inaccessible content and interface as well as areas for improvement.
3. Alternate Text: When including non-text content (such as images), marketers should provide alternate text ("Alt text"). These are "invisible descriptions of images" that can be "read aloud to blind users on a screen reader" (PSU, 2020). It is also an important factor in Google's SEO algorithm (Hines, 2022).
4. Captions: For multimedia (such as videos), it is suggested to add captions that reflect the spoken content. It includes individuals who are hard of hearing and grants them a better experience (W3.org).
5. Audio Descriptions: It is also suggested to create versions of multimedia with audio descriptions. These describe the scene, actions, and additional information that is not spoken, heard, or written. By including these, more individuals can understand the content (W3.org).
6. Time-Sensitive Content: To ensure that all individuals have enough time to navigate content, it is crucial to provide sufficient waiting and viewing periods for all time-sensitive content. Examples include automatic slideshows, surveys, shopping carts, pop ups, and promotions.
7. Compatibility: Some users utilize assistive technology tools such as alternate keyboards, "screen readers, braille displays, and screen magnifiers" to navigate digital content (Tuke). Marketers should maximize the compatibility of their websites with these tools.
8. Adjusting for Colorblindness: Color blindness affects 300 million people worldwide (Colour Blind Awareness, 2022). Content creators should assess their branding to ensure it is visible to all viewers. Elisabeth Neville Ambler, the creative director at Neville Associates and a Content Creation instructor at Boston University's School of Hospitality Administration, acknowledged that it may be difficult for brands to alter existing branding, but it is important to "find a middle ground." To better understand colorblindness, marketers can use this quick tip on Adobe Photoshop and Illustrator to see how individuals with different color blindness perceive content. 
Photoshop/Illustrator → View → Proof Setup → Choose and alternate between the different options.
9. Contrast Checker by WEBAIM (https://webaim.org/resources/contrastchecker/): Contrast Checker is another free tool that evaluates the contrast and accessibility of colors. It allows users to enter the HEX number of the colors they want to use, and the tool will analyze if they meet the WCAG contrast ratio requirement.
10. Multiple indicators for error messages: Some content, such as contact forms, require data entry to proceed. However, when one or more fields are missing it will not allow users to continue. Multiple error indicators ensure that all users are aware and can determine the problem. These errors can be better identified by including an error message, a description of the error, highlighting the missing field, or using additional colors (W3.org).
Best Practices: Physical Experiences
In-person events allow marketers to immerse individuals in experiences by integrating the senses: sight, hearing, smell, touch, and taste. Yet some individuals with disabilities may have a deficit of one or more senses, prohibiting them from being included in the full experience.
A more abstract idea is to incorporate multi-sensory marketing to create inclusive experiences. By using multiple senses, one can act as an alternative to another. For example, if an individual has a vision impairment, hearing, smell, and touch can be used to imitate the aesthetic and look of the visual content. Research and anecdotal information suggest that individuals with poor eyesight have heightened hearing abilities. This is because of the brain's ability to adapt and rewire, and the reliance on the other senses to navigate the world (Cohut).
Using the five (5) senses can also create memorable experiences and facilitate positive brand perceptions (Harvard Business Review, 2015). Research suggests that senses can influence unconscious thoughts and behaviors as well as manipulate decision making (Manzano et al.,2019). According to HubSpot, sensory marketing can "boost loyalty and advocacy as well as increase revenue" (Baker, 2020). Furthermore, the Online Marketing Institute research claims "media that appeals to more than three senses can increase brand impact and engagement by over 70 percent" (Cruz, 2018).
The following integrates multiple senses into traditional marketing techniques and allows for individuals with impairments to be included.
Sight: Colors, images, videos, texts, and more can be used to communicate messages and engage with people. Subtitles, descriptions, and sign language can be used to explain any auditory, tactile, gustatory (taste) or olfactory (smell) components. For example, instructions, speech, materials, flavors, and scent.
BU Hospitality's Professor Ambler explains that color is "emotionally charged." Further research confirms this statement and finds that color "can evoke emotions, inspire reactions, and change modes of thinking" (Color Psychology, 2022). It can be used to imply feelings such as happiness and sadness. For example, some individuals with cognitive disabilities have a hard time understanding facial expressions. Colors such as yellow can be used to symbolize a joyful setting. On the contrary, gray, or a lack of color, is associated with dull and sad scenes.
For individuals with poor color vision, there are special glasses called EnChroma which "claim to assist with detecting differences between colors…[and] add additional vibrancy" (Watson, 2018). These glasses are costly, but if companies choose to offer them to guests they can provide an experience that can be enjoyed by even more people.
Light can be synced to music and sounds to match the beats. It can also be used to communicate and send messages. For example, dimming the lights before a Broadway show implies the performance is about to begin.
Sound varies from jingles, background music, sound effects, and more. All these sounds complement the brand and further immerse the customers in the experience.
One example is this interactive poster that has a colorful design and "plays the chords of a piano as people run their fingers over" it (Munro, 2014). This allows individuals to hear the artwork.
In one of its car models, BMW increased the sound of the engine to amplify the sporty feel and look of its high-performance car (Harvard Business Review, 2015).
Incorporating an audio element into menus is another example. This can be delivered through a voice recording tool or a digital device.
Smell is strongly connected to emotions. Varying scents evoke different perceptions. Companies can use the scents that most closely match their brand image and aesthetic. 
For example, Hyatt Place has been utilizing a signature scent called "Seamless." The goal is for guests "to associate the hotel with a pleasant scent and trigger a subconscious association with the brand" (Sanfilippo, 2021). Lindsay Silberman, a travel writer, said that such a scent can give "you a sense of awakening, a sense of place, and [make you] feel luxurious instantly" (Skift, 2022). This scent was strategically chosen to match the brand and is "recognized as an asset with as much influencing power as the decor, color scheme and advertising efforts" (Sullivan, 2021). 
Another example is Smell the Art: Fleeting – Scents in Colour, a new exhibition at the Mauritshuis, a museum in the Netherlands. This series of artwork portrays Amsterdam in the 17th Century. The exhibition uniquely incorporates scents, from clean linen to smoke to foul-smelling canals, that mimic the visual artwork and immerses the audience. Abercrombie & Fitch is an example of a retail store famous for its signature scent. This scent is emitted throughout the store and sprayed on clothes. It complements the decoration, music, and products.
Touch is the first developed sense and can be used to identify items, textures, weight, and quality. Braille menus are essential to inclusivity. Applebee's is one of the few restaurant chains that provide this convenience (Braille Works, 2022). Furthermore, texture, weight, and thickness of materials can define the quality. For example, thicker paper relates to higher quality which complements more upscale experiences.
Taste is closely connected to smell (Cruz, 2018). It is the most difficult to deliver due to its subjectivity. Yet, there are some ways to present flavors and samples that match the brand's messaging. 
Inclusive marketing allows brands to form deeper connections with customers. It elevates underrepresented voices and facilitates better customer experiences. It is an ongoing process that needs to be strategically incorporated and revised throughout the marketing process. To achieve this, brands need to listen to customers and "speak the same language" (Sprout Social).
For digital experiences, the industry-accepted guidelines are constantly evolving, and it is important to stay current. With physical experiences, there are creative opportunities that can achieve accessibility. Multi-sensory marketing is just one example that gives individuals with disabilities the opportunity to be included.
Accessibility on digital platforms and in-person experiences are just a few practices to consider. This is an important opportunity to innovate the market and foster inclusivity.
---
---
References