View from a Sophomore's Eyes: Inspiration Kicks off the Entire Conference
By Eden McColl
The 2019 SHA Leadership Summit fostered meaningful and timely conversations between industry professionals and the next generation of hospitality leaders. While every moment of the two-day conference was a learning opportunity and cultivated new ideas surrounding my own experience as a woman in the field of hospitality, I wanted to highlight three themes that kicked off the momentous weekend.
Vera Manoukian, the Senior Vice President and Global Brand Head of Hilton Hotels & Resorts, and Anthony Melchiorri, creator and host of Travel Channel's "Hotel Impossible" and "Extreme Hotels" kicked off the 2019 SHA Leadership Summit and focused on three themes: learning from your failures, the art of perception, and the value of mentorship.
Although Vera Manoukian holds one of the most important titles in today's hotel industry, she spoke to our audience of nearly 100 undergraduate and graduate students as if we were her close friends and confidantes.

Her heartfelt story instilled in me a sense that success is never handed to you, but rather something you must work for. Throughout every step of her career, despite her doubtful family and her envious colleagues, she kept her head held high and strived for success. It was comforting to hear from such a determined and successful woman about some of the lower points of her life or career. It was illuminating to learn how she used these moments of vulnerability to her advantage by reexamining her own perception of her  ability to be more than what society prescribed for her.
Vera's inspiring words not only resonated with her young audience, but with Anthony Melchiorri, a seasoned hospitality leader. Anthony shared his "mantra" of sorts with the audience. "Do what you say and say what you do" stresses the importance of defining your own reality —  not only how you perceive yourself, but how others perceive you. This is essentially your brand, how you choose to present yourself to the world. As a television personality and celebrity, Anthony's brand is extremely important to him and took many years to build and cement it.
Like Vera, Anthony didn't have an easy path to success. Each roadblock and challenge provided him an opportunity to examine how he chooses to present himself to the world. Anthony was very outspoken about the fact that he lives up to the expectations he sets for himself. Although he stressed his commitment to upholding his own set standards, he was quick to realize times of failure throughout his career as well.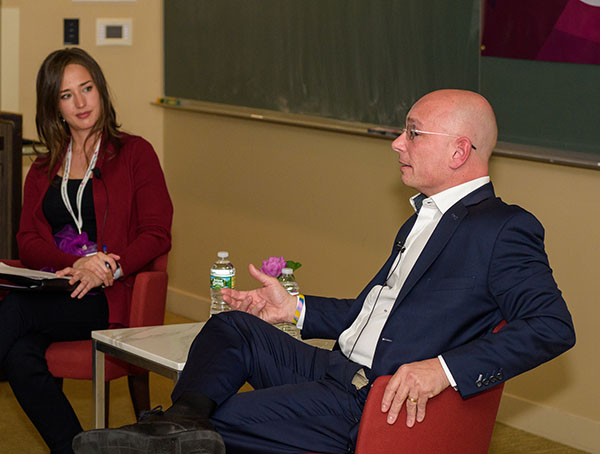 But these moments of disappointment and defeat didn't put a hold on either Anthony or Vera's careers. Both pushed forward, establishing their roles as industry leaders and role models for the next generation.
While Vera and Anthony's stories demonstrated their tenacious drive and persistence, they proudly admit that they could not have succeeded without their mentors. I learned that you can't force a mentorship. Instead, you have to build a strong connection with someone who shares your values and views you as someone they too can trust. They too should be able to turn to you in times of need because mentorship is not a one-way street; the mentor won't support you unless you're there for them too.
These three themes: learning from your failures, the art of perception, and the value of mentorship, represent just a small piece of what I absorbed from the 2019 SHA Leadership Summit, and they will resonate with me for years to come.
---

Eden McColl is a sophomore at Boston University's School of Hospitality Administration. Originally from San Diego, CA, Eden is currently pursuing a major in Hospitality Administration and a minor in Public Relations. She is a teaching fellow for Principles of Food Service Management and has held previous internships in the restaurant and PR industries.