Keynotes & Spotlights: Inspiration for SHA Students for Taking on the Hospitality World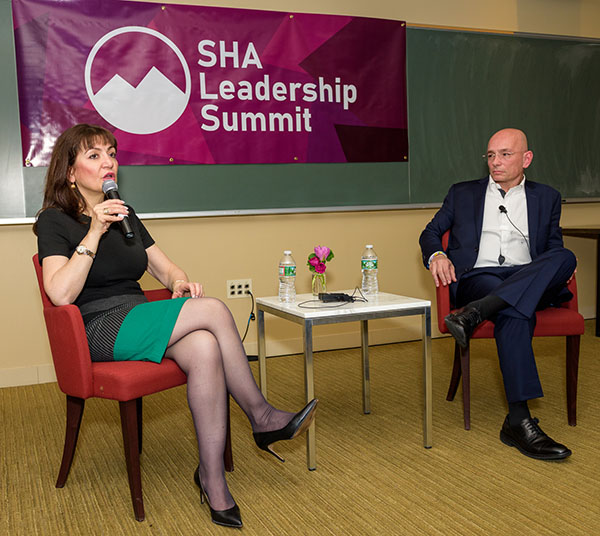 By Joel Brown
Guest speakers at the School of Hospitality Administration Leadership Summit were diverse, focused, highly successful and – at least for one March weekend – unusually candid.
They included a hotel executive raised in war-torn Beirut and another from South Central Los Angeles, a reality TV star from Brooklyn and a Cuban-American chef from Miami. All four offered both inspiration and practical tips to help the young women and men of SHA succeed in their field, as well as to deal with gender issues.
Friday's Summit Opening Keynote: Vera Manoukian, senior vice president and global brand head for Hilton:
"You are probably saying, 'I'm full of anxiety, I'm full of questions: Did I pick the right industry? Am I going to be in marketing? Am I going to be in sales, or am I going to be in operations?'" she told students. "I think this Summit is going to help you quite a bit. I wish I had this when I was in college — to be able to figure it all out, to answer the questions and come up with a plan for the future.
"However, plans are interesting. You think you have it all laid out, you think you know exactly what is going to happen to you, and then life happens. And you have to adapt," she said, and then offered a quote from boxer Mike Tyson: "Everybody has a plan until you get punched in the face."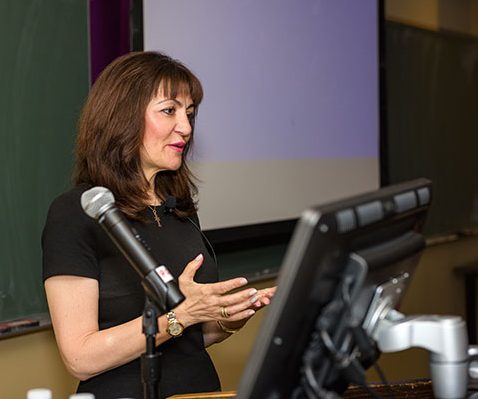 Manoukian said she has been knocked down many times and always gotten up and returned to the fray. Growing up in Lebanon, she struggled in school, but the ways she learned to cope became very valuable when she came to America at age 17, "with passport in hand and a suitcase full of resilience and curiosity."
Eventually she earned an MBA with a specialty in marketing. Living on her own, broke and full of doubts, she saw a HELP WANTED sign for the Sheraton Wayfarer in Bedford, New Hampshire, and it changed her life because she 'had the right attitude,' she said.
"I started learning, learning, learning. Anything that was thrown in front of me, I took advantage of. Even with my big heavy accent, I was still asking questions. 'Why? Why not? How come we don't do things differently?' A lot of opportunities came knocking on my door, and I opened it every time."
Manoukian became a banquet manager, a front office manager, a rooms division manager, until at 29 years old she became the youngest general manager – and the first female GM – at a Sheraton property.
"I was told by my leader that I better not screw this up, because if I do, no other female will be a GM in the company. So that was an encouraging moment," she said, pausing for laughter. But she worked hard and moved up through top posts at Starwood Hotels and Resorts Worldwide and at Denihan Hospitality Group, until joining Hilton Hotels & Resorts, where she is responsible for the strategic direction, vision, growth and performance of Hilton's flagship brand.
Among the lessons she learned on her way to the executive suite was that other women were not always allies. One older woman at Sheraton approached her when she became a GM and asked her directly who she slept with to get the job. "That was the first time I went home and cried. But I worked really hard, and in three months – I fired her," she said, to more laughter.
She also made a promise to herself that she would never tear down another woman the way that women tried to with her. "So I ask you ladies, as you get into this world, not to fall into that negativity, because it doesn't feel good to be on the receiving end," she said. "Support others, help them, coach them, celebrate their successes and lean on each other. We don't do enough of that in this industry; men do a much better job at that."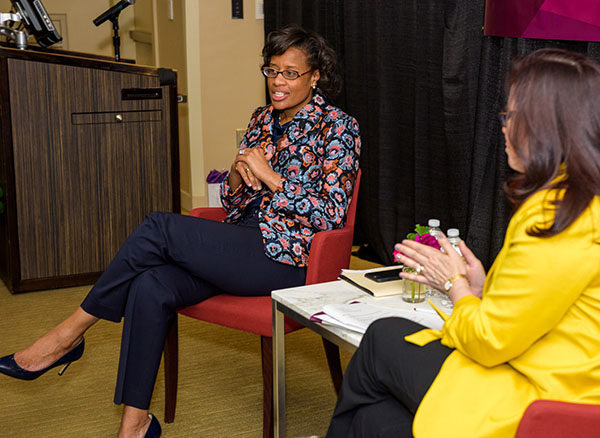 Saturday Morning Keynote: Leslie Hale, CEO of RLJ Lodging Trust:
"At the end of the day, every decision we make is to create value for shareholders," Hale said. "When we buy a hotel, we look for opportunities to improve it." For example, RLJ recently acquired a California beach hotel that's part of a chain catering to business travelers and groups including student sports teams, with free breakfast and self-service amenities. Changing it to better fit vacationers aiming for sun and sand will mean a better bottom line in the long run, including "eliminating the free breakfast and charging for it instead."
Although she is often the only African-American or only woman in meetings she attends – a situation she would like to see change – Hale says the lodging industry has done better than many others in terms of giving women a fair shake. "There are so many players that it has created more opportunities. You have management companies, brands, ownership entities, owner-operators, and often sprinkled throughout are women in leadership positions. That doesn't mean the industry doesn't need to do more."
"Your role," she told the students, "is to make sure that you're prepared, to make sure you come to work looking for opportunities, that you're taking risks early in your career. And also making it clear what your aspirations are."
An "immensely important" factor in her rise, she said, was mentorship. "I sit here today as a collection of people who invested in me, whether it was opening doors that I thought were closed, or turning on lights where I had blind spots, or advocating for me when I didn't even know they were doing it.
"I talk about how important mentorship has been to me, but I also did a lot to get those mentors," Hale said. "You have to take advantage of the resources that are made available. Your presence here today is immensely important. People will say 'follow up with me' or 'send me an email,' and then students don't. I was one of the people who did. Follow up and let others know that you're listening."
Friday spotlight guest: Anthony Melchiorri, hotel management veteran, creator and host of Travel Channel's "Hotel Impossible" and "Extreme Hotels":
"I think what's really important, looking at all the women in this room, is that we desperately need you in this career field," he said. "Don't allow a boss, whether it's a man or a woman, to get you out of this career. We need you."
Later, he explained that hotel operations positions are more often occupied by men, while women tend to be clustered in human resources and sales. "I'd like to see more women as general managers. There's not enough of them. There's very few in New York City. And I just think we need all perspectives," he says. "You're running a hotel for people from all over the world, so I think the more diversity we have, the better it is for our industry."
What would he say to young women to get them to pursue a career in male-dominated areas of the field? Don't put limits on yourself. "When other people view you, are you viewing yourself through their eyes or your eyes?" he said. "When they're looking at you, they may be judging you for a number of reasons. (But) whether you're a woman or a man, whether you're an immigrant or were born here, it doesn't matter."
The intense, Brooklyn-to-the-bone Melchiorri made his mark in the industry by turning around the famous Algonquin Hotel in Manhattan. He was the only male speaker on the Summit schedule, but he made clear his gender cred: husband, father of three daughters, business partner of a woman, creator of a show produced by two women. His father died when he was two, he said, which has fueled his intense drive and also his behavior as an ally to women in the industry, as he saw how his young, single mother was treated and sometimes mistreated by men.
He noted that overt sexism tends to come from an older generation of businessmen, not the millennials. "Knowing what you will accept and what you can't accept is really important" for men and women alike in today's working world, he said, and there's no room anywhere for the kind of bad behavior targeted by the #metoo movement.
Spotlight Guest and Closing Speaker: Chef Tatiana Rosana, executive chef at the Envoy Hotel Boston and two-time Food Network "Chopped" champion:
She looked for a job in Boston after culinary school and found it was plenty lonely knocking on kitchen doors. She was hired for the cold line at the restaurant Harvest in Cambridge, despite zero experience, and knocked herself out to learn the job. When the chef needed someone to fill in on the hot line one night, "I thought I could handle it, but that first night was horrible, and I went home crying." But every night after that she was assigned to the hot line, and she rose to that challenge.
Now she runs the 24/7/365 food operation at the Seaport's Autograph Collection hotel, The Envoy, including breakfast, lunch, dinner for the restaurant, events facilities and room service. She's also an Instagram celebrity with more than 8,000 followers. "The power of self-promotion is very real. Nobody is going to promote you more than yourself."
Internet celebrity is a double-edged sword, though. The trolls came after her online when she went on "Beat Bobby Flay," she says, feeling she'd disrespected him. Then she heard from her mother: "Tatiana, you have haters; that means you've made it!"
With her tattoos and edgy look, Chef Tatiana has a strong traditional side; her Cuban-American family in Miami still means everything to her. She looked as though she slipped into a light trance when she spoke of "a deeply rooted memory of sitting at the table with my grandmother, picking through the black beans – the sound of the beans hitting the aluminum container."
She was clear on advice for young women (and men) in the business: Work hard. Show up. Learn everything you can. She gets to know her employees on a personal level because it's the only way to know how to manage them: "One person might need me to be a little more aggressive, because that's what they need to be better, and some people can't handle that," she said.
"I also believe in work-life balance over everything," she said. "We are in an industry where we want to make people happy, an industry where we're working for other people, but I don't think any industry should burn you out."
She was the Summit's final speaker, so there was only one way for the conference to end — with a group "selfie" of Chef Tatiana with the entire audience of SHA students and other guests, suitable for posting online.
---

Joel Brown is a staff writer at BU Today and Bostonia magazine. He's had 794 bylines in the Boston Globe, writing about everything from the hiring of Boston's new arts czar to what it's like to climb on top of a wind turbine (surprisingly peaceful). He previously worked for the Boston Herald and the Greenfield Recorder, among others. He graduated from the University of New Hampshire, where he majored in pinball and the student newspaper. He is a Massachusetts native, a lifelong Red Sox fan and a North Shore resident.