2019 Career Panel: What can you do with a PhD?
2019 Career Panel: What can you do with a PhD?

by Senegal Carty, GMS PhD Trainee
Date: April 24, 2019
Panelists:
Dr. Lynes Torres; Life Science Consultant at PA Consulting Group
Dr. Chun Shao; Scientist II at Bristol-Myers Squibb
BU alumni Dr. Lynes Torres and Dr. Chun Shao rounded out the series of BU's BEST career panel discussions with their different but equally august career success stories. During the discussion, which was moderated by Dr. Barbara Schreiber, Associate Professor of Biochemistry and co-PI (along with Dr. Linda Hyman, Associate Provost of Graduate Medical Sciences) of BU's BEST, Dr. Torres spoke about her current position as a life sciences consultant at PA Consulting Group and what it took to earn it. Dr. Shao, a scientist II at Bristol Myers-Squibb, also shared her path through graduate school and into a career where she can make a difference in a way that she thoroughly enjoys.
Dr. Torres described much of her consulting work as being "parachuted in" to help teams improve their work. Her graduate school training in the life sciences enables her to understand many of the problems that research groups face, but Dr. Torres made it clear that the skills required for her job go beyond this. For example, to prepare for grueling management consulting interviews, she taught herself about accounting and finance. Through a number of internships, which included working as a marketing intern at Propel Careers and as a volunteer management consultant through Tufts and Harvard, Dr. Torres honed both the knowledge and soft skills she would later put to use at PA Consulting Group.
Surprisingly, early in her career Dr. Torres thought that this line of work could never be right for her. "I thought that my enthusiasm and zeal for science meant that I had no business in business," she explained. However, this changed when she discovered that management consulting had several aspects in common with teaching. As a former high school chemistry teacher, Dr. Torres knew that she loved educating others and was a highly competent presenter.
Her advice for audience members interested in a career similar to hers was to start with networking.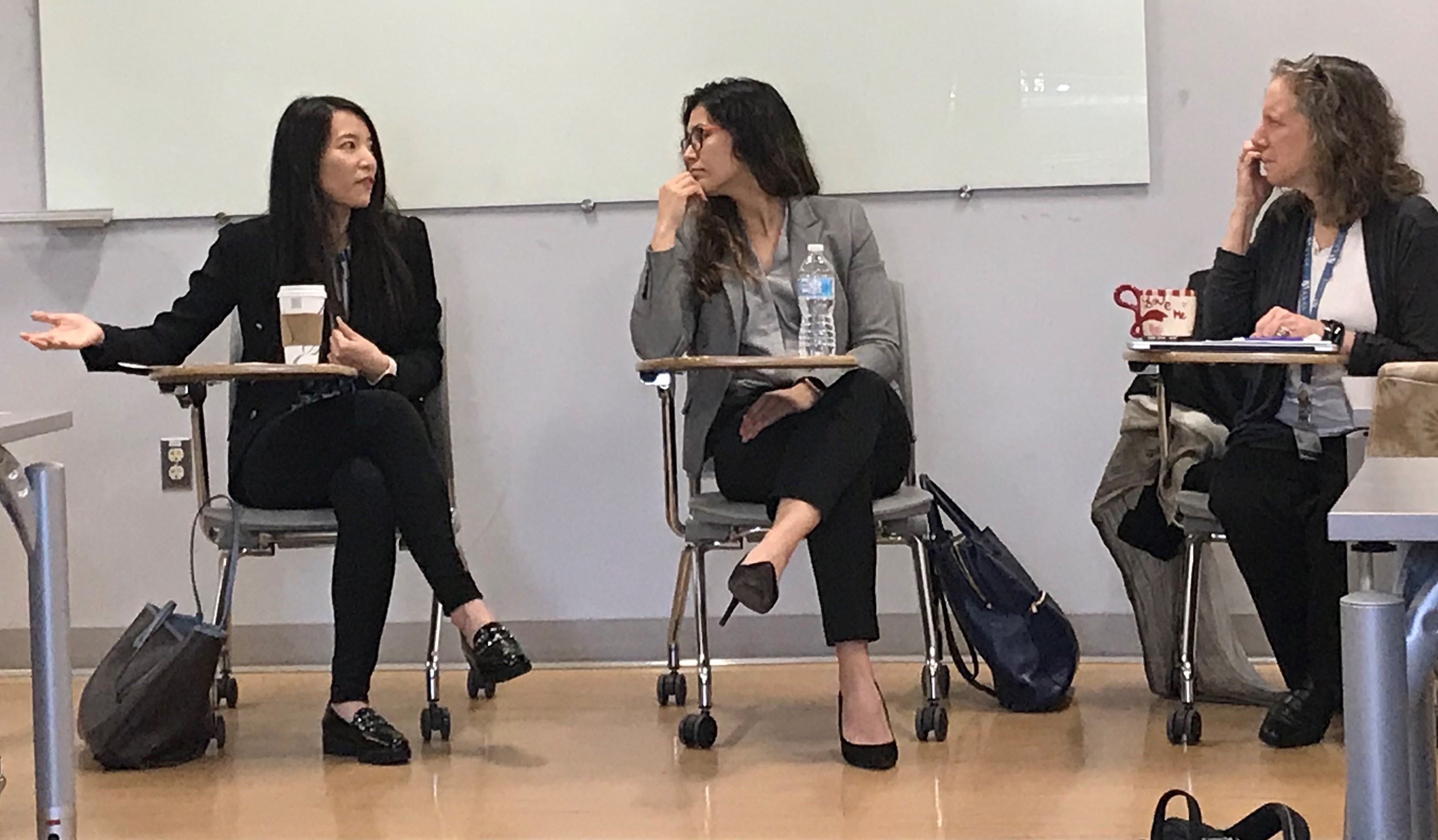 "For management consulting, the first high-priority thing is meeting management consultants," she explained. In this highly competitive field, she explained, good connections are vital for getting past the first tier of the application process. Of course, to advance through the following stages, it is crucial to demonstrate an understanding of the business as well as the science. Dr. Torres recommended certificate programs or courses like Accounting 101 – although earning an MBA can be a useful asset, she explained, it's quite expensive and not necessarily required. Dr. Torres also emphasized the importance of being able to give clear and concise PowerPoint presentations, a skill that graduate students have the opportunity to exercise often. Documenting talks at conferences on your resume is an especially good way to show competence in this area, she advised, especially if the audience is large and comes from a variety of backgrounds.
Dr. Chun Shao entered BU in the same cohort as Dr. Torres and was just as eager to make the most of her time as a PhD student, both in the lab and by engaging in extracurricular activities. With the support of her P.I., Dr. Joseph Zaia, she published first-author papers and successfully applied for an internship at Amgen during her fifth year in graduate school. Her current job at Bristol Myers-Squibb focuses on the development side of R&D, which she enjoys because it allows her to watch molecules that emerge from the company's research go on to improve patients' lives. Much of her time is spent in meetings, but she continues to do some benchwork and heads a team of Master's students as well.
Dr. Shao stressed constant self-analysis throughout one's career journey, advising the audience to avoid seeking positions just for the financial rewards and focus more on what they enjoy and are good at. She also encouraged thorough research into careers of interest. "Before you make any decisions, try to talk with experts in the field and get a flavor of what their daily life is like," she advised. Work as an industry scientist within larger companies can facilitate this through intra-organizational rotations; Dr. Shao explained that this practice allows new recruits to get a sense of different areas of work within larger companies and find out what they are truly passionate about. However, she also stated the importance of taking action when required and avoiding perfectionism, noting that as scientists, we often put so much emphasis on thinking and planning that we miss fleeting opportunities. Dr. Shao explained that this applies not only to taking advantage of chances to gain expertise and experience, but also to daily life in her job. She gave an example by informing the audience that submitting reports quickly and asking for feedback is far better than trying to achieve perfection on one's own because: "your solution might not be the optimal solution for your team and for your company."
Dr. Torres and Dr. Shao both encouraged any audience members who want to learn more from them not to hesitate to reach out. Their achievements during and since their time at BU and their passion for their current jobs are clear evidence that both of them are excellent role models for future doctoral degree holders.