My Life in an Indigenous Village, with Lung Yingtai (Former Minister of Culture of Taiwan and Celebrated Writer), at Harvard CGIS (Sept. 27, 2023)
The Harvard-Yenching Institute and the BU Center for the Study of Asia are pleased to invite you to join us for the third of Lung Yingtai's Boston-area events,
My Life in an Indigenous Village
Lung Yingtai
(Former Minister of Culture of Taiwan and Celebrated Writer)
Wednesday, Sept. 27, 2023 from 4:30-6:00 pm
at Harvard University's Tsai Auditorium (CGIS South), 1730 Cambridge St., Cambridge, MA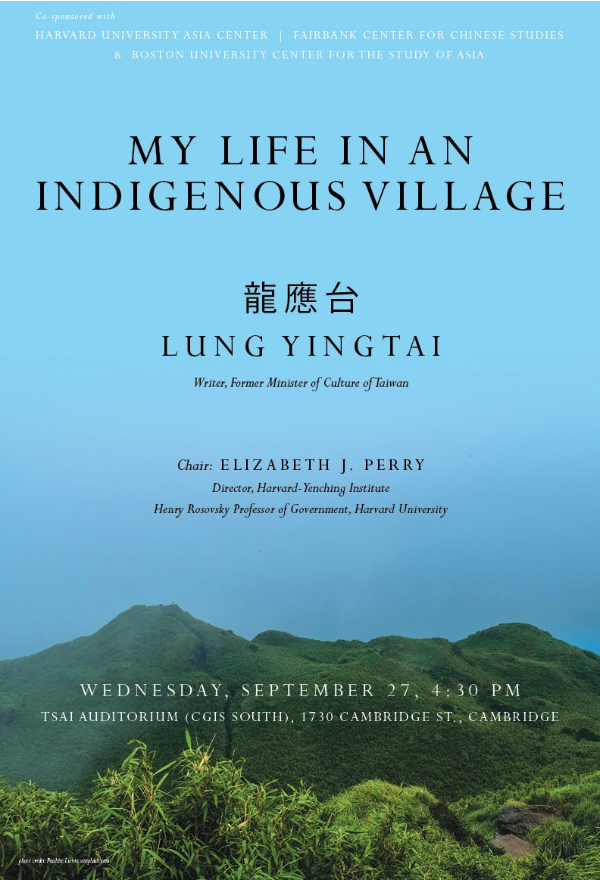 Since Lung Yingtai relocated to an indigenous village in eastern Taiwan three years ago, she sought to comprehend the elements that comprise her life, including the journey of her daily water supply from the mountain's depths to her garden pond. Furthermore, she regularly encounters cobras, wild boars and crab-eating mongooses, prompting her to examine the impact of cultural as well as environmental "encroachment" on the wildlife and people residing in the untouched forest.
About the Speaker: 
Lung

 

Yingtai
is a writer, literary critic and public intellectual. Lung not only has a large number of devoted readers in her native Taiwan, but her works also have great influence in the Chinese-language world in Singapore, Malaysia, China, and North America.
Lung entered public service as Taipei City Government's first Minister of Culture in 1999 and served as Taiwan's inaugural Minister of Culture from 2012-2014.
She is author of more than two dozen books, including essays, fiction, reportage, and literary criticism. Her 1985 book, The Wild Fire, created a major cultural stir for its honest and introspective look at the social and political problems facing contemporary Taiwan society.
Big River, Big Sea: Untold Stories of 1949, published in 2009, became a must-read in greater China despite that it has been banned in China.
She was Hung Leung Hao Ling Distinguished Fellow in Humanities at the University of Hong Kong from 2015-2020.