The Gastropolitics of the 1853-54 Perry Mission to Japan, with Christine Guth (Apr. 26, 2023)
BU's Department of History of Art and Architecture, American and New England Studies Program, and the BU Center for the Study of Asia
invite you to our upcoming lecture
The Gastropolitics of the 1853-54 Perry Mission to Japan
Christine M.E. Guth
(Royal College of Art / Victoria and Albert Museum)
Wednesday April 26, 2023 from 5:30-7:00 pm
at the Frederick S. Pardee School of Global Studies, 121 Bay State Road, Boston, MA 02215
---
Poster illustration shows a detail from "Entertainment and Menu for Reception at Yokohama 1854" (Peabody Essex Museum M17,143. Salem, MA)
Abstract: 
Little scholarly attention has been given to the role of reciprocal banqueting in the political strategies deployed by the negotiating teams during the 1853-54 Perry expeditions to Japan. This paper addresses this oversight, arguing that American and Japanese officials both understood the importance of political theater and used lavish banquets and gifts of food as part of their efforts to impress their counterparts with their power, wealth, and civility.
About the Speaker: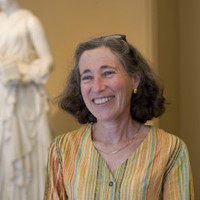 Christine M. E. Guth has taught at institutions including Princeton, Harvard, University of Pennsylvania, and Berkeley. She led the Asian specialism in the Victoria and Albert Museum & Royal College of Art's Post-graduate History of Design Program from 2007 until 2016.  She has written widely about transnational cultural exchange between the United States and Japan.  Her books include Longfellow's Tattoos: Tourism, Collecting, and Japan (2004); and Hokusai's Great Wave: Biography of a Global Icon (2015). Her publications on culinary topics include: "The Japanese Stand Today as Teachers of the Whole World' American Food Reform and the Russo-Japanese War," (2021) and "Food for Fantasy: Sara Bosse and Onoto Watanna's 1914 Chinese-Japanese Cookbook (2021).
About the Discussant:
Alice Y. Tseng is CAS Associate Dean of the Faculty for the Humanities and Professor of Japanese Art and Architecture at Boston University. She specializes in the art and architecture of Japan, with particular focus on the
19th and 20th centuries. Specific topics of research interest are the history of institutional buildings, collections, and exhibitions; transnational and transcultural connections between Japan and Euro-America; the role of the visual arts in cultural transformation, invention, and revival; and the visual and spatial representations of Japan's modern monarchy. She is the author of The Imperial Museums of Meiji Japan: Architecture and the Art of the Nation (2008), Kyoto Visual Culture in the Early Edo and Meiji Periods: The Arts of Reinvention (co-edited with M. Pitelka, 2016), and Modern Kyoto: Building for Ceremony and Commemoration, 1868-1940 (2018). She is a co-curator of the online exhibition Asia at the World's Fairs. A current book project, tentatively titled "Designing for World's View: Japan at the Louisiana Purchase Exposition of 1904," examines the production of Japanese national displays through ensembles of specialized pavilions, gardens, tableaux, models, and maps at the international exposition. Another ongoing project explores the twinned concepts of emperor and empire and their manifestations in built environments.