TODAY! New Books in East Asian Literature: Minor Transpacific Triangulating American, Japanese, and Korean Fictions, with David S. Roh (Feb. 17, 2022)
The BU Dept. of World Languages and Literatures' New Books in East Asian Literature lecture series, as part of its  2021-2022 theme "New Directions in East Asian Literary Studies," is pleased to present
Minor Transpacific
Triangulating American, Japanese, and Korean Fictions

David S. Roh (University of Utah)
Thursday, February 17, 2022
6:30-8 pm ET
This event will be held virtually over Zoom Please register for the event through the following link: https://bostonu.zoom.us/meeting/register/tJcocumrqTksE9JwU33Wdxk9JINNwqpXMPe-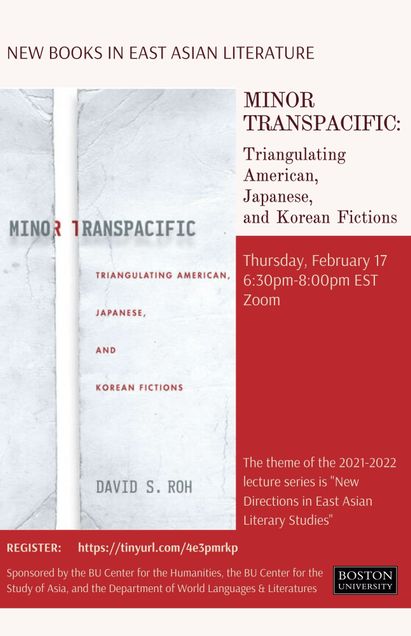 This event is co-sponsored by the BU Center for the Humanities, BU Center for the Study of Asia, and BU Department of World Languages & Literatures
---
---
ABSTRACT:
There is a tendency to think of Korean American literature—and Asian American li
terature writ large—as a field of study involving only two spaces, the United States and Korea, with the same being true in Asian studies of Korean Japanese (Zainichi) literature involving only Japan and Korea. This book posits that both fields have to account for three spaces: Korean American literature has to grapple with the legacy of Japanese imperialism in the United States, and Zainichi literature must account for American interventions in Japan. Comparing Korean American authors such as Younghill Kang, Chang-rae Lee, Ronyoung Kim, and Min Jin Lee with Zainichi authors such as Kaneshiro Kazuki, Yi Yang-ji, and Kim Masumi, Minor Transpacific uncovers their hidden dialogue and imperial concordances, revealing the trajectory and impact of both bodies of work.
Minor Transpacific (Stanford UP, 2021) bridges the fields of Asian studies and Asian American studies to unveil new connections between Zainichi and Korean American literatures. Working in Japanese and English, David S. Roh builds a theoretical framework for articulating those moments of contact between minority literatures in a third national space and proposes a new way of conceptualizing Asian American literature.
ABOUT THE SPEAKER:
David S. Roh is Associate Professor of English and Director of the Digital Matters Lab at the University of Utah, where he specializes in Digital Humanities and Asian American literature.  He is the author of Minor Transpacific (Stanford University Press, 2021), Illegal Literature (University of Minnesota Press, 2015), and co-editor (with Betsy Huang and Greta A. Niu) of Techno-Orientalism (Rutgers University Press, 2015).
---
** New Books in East Asian Literature is a forum to explore issues, concepts, and theories related to the study of East Asian literature. We are not only asking how to study East Asian literature beyond the paradigm of area studies, which originated from and is still often being linked to Cold War politics, but also seeking to look beyond the Euro-centric frame of traditional comparative literature. In other words, how can we decolonize the study of East Asian literature?