BUCSA Asia Forum, an online dialogue on Asian affairs

an exciting online platform for the presentation and discussion of materials related to Asian culture, politics and society. A growing number of other items are in the works, including interviews and discussions that we plan to upload to the BUCSA website in the coming weeks. Topics range from China's ongoing Belt and Road Initiative, public health and the coronavirus crisis in South Asia, the evolving relationship between Iran and China, the impact of the Covid-19 pandemic on Asian-Americans, and many other timely subjects. 
Watch this space for links to these important and engaging discussions, and links
to the recorded versions of past presentations!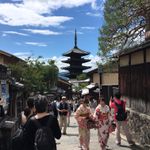 A Discussion with Dr. Jennifer Prough (Valparaiso University)
Discussant: Prof. Alice Tseng (Dept. of History of Art and Architecture, Boston University)
April 2, 2020
---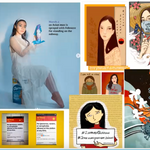 with Frances Kai-Hwa Wang
April 27, 2020
---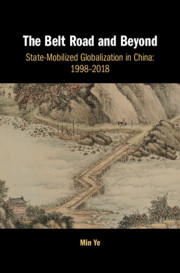 The Belt Road and Beyond: State-Mobilized Globalization in China, 1998-2018
 (
Cambridge University Press,
2020).
Hosted by Professor Grant Rhode
---
A Conversation with Min Ye,  Lei Guo, and Jack Weinstein
Moderator: Prof. James Katz (College of Communication, BU)
Thursday, October 8, 2020
---
with June Park (George Washington University)
Thursday, October 20, 2020
---
China and the Second World War: Family Stories from Boston University
with Willis Wang, Esther Hu, Wen-Hao Tien, and David Li
Wednesday, November 11, 2020
---
Super Continent: The Logic of Eurasian Integration, with Kent Calder
Discussant: Min Ye (Boston University)
Moderator: William Grimes (Boston University)
Friday, December 4, 2020
---
The Promise and Perils of Chinese Democracy: Hong Kong and Taiwan

With David Zweig (Hong Kong University of Science and Technology)
Margaret Lewis (Seton Hall University)
Discussant: Joseph Fewsmith
Friday, December 11, 2020
---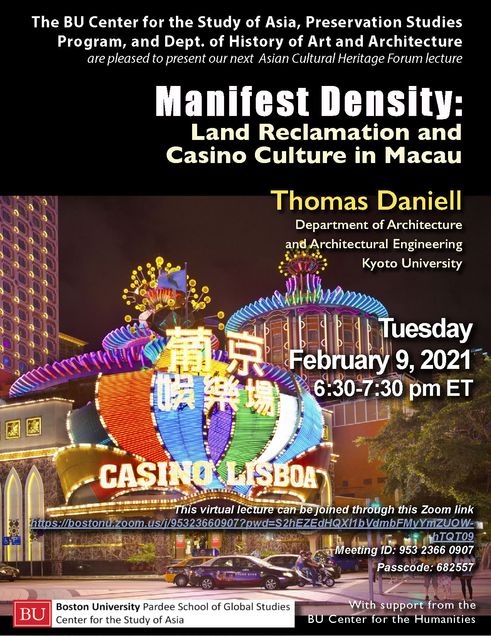 Manifest Density : Land Reclamation and Casino Culture in Macau, with Prof. Thomas Daniell, Dept. of Architecture and Architectural Engineering, Kyoto University
Asian Cultural Heritage Forum Lecture
Tuesday, Feb. 9, 2021
---
In the series Assessing China's Belt and Road Initiative:
STRATEGIC IMPLICATIONS: US-China Strategic Competition and the BRI
with Prof. Min Ye and discussant Prof.  Joshua Shifrinson (both of the Pardee School of Global Studies, Boston University)
Friday, February 19, 2021
---
---