EAAF Lecture: Kyoto, A Modern Imperial City (April 19, 2019)
The Boston University Center for the Study of Asia's Director's Lunch Series, the East Asian Archaeology Forum (EAAF) and CAS Archaeology Program are pleased to present:
Kyoto: A Modern Imperial City
by
Prof. Alice Y. Tseng
(Chair, BU Dept. of History of Art and Architecture, and Associate Professor of Japanese Art and Architecture)
Friday, April 19, 2019 from 12-1:30 pm
in the Bay State Room, Pardee School of Global Studies,
121 Bay State Road, Boston University
A modest lunch will be provided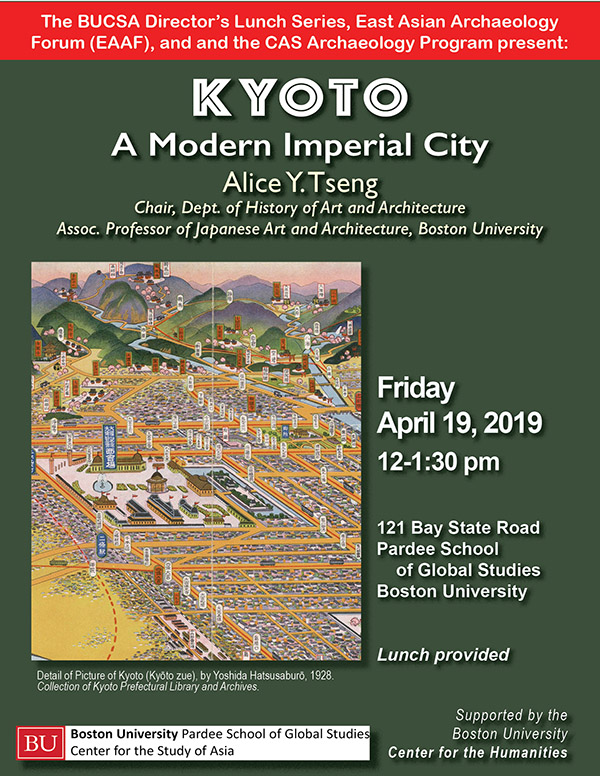 The East Asian Archaeology Forum Public Lecture Series is supported by
the Boston University Center for the Humanities
Abstract:
This talk explores the development of an imperial city without an emperor in residence. The story of Kyoto between 1868 and 1940 was not one of irreparable decline. The city thrived in a new way in support of the reigning imperial house, by mobilizing the existing wealth of historical and cultural sites as well as putting in place modern infrastructure and architecture. Visual representations of Kyoto during these decades reinforced the scenic features and cultural tropes of the former capital while also playing up the urban transformations. New media such as copperplate printing, photography, and lithography captured and circulated widely the dynamism of Kyoto spaces and events for an international audience.
About the Speaker:
Professor Alice Tseng specializes in the art and architecture of Japan, with particular focus on the 19th and 20th centuries. Specific topics of research interest are the history of institutional buildings, collections, exhibitions; transnational and transcultural connections between Japan and Euro-America; and the role of the visual arts in cultural transformation, invention, and revival.
Professor Tseng has received fellowships from numerous institutions and foundations, including the Fulbright Foundation, Center for Advanced Study in the Visual Arts (National Gallery of Art), J. Paul Getty Foundation, Metropolitan Center for Far Eastern Art Studies, American Council of Learned Societies, and Boston University Center for the Humanities. Professor Tseng is the author of The Imperial Museums of Japan: Architecture and the Art of the Nation (University of Washington Press, 2008), Kyoto Visual Culture in the Early Edo and Meiji Periods: The Arts of Reinvention (co-edited with M. Pitelka, Routledge, 2016), and Modern Kyoto: Building for Ceremony and Commemoration, 1868-1940 (University of Hawai`i Press, 2018). Current projects include an online exhibition on Japanese architecture at the 1893 World's Columbian Exposition in Chicago and essays on the visual and spatial representations of the modern emperors of Japan.