By Land and By Sea: China's Belt and Road in Europe (Feb. 21, 2019)
The Boston University Center for the Study of Asia and the Center for the Study of Europe
are pleased to present the symposium
By Land and By Sea: China's Belt and Road in Europe
Thursday, Feb. 21, 2019 1-5:30 pm
at the Pardee School for Global Studies, 121 Bay State Road, Boston University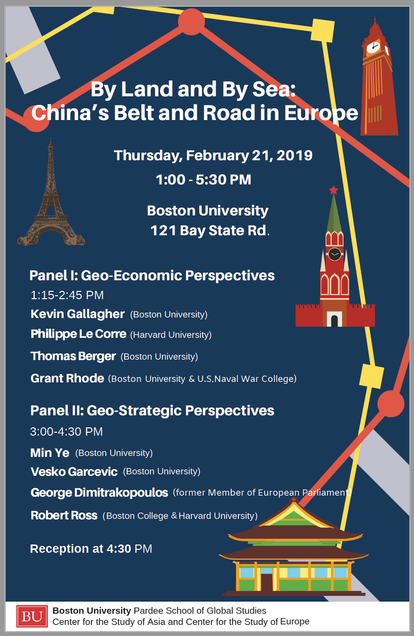 Symposium schedule:
1:00 pm  Welcome
1:15-2:45 pm   Panel 1: Geo-Economic Perspectives
Kevin Gallagher (Boston University): Moderator & Discussant
Philippe Le Corre (Harvard University): "Assessing China's offensive at the periphery of Europe: South Europe Case Studies"
Thomas Berger (Boston University): "Assessing China's offensive in the center of Europe: Germany and northern Europe" 
Grant Rhode (Boston University and U.S. Naval War College): "Piraeus: Emerging hub of the Maritime Silk Road in Europe"
2:45-3:00 pm Coffee and tea break
3:00-4:30 pm Panel 2:  Geo-Strategic Perspectives
Min Ye (Boston University): Moderator & Discussant
Vesko Garcevic (Boston University): "Chinese and Russian strategic influence in Southeastern Europe"
Georgios Dimitrakopoulos (former Member of European Parliament):  "The emerging presence of China in the Arctic and the Mediterranean"  
Robert Ross (Boston College and Harvard University): "China and Europe: A bridge too far?"
4:30 pm Reception
---
About our speakers:
Thomas Berger, Director of the Center for the Study of Asia, and Professor of International Relations, Boston University. Berger joined Boston University in 2001 after having taught for seven years at the Johns Hopkins University. He is the author of War, Guilt and World Politics After World War II,  Cultures of Antimilitarism: National Security in Germany and Japan and is co-editor of Japan in International Politics: The Foreign Policies of an Adaptive State. His articles and essays have appeared in numerous edited volumes and journals, including International Security, Review of International Studies, German Politics and World Affairs Quarterly.
Georgios Dimitrakopoulos served as an elected Greek member of the European Parliament between 1994 and 2009, including five-year terms as Second Vice President of the Parliament and First Vice President of the Petitions Committee. He served on Parliamentary Committees for Foreign Affairs and Constitutional Affairs, as well as on the Security and Defence, External Economic Relations, Legal Affairs, and Human Rights Committees. He served on Delegations for EU relations with Mashreq countries, Turkey, and Malta, and as Rapporteur for the Parliament on EU relations with the Middle East, the Transcaucasian Region, and Iraq, and on the Financing of European Political Parties. He was Chairman of the EU Conciliation Committee on issues of Transport and Air Traffic including the Single European Sky. Dimitrakopoulos has also served Greece as Information Officer at the Press Office of the Greek Embassy in Washington D.C, and as an advisor for Politico-Military Affairs for the Greek Prime Minister and for the Greek Minister for Foreign Affairs. He has been a Lecturer on European Politics at the Boston University Brussels Campus, has edited a book on the European Constitution, was director of the newspaper Elefteria, and continues to serve as an active International Affairs Columnist for newspapers and news analysis blog sites.
Kevin P. Gallagher is a professor of global development policy at Boston University's Frederick S. Pardee School of Global Studies, where he directs the Global Development Policy Center. He is the author or co-author of six books: The China Triangle: Latin America's China Boom and the Fate of the Washington Consensus; Ruling Capital: Emerging Markets and the Reregulation of Cross-Border Finance; The Clash of Globalizations: Essays on Trade and Development Policy; The Dragon in the Room: China and the Future of Latin American Industrialization (with Roberto Porzecanski); The Enclave Economy: Foreign Investment and Sustainable Development in Mexico's Silicon Valley (with Lyuba Zarsky); and Free Trade and the Environment: Mexico, NAFTA, and Beyond. Gallagher serves on the United Nations' Committee for Development Policy and co-chairs the T-20 Task Force on International Financial Architecture at the G-20. He previously served on the investment sub-committee of the Advisory Committee on International Economic Policy at the US Department of State and on the National Advisory Committee at the Environmental Protection Agency.   Gallagher has been a visiting or adjunct professor at the Paul Nitze School of Advanced International Studies at Johns Hopkins University, the Fletcher School of Law and Diplomacy at Tufts University; El Colegio de Mexico in Mexico; Tsinghua University in China, and the Center for State and Society in Argentina.
Ambassador Vesko Garcevic is a Professor of the Practice of Diplomacy and International Relations at the Frederick S. Pardee School of Global Studies, at Boston University. During his diplomatic career, he held important positions at the challenging political time of the dissolution of the Socialist Federal Republic of Yugoslavia and democratic transition of Montenegro. From January 2015 through June 2016, Garcevic was General Director for NATO and Security Policy in the Ministry of Foreign Affairs and European Integration of Montenegro and National Coordinator for NATO. He was a Montenegrin Ambassador to NATO from 2010 to 2014 as well as a bilateral Ambassador to Belgium, Luxembourg and the Netherlands. After Montenegro regained independence in 2006, he served as the first Montenegrin Ambassador to Austria and the Organization for Security and Cooperation in Europe. He published numerous Op-Eds in media from Europe and the US. He co-authored several policy reports about the Balkans and Montenegro published by the US and European think tanks and research institutions. Garcevic testified before the US Senate Select Committee on Intelligence (June 2017) and the European Parliament (December 2018) on Russia's interference in Montenegro and the Balkans affairs.
Philippe Le Corre is a senior fellow at the Mossavar-Rahmani Center for Business and Government, Harvard Kennedy School. He is also an Affiliate with the Belfer Center's Project on Europe and the Transatlantic Relationship, an Associate in Research at Harvard's Fairbank Center for Chinese Studies and a nonresident senior fellow at the Carnegie Endowment for International Peace (Asia and Europe Programs). He was a fellow in the Foreign Policy Program of the Brookings Institution in Washington DC from 2014-2017 and previously served as a Special Assistant to the French Minister of Defense and as a senior analyst on Northeast Asia in the Policy Directorate. His latest book is China's Offensive in Europe (Brookings Press, 2016). He is also the author of a recent Carnegie paper: China's rise as a geoeconomic influencer. Four European Case Studies (October 2018).
Grant F. Rhode is Senior Lecturer at the Frederick S. Pardee School of Global Studies at Boston University, and Adjunct Professor in Strategy and Policy at the U.S. Naval War College. He formerly taught at Tufts, Northeastern, and the University of Massachusetts, and has guest lectured at the Indian Naval War College, Goa.  He is Associate in Research at the Fairbank Center for Chinese Studies at Harvard University, Faculty Affiliate of the China Maritime Studies Institute of the U.S. Naval War College, and Visiting Researcher at BU's Center for the Study of Asia (BUCSA).  He has been a Visiting Scholar in Taiwan at National Chengchi University and National Taiwan University.  He is co-author of Treaties of the People's Republic of China, 1949-1978, as well as articles on Chinese foreign policy, maritime diplomacy in the China Seas, ethnic relations in Japan, and U.S.-China educational exchange.  Dr. Rhode's current research focuses on China's role in historical and contemporary Eurasian maritime affairs.
Robert S. Ross is Professor of Political Science at Boston College and Associate, John King Fairbank Center for Chinese Studies, Harvard University. He has been a Visiting Scholar at the Institute for Security Studies, Peking University, a Fulbright Professor at the Chinese Foreign Affairs College, and a Visiting Senior Fellow at the Institute of International Strategic Studies, Qinghua University. From 2007 to 2016, he was Adjunct Professor, Institute for Defence Studies, Norwegian Defence University College and in 2009 he was Visiting Scholar, Institute for Strategy, Royal Danish Defence College. His recent publications include Strategic Adjustment and the Rise of China: Power and Politics in East Asia and Chinese Security Policy: Structure, Power, and Politics. He has testified before Senate and House committees and the Defense Policy Board Advisory Committee. He is a member of the Academic Advisory Group, U.S.-China Working Group, United States Congress, and he is a consultant to U.S. government agencies. He is a member of the Council on Foreign Relations and the National Committee for U.S.-China Relations.
Min Ye is Associate Professor of International Relations and Director of Undergraduate Studies at the Pardee School of Global Studies, Boston University. Her research specializes in economic development and globalization in East Asia, with comparison to South Asia. Her publications include Diasporas and Foreign Direct Investment in China and India(Cambridge University Press, 2014), and The Making of Northeast Asia (with Kent Calder, Stanford University Press, 2010). Her articles, "China's Outbound Direct Investment: Regulation and Representation," "Competing Cooperation in Asia Pacific: TPP, RCEP, and the New Silk Road," "Conditions and Utility of Diffusion by Diasporas," and "Domestic Politics of China's Belt and Road" have appeared in Modern China Studies (2013), Journal of Asian Security (2015), Journal of East Asian Studies (2016), and Journal of Contemporary China (2019). Min Ye has received grants and fellowship in the U.S and Asia, including a Smith Richardson Foundation grant (2016-2018), East Asia Peace, Prosperity, and Governance Fellowship (2013), Princeton-Harvard China and the World Program post-doctoral fellowship (2009-2010), and Millennium Education Scholarship in Japan (2006). In 2014-2016, the National Committee on the U.S-China Relations selects Min Ye as a Public Intellectual Program fellow.
---
This symposium is co-sponsored by the BU Center for the Study of Asia and the BU Center for the Study of Europe