Asian Women Leaders Forum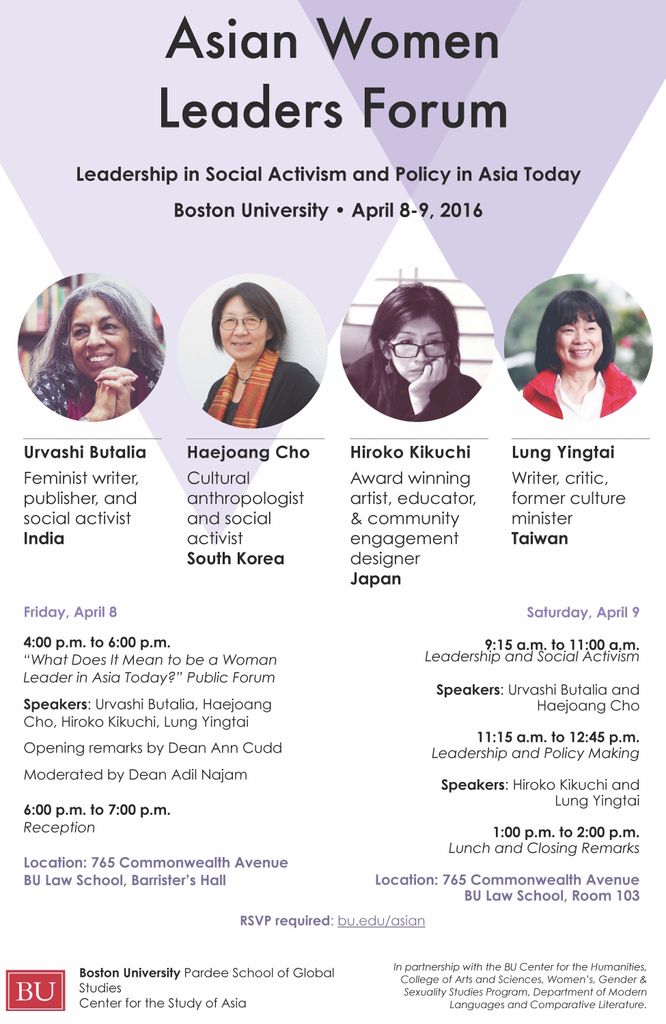 Thank you for your interest in our event! Unfortunately, we have reached the capacity for RSVPs. If you would still like to attend the event, please contact Wen-Hao Tien at whtien@bu.edu to be placed on the waitlist. Thank you again!
---
Urvashi Butalia (India)
Urvashi Butalia co-founded Kali for Women in 1984 and in 2003, Zubaan. With over 35 years of experience in feminist and independent publishing, she has a formidable reputation in the industry in India and abroad. She also has a long involvement in the women's movement in India, and is a well-known writer, both in academia and in the literary world. She has several works to her credit, key among which is her path-breaking study of Partition, The Other Side of Silence: Voices from the Partition of India which won the Oral History Book Association Award and the Nikkei Asia Award for Culture. She has also taught publishing for over 20 years and is on the advisory boards of a number of national and international organizations. She has received many awards, among which are the Pandora award for women's publishing, the French Chevalier des Artes et des Lettres, the Nikkei Asia Award for Culture and the Padma Shree, the highest civilian honour awarded by the Indian government.
http://zubaanbooks.com/about-zubaan/zubaanis/
https://en.wikipedia.org/wiki/Urvashi_Butalia
Haejoang Cho (Korea)
(also known as Haejoang Cho Han; Han being her mother's family name). A Professor Emeritus of the Department of Cultural Anthropology at Yonsei University, Haejoang Cho has been a prolific and inspiring writer about gender, culture, education, and post-colonialism. Her works debunk many widely shared myths in Korean society. She made several daring attempts to cross the boundary between academia and non- academia–such as initiating a movement to use both parents' last names, which contributed to the historic decision to abolish the patriarchal "family registry system."
http://chohanlab.net/?mid=eng_vita
http://anthropology.utoronto.ca/events/learning-south-korea-with-haejoang-cho/
Hiroko Kikuchi (Japan)
Hiroko KIKUCHI is an award-winning artist, educator, and community & engagement designer. She co-founded Creative Ecology Partners in Japan and USA and NPO inVisible in Japan. As a member of the start-up team for Social Creative Platform for Opportunity: Project Wawa, she designed the creative enterprise's strategy to support grassroots reconstruction efforts following the 2011 Tohoku Earthquake in Japan. Since then, she has been involved in developing projects for arts and cultural institutions, and community-building, and creative placemaking for social change in Japan and the USA. As a consultant, examples of her projects include: developing the Chinatown Cultural Development Strategy for the Washington D.C. Office of Planning, and conducting an innovative New Audience Engagement Study for the Berkeley Art Museum and Pacific Film Archives at the University of California at Berkeley. She has led community art and engagement projects for the Boston Public Library Foundation, the Kentucky Foundation for Women, the Boston Center for the Arts, the Vietnamese American Civic Association, among others. She has served as an educator and program strategist and manager for numerous organizations including the Massachusetts Institute of Technology List Visual Art Center, the Museum of Fine Arts Boston, and the 2013 Aichi Triennale. Her writings have been included in several publications, including: Sensorium: embodied experience, technology, and contemporary art published by MIT Press. She is an Adjunct Professor at Rikkyo University, Tokyo, Japan.
http://creativeecology.net/people/hiroko-kikuchi/
Lung Yingtai (Taiwan)
Lung Yingtai, former Minister of Culture, is also a celebrated writer, literary critic and public intellectual. Having written 30 books, Lung not only has a large number of devoted readers in her native Taiwan, but her works also have great influence in the Chinese-language world in Hong Kong, China, and North America. After receiving her doctorate in English Literature from Kansas State University, Lung Yingtai taught in several universities, including University of Heidelberg.
Lung entered public service as Taipei City Government's first minister of culture in 1999 and ushered in a new era of living for residents. In July 2005, a dozen of influential intellectuals together with like-minded business leaders established the Lung Yingtai Cultural Foundation with the aim to cultivate civil society of Taiwan. In 2008, Lung received the honor of being named the first "Hung Leung Hau Ling Distinguished Fellow in Humanities" by the University of Hong Kong.
Lung Yingtai was appointed Minister of Culture in May, 2012. During her term of office, Lung made an extensive overhaul of outdated rules and regulations in the fields of cultural development such as the Film Act, the Public Broadcasting Act and the Cultural Heritage Law. she also delivered new laws such as the Museum Act and the the Underwater Cultural Preservation Act.
Lung left her post as Culture Minister in December, 2014. She is Chairman of Lung Yingtai Cultural Foundation and continues to promote global citizenship. Based in Taipei, she is now fully engaged in her new writing projects.
https://en.wikipedia.org/wiki/Lung_Ying-tai