Women's Lacrosse Hosts Patriot League Home Opener Saturday against Loyola Maryland
Terriers are currently 6-2, rebounding off their worst season in program history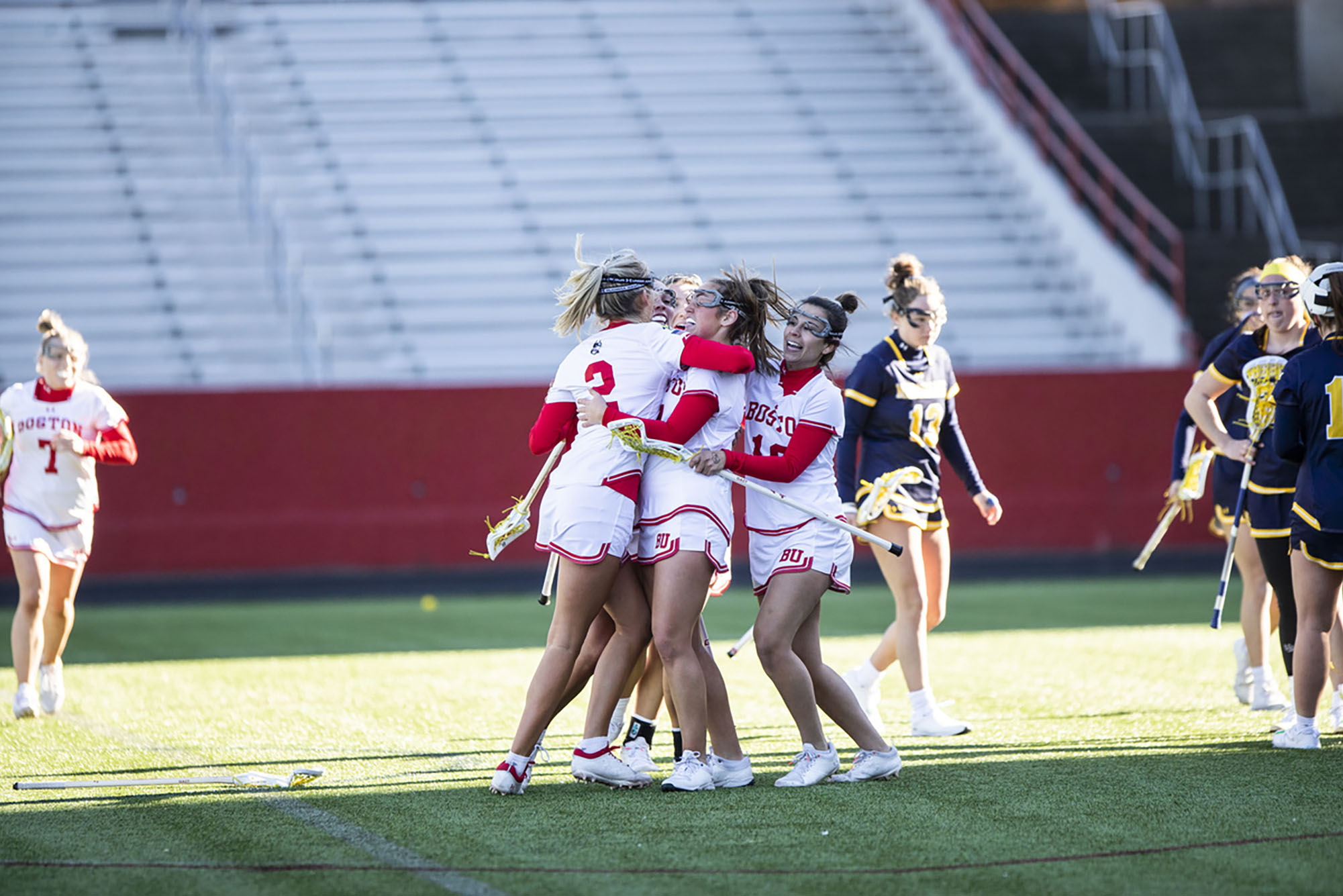 Women's Lacrosse
Women's Lacrosse Hosts Patriot League Home Opener Saturday against Loyola Maryland
Terriers are currently 6-2, rebounding off their worst season in program history
The Boston University women's lacrosse team may be 6-2 to start the 2023 spring season, but they're not taking their early success for granted.
Last year, the team endured their worst season in program history. BU's roster was riddled with injuries, and their on-field play resulted in a 2-15 record, going 1-8 in the Patriot League.
This year, the players are healthy and ready to remind the Patriot League what they're capable of.
"We've had a major kind of boost in confidence coming from last season and where we finished," says captain Maddie MacMaster (CGS'20, Questrom'22, Questrom'26). "We learned a lot of tough lessons, and going into this season, we are really ready to put our noses to the grindstone and work."
MacMaster was one of several players who missed some or all of last season due to injury. Now a graduate student, she tore her ACL in her junior year and missed all of 2022. Last year's last-place Patriot League finish has enlivened the 2023 Terriers.
"We've gone into every practice and game so far with this sort of underdog mentality, and I think that's really, really helped us," MacMaster says.
Eight games in, the Terriers have already tripled their win total from last year. Cocaptain and two-time Patriot League Goaltender of the Week Reilly Agres (CAS'24, Sargent'24) believes that a strong culture breeds success. 
"We've all invested in each other and in the game of lacrosse," Agres says. "We've built really good connections, which have translated onto the field. The general investment we have with this team has really been able to put us in a good position going forward."
MacMaster credits coach Lauren Morton (CAS'08) for pushing her players to realize their potential. "Morton doesn't want us to just become better lacrosse players, but better people as a whole," MacMaster says. "We've all tried to exemplify that we represent BU women's lacrosse, regardless of everything else. Bottom line, we want to be the best versions of ourselves every single day and continue to get better. That's a really big aspect of our culture that I personally love."
Morton believes a day-by-day approach to play has aided the Terriers' recent winning ways.
"We haven't necessarily set any kind of big goals outside of just continuing to improve and practice each day," Morton says. "I have been really happy with the progress we've made. We definitely knew coming into this year that we were going to be more experienced."
In the Patriot League preseason poll, BU was cast to finish 8th out of 10 teams. So far this season, they are top-three among Patriot League teams in scoring offense (14.5 goals per game) and point margain (4.9). One of BU's two losses this season came at No. 13 Army West Point 17-15, on March 11, which marked the beginning of their Patriot League play.
"I think that game was one of the best games I've seen us play as a full unit," MacMaster says. "Even though we didn't come out with the result we obviously wanted, it was a major step for us culturally as a team and physically on the field. We just saw when we all work together what we're capable of, and how good of a lacrosse game we're able to play."
BU's second Patriot League game to date was an 11-8 win over Colgate March 18. Midfielder Claire Gola (CAS'23, SHA'23) scored five goals, a career best, and the game marked her third this season with at least four goals. Gola was named Patriot League Midfielder of the Week, while Agres' career-high eight saves earned her the Goaltender of the Week honors. 
Agres accredits her play to a gain in confidence after a redshirt year and a freshman year upended by COVID.
"She's really been the backbone of our defensive unit," MacMaster says of Agres. "We have so much trust in her, she is so consistent and so reliable in the cage. She has definitely allowed our defense as a whole unit to gain confidence and to go out for some risks, because we know we have a great goalie behind us."
Offensively, the Terriers' attack is centered by cocaptain Jennifer Barry (CAS'23, Sargent'23), who was named an All-American Third Team member by Inside Lacrosse in 2022, and a 2023 preseason All-Patriot League team member. Barry leads the Terriers in assists (15), points (30), and draw controls (66).
On Saturday, March 26, the Terriers will take on No. 9 Loyola Maryland in their Patriot League home opener starting at noon on Nickerson Field. The winner of the last three Patriot League championships, Loyola Maryland is 6-2, with wins over No. 20 Penn State and No. 24 University of Pennsylvania.
In approaching Saturday's game, the Terriers say they're looking to basketball season's March Madness for inspiration and motivation.
"March means March Madness," Agres says. "We've been looking at all these great basketball programs that have upset number one, number two, and number three seeds. So, we're going into it with that underdog mentality and thinking anything can happen in March."
Morton believes students should come out to Nickerson Field Saturday for what should be a display of "high-level lacrosse."
"We're excited about the way that we're playing and how we're competing," Morton says. "And I think you're always gonna get that with Loyola, as well. I think fans will get to watch a really fast-paced, great game we're excited for."
Overall, Morton is proud of the work her team has done, and is excited for what the rest of the season holds in store.
"I think just, top to bottom, I've been really impressed with our group's commitment, their work ethic and being able to continue to get better," Morton says. "I think as we continue to do that each week, we will continue to improve."
The BU women's lacrosse team kicks off Patriot League play Saturday, March 25, at noon on Nickerson Field against No. 9 Loyola Maryland. Admission is free for students with a Sports Pass, $5 for other members of the BU community, and $8 for general admission. All Patriot League games can be streamed live on ESPN+.