Why We Swipe: Looking for Love in Online Places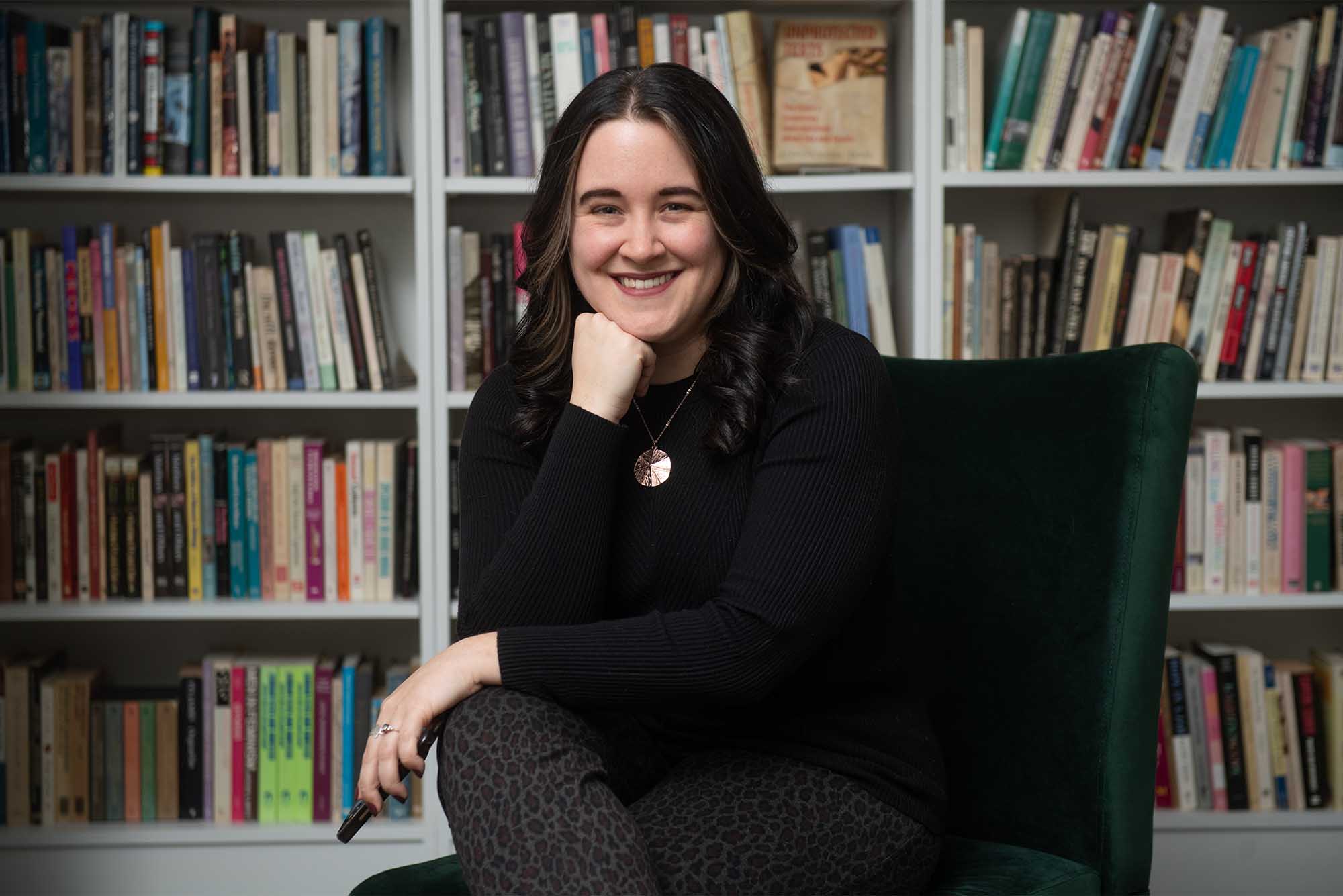 Dating Apps
Why We Swipe: Looking for Love in Online Places
COM's Katy Coduto researches how people use dating apps and what they expect of them
If you find yourself swiping left (or right) this Valentine's Day, Katy Coduto is interested.
No, not like that. Coduto, a Boston University College of Communication assistant professor of media science, studies how people use media to connect with each other and make sense of the world around them. And, lately, she's turned her attention to dating apps.
"As a communication technology, I think swiping is so interesting," Coduto says. "I'm curious about how people use dating apps, and what their expectations are when they use them—what are they trying to get from those connections?"
Indeed, Coduto recently helped design a national survey to find out. The latest Media & Technology Survey, conducted by Ipsos, shows that while most people don't trust everything they see on dating apps (60 percent of respondents agreed that most people lie on dating apps), a significant portion of the population still believes in their matchmaking power: 41 percent agreed that people can find their soulmates on dating apps.
The survey findings—based on the attitudes and opinions of 1,000 adults across the United States—illustrate a massive adoption of a relatively new technology. Coduto was working as a researcher and strategist at an advertising agency when Tinder really took off. She thought the concept was interesting, and then her friends started using it. 
"It really was this mass adoption moment," she recalls. "Grindr was on the scene first, but in terms of just sheer numbers, Tinder really provided the spark. Suddenly heterosexual people could date online without being on their computers—they could just do it from their phones."
And they did: Tinder quickly became the most-downloaded dating app in the world, with 64 million downloads last year alone. Legions of competitors have arrived, too, each with a slightly different flair. Hinge is an app that advertises itself as the one "designed to be deleted," a promising catchphrase for those looking for in-person connections. Bumble positioned itself as the progressive option: women have to make the first move. Many people cast a wide net, creating profiles on two or more dating apps at the same time (and often, with varying results).
The relative ease with which people can scan through dozens of potential mates, sending out messages en masse, has also changed the way people date, Coduto says. The playful interfaces and immediate feedback from many of these apps have led to the so-called gamification of dating. This can be fun—scrolling through potential matches with friends—but it can also lead to an overdependence on online platforms for social connection, particularly among people already predisposed to social anxiety or loneliness, Coduto has found.
In a paper published in 2019, Coduto and other researchers found that people who are fearful of or lacked confidence in face-to-face interactions preferred online social interactions, including online dating. Additionally, people who described themselves as having a high level of loneliness and who preferred online social interactions were also more likely to use those online platforms compulsively, often eschewing in-person socialization or dating for the online version, the researchers found.
"In attempting to avoid perpetuating a lonely network, lonely individuals may in fact further isolate themselves as they search for a romantic partner," they wrote.
As Coduto has continued her research, there's something that comes up again and again among the many hundreds of people she's interviewed: sexting. As it turns out, sending and receiving sexually explicit text messages or photos is about as universal in the online dating world as creating an account.
"Honestly, I've just heard a lot about unsolicited dick pics in a short amount of time," she says.
And so Coduto is focusing her next line of inquiry here. Why do people send sexually charged texts and photos? What, if anything, do they expect to receive in return?
Specifically, she's curious about people's expectations of privacy when they send such sensitive messages. "There's a whole negotiation that theoretically should go on where you say something like, 'I'm going to send you this super private photo or video or even just text message. I hope you're not going to share this beyond us.' And, from what I've seen so far, a lot of people don't have that conversation, which could have broader implications for people's privacy expectations on social media in general."
Coduto is still in the early stages of this research, but says she's also seen differences among demographic groups. Members of Gen Z, for whom dating apps have almost always been ubiquitous, are more likely to experiment with them than their millennial counterparts, who were introduced to dating apps as teenagers or young adults (Tinder launched in 2012).
"When I was first interviewing millennials, a lot of them would say that they'd never tell someone that they'd met their significant other on a dating app," Coduto says. "Whereas, for a lot of Gen Zers, it's like, 'Well, everything's an app. So, what difference does it make?'"
There are also notable differences in the ways straight people use dating apps as compared to LGBTQ+ people, she says, particularly when it comes to expectations of privacy. Queer people may be searching online for a same-sex romantic partner before they've come out to anyone in person, which adds an extra layer of privacy to the messages they send and receive, Coduto says.
"There's a sense of it being safer to use an app like Grindr than to try to meet people in person at first," she says. "That's an important behavioral difference."
Coduto has a notebook full of future research questions and ideas—dating apps, with their widespread uptake by all sorts of people, are a rich source of study, after all. As for her own life, though, you won't find Tinder, Hinge, or Bumble on her phone. Coduto met her fiancé in person, the old-fashioned way.