US Mayors Cite Housing Costs as Most Pressing Economic Concern in New Survey by BU Researchers
Public Policy
US Mayors Cite Housing Costs as Most Pressing Economic Concern in New Survey by BU Researchers
In latest BU Initiative on Cities Menino Survey of Mayors, city leaders also express support for ban on civilians acquiring assault rifles
Four out of five US mayors identified increasing housing costs as a top economic challenge facing their cities—far ahead of other concerns including rising living costs, poverty, and wage stagnation—though they see themselves with a limited toolset to change local housing markets. Regarding public safety, three of four mayors agree that civilians should be banned from acquiring assault rifles under any circumstances—a view that includes support from 40 percent of Republican city leaders. And mayors report feeling more accountable to their constituents on a range of public safety and health issues, from gun violence to mental health concerns, than they did when researchers posed the same questions four years ago.
These are among the top findings in a report released April 4 by Boston University's Initiative on Cities (IoC), titled, "Economic Opportunity, Poverty, and Well-Being," which asked elected city leaders across the country about their views on economic challenges, policy, public health, and public safety, and their ideas for actions they can take to address these issues.
The report, coauthored by Katherine Levine Einstein, David M. Glick, and Maxwell Palmer, all College of Arts & Sciences associate professors of political science, is the second in a two-part series of survey results from the 2022 Menino Survey of Mayors. For the survey, IoC staff interviewed mayors of 118 cities with populations of more than 75,000 residents in 38 states. The IoC received support for the research from the Rockefeller Foundation.
Given that housing costs have risen steadily in the US, it makes sense that mayors would identify housing as a key challenge facing their communities. The shelter index, a component of the Consumer Price Index that covers housing, was up 7.5 percent between the end of 2021 and 2022, even as other consumer price increases slowed. Even so, the report's authors say the mayors' emphasis on this issue is notable. In the survey, 81 percent of respondents cited housing costs as a top priority, far ahead of concerns about rising costs of living (44 percent), poverty (37 percent), wage stagnation (8 percent), healthcare costs (5 percent), and unemployment (4 percent).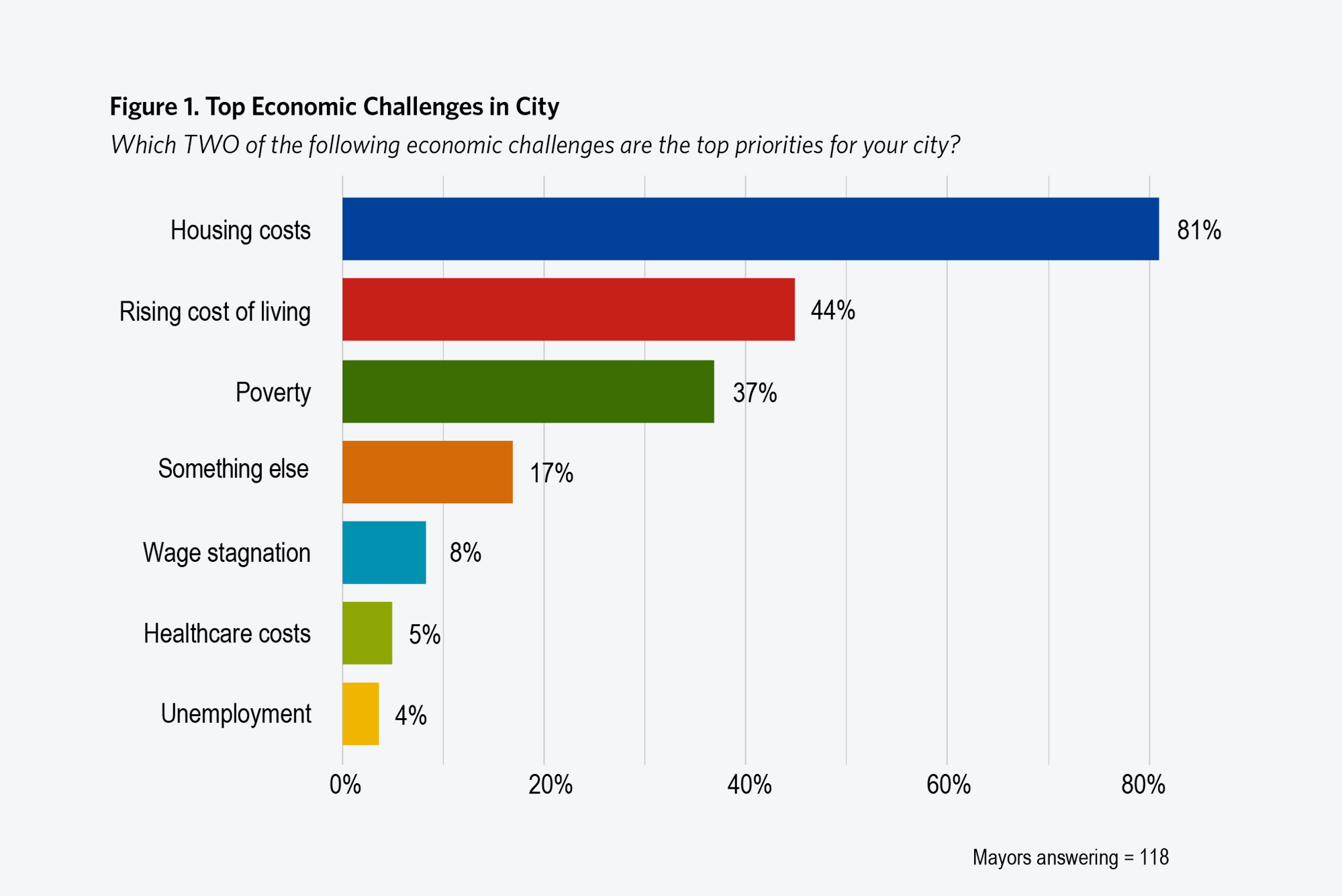 Einstein says that researchers conducted interviews at a time when the media and policymakers were discussing inflation and rising consumer costs—and yet mayors zeroed in on housing concerns. For example, 47 percent of mayors cited a housing policy action when asked in an open-ended question about the best thing their city could do to help residents facing rising costs of living.
The emphasis on housing reflects a longstanding shortage of affordable places to live in cities throughout the country, Palmer says. "We've been in a massive housing crisis that predates the relatively recent rise in inflation. So this is already on [mayors'] radar. In many cities, seeing really large increases in rent was a common trend," he says.
The concerns have led to some policy efforts. In 2018, for example, Minneapolis reformed its zoning rules to eliminate single-family lots and allow for more dense residential developments, an effort which has been challenged in court, notes the Urban Land Institute. In March 2023, Boston's city council approved Mayor Michelle Wu's rent control proposal that ties rent increases to inflation. The housing focus also makes sense given mayors' perceptions of what matters to their constituents: 70 percent of mayors say their constituents hold them at least moderately accountable for housing costs. That percentage is significantly higher than other cost-of-living challenges, including home energy costs, inflation, and wage growth. At the same time, mayors feel they have limited influence when it comes to managing these challenges. Only 42 percent say they had at least a moderate amount of control over housing costs in their communities, more than the percentage that thought they had control over other issues like wage growth, home energy, and childcare costs.
These diverging views represent a key takeaway from the research, Einstein notes. "There's this mismatch between what mayors believe they're held accountable for and what they think they actually have control over," she says. "An overwhelming majority of mayors believe they are held accountable for housing costs. But then if you look at how much control they think they have, more than half of mayors say they have at best a little bit of control over housing costs."
Mayors in the survey also focused on housing when asked what they would do to address poverty in their cities if "given a large grant to spend on poverty alleviation via direct transfer." More than half said they would devote funds to rental assistance (58 percent) and homeownership programs (56 percent), significantly more than the next most-popular choices, direct payments to adults (32 percent) and higher education tuition support (26 percent).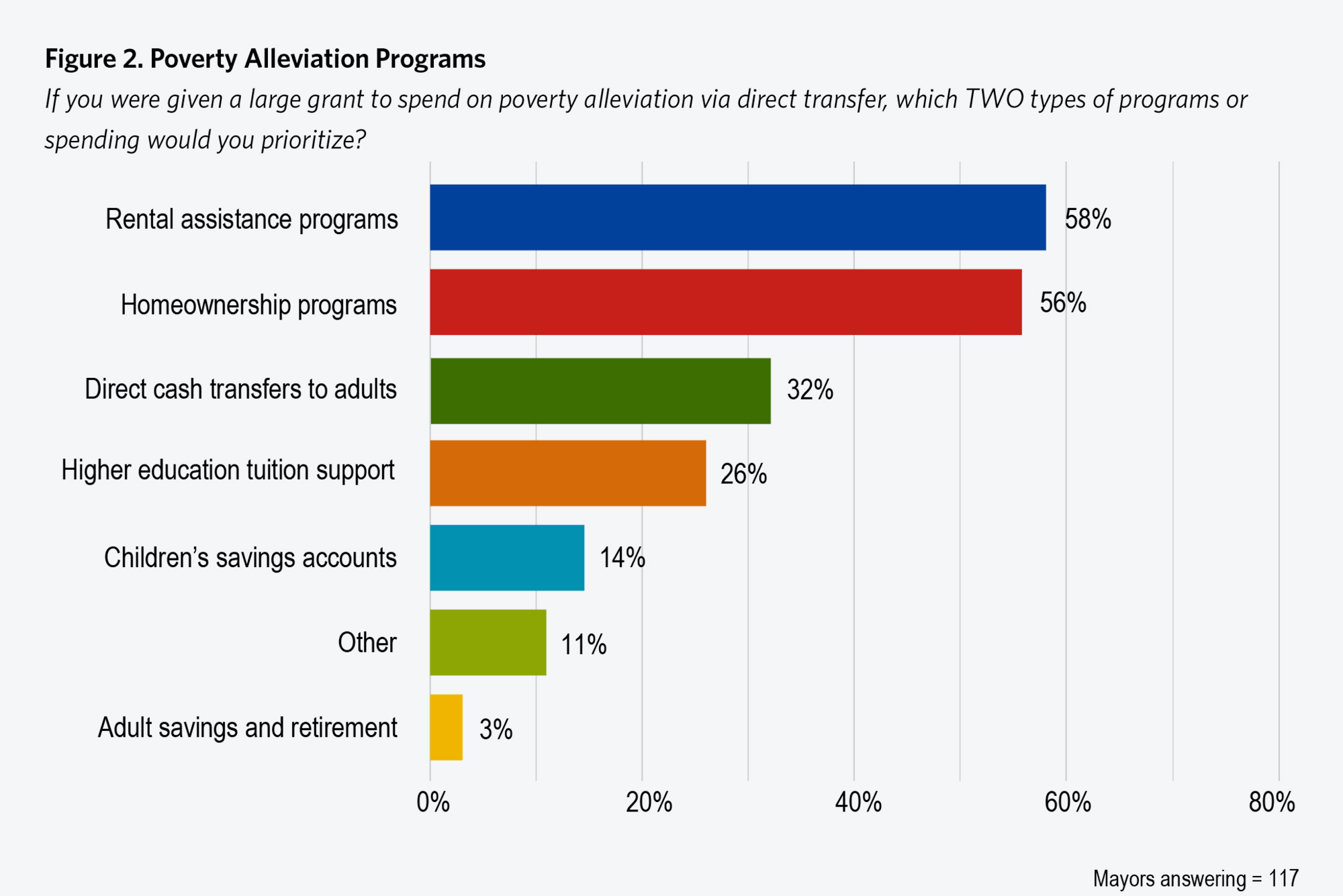 In addition to economic issues, researchers asked mayors about their views on public safety and public health and how they rate their accountability to constituents on these matters. The mayors expressed a clear consensus on questions of gun safety: 75 percent say they agree that civilians should be unable to acquire assault rifles under any circumstances. A larger group—84 percent—say they believe their city law enforcement agency would enforce an assault rifle ban that applied to their community. And asked whether police presence reduced the likelihood of gun violence, 82 percent say they agree or strongly agree that officers' on site at places like schools, parks, and mass transit stations were effective.
Interviews for the survey in June and August 2022 coincided with a heightened national discussion about gun violence in the wake of fatal mass shootings in Uvalde, Texas, and Buffalo, N.Y. In June, President Biden signed into law a bipartisan measure that would, among other courses of action, expand background checks on people ages 18 to 21, and allow court petitions to remove weapons from people considered a threat to themselves or others.
Just as in national politics, the IoC survey found a partisan split among mayors on questions of gun safety, but the difference was less intense than the Congressional vote on the 2022 law. For example, 88 percent of Democratic mayors and 40 percent of Republican mayors say they agree with forbidding people to acquire assault rifles. That level of Republican mayoral support was higher than the percentage of GOP Senators (15 of 50) or GOP House members (14 of 210 representatives) who voted in favor of the 2022 law.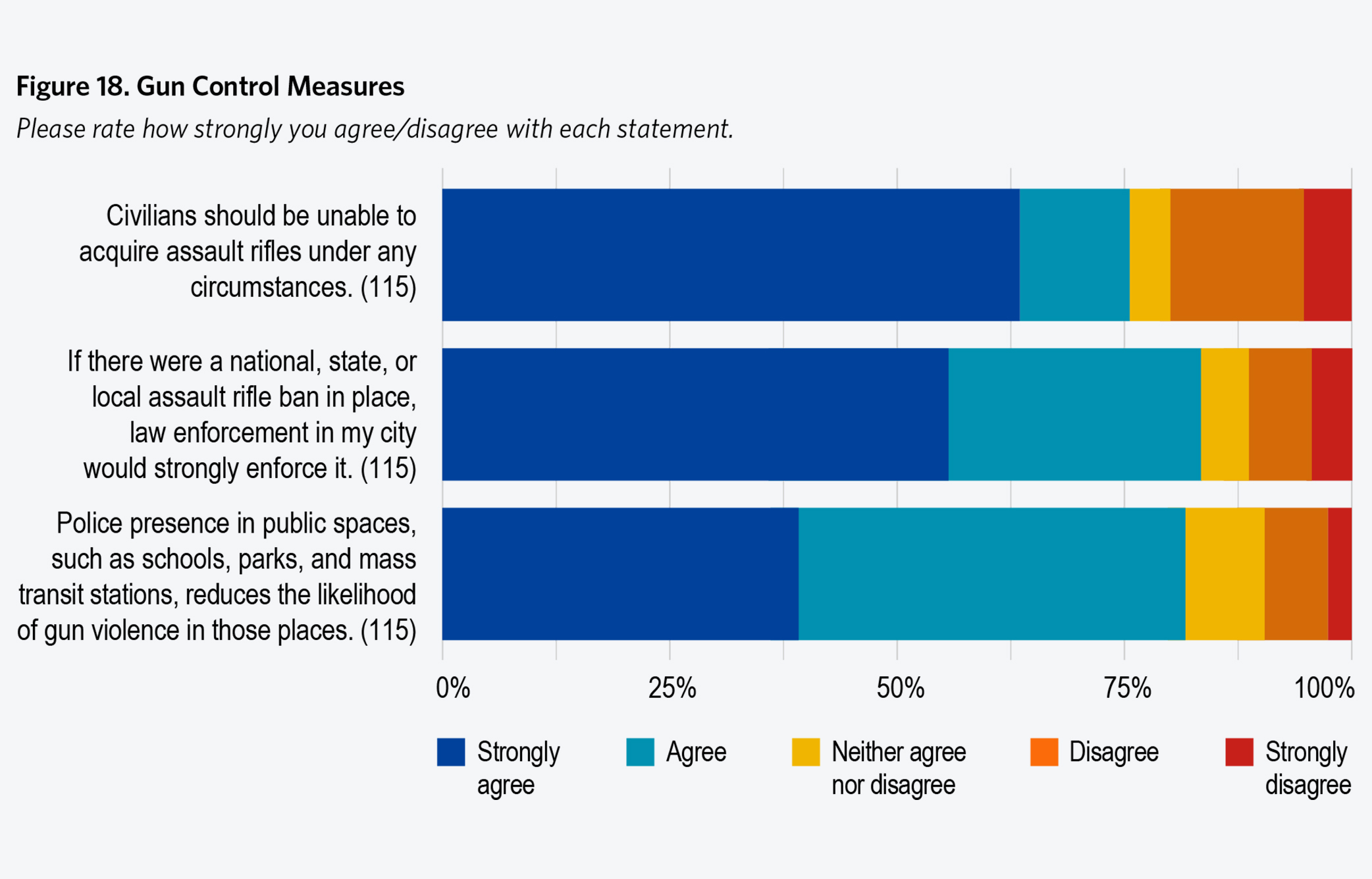 In the 2022 Menino Survey of Mayors, the ninth annual survey, researchers revisited some questions on public safety and public health. In the most recent responses, mayors say they see themselves as being held more accountable on nearly every issue, from gun violence to mental health, from substance abuse to traffic crashes and residents' hunger. For example: 81 percent of mayors say they are "very" or "somewhat" accountable for gun violence in their cities, a 28-point jump from the 2018 survey.
The report's authors note that it is not clear whether the rise in these scores results from public health concerns that arose during the pandemic, increases in gun violence, or other factors.