To Do Today: Shop at the Copley Square Farmers Market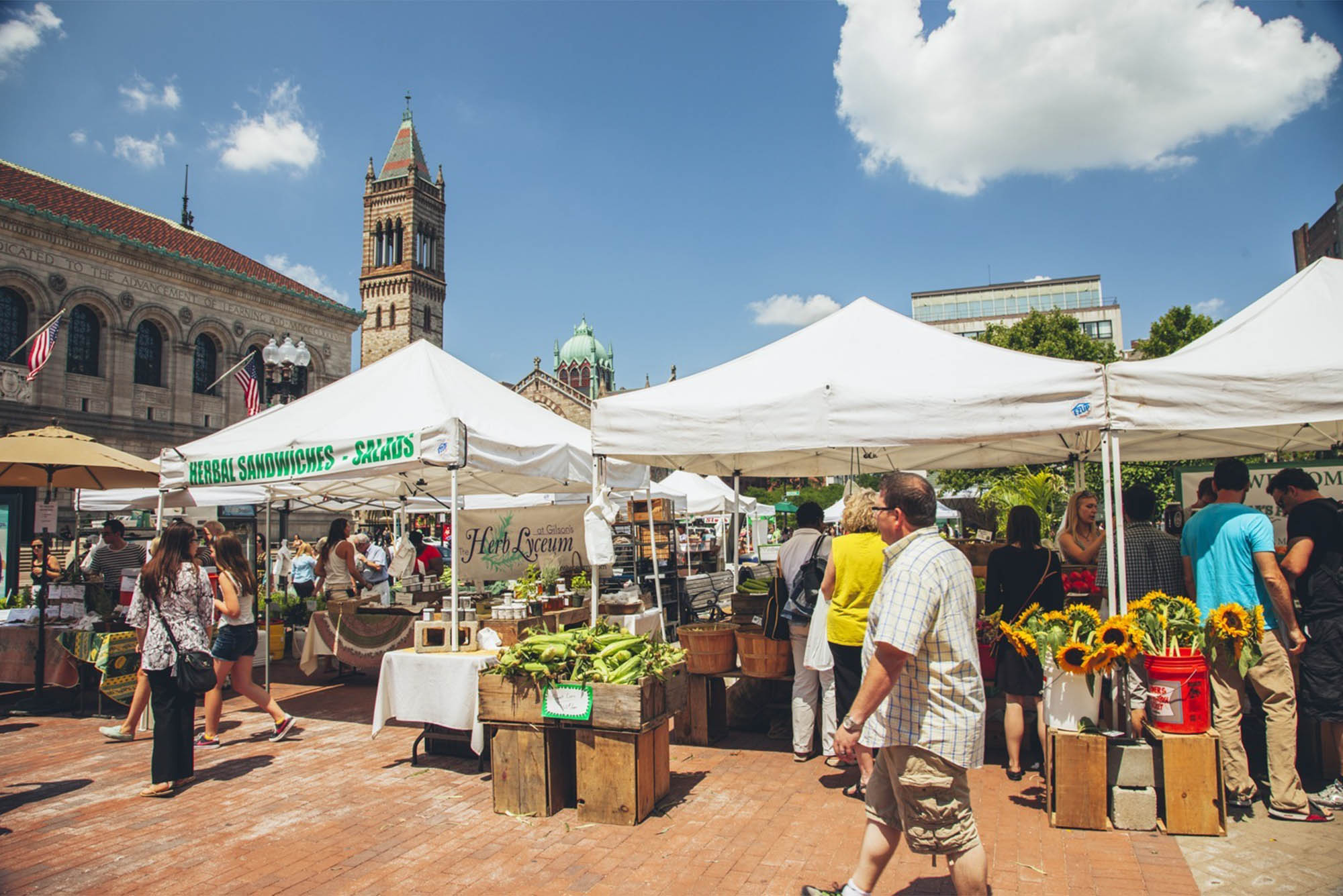 Things-To-Do
To Do Today: Shop at the Copley Square Farmers Market
Pick up some brownies, lobster rolls, or a charcuterie board at this biweekly open-air market in downtown Boston
What?
The Copley Square Farmers Market.
When?
Tuesdays and Fridays, 11 am to 6 pm, through November 21.
Where?
At the front steps of the Boston Public Library Central Branch, 700 Boylston St., Boston, across the street from Copley Square Park.
How much?
Entry is free. Prices for food and goods vary. Visit the information booth for help exchanging EBT, SNAP, and WIC benefits for farmers market purchases.
Why should I go?
Visit Boston's biggest and busiest farmers market to shop at dozens of farm and food stands from across the state. Customers can choose from a vibrant selection of produce, locally made baked goods, ready-to-eat meals, and specialty foods. The market has a lively, welcoming atmosphere perfect for getting a taste of city life.
Looking for a sweet treat? Copley Square Farmers Market has multiple bakeries to choose from on Fridays. Yummy Mummy offers 1-for-$4 and 4-for-$15 deals on their wide selection of brownies, with flavors including Heath bar, espresso, and (fan favorite) Oreo. Check out Hi-Rise Bread Company for some high-quality sourdough or challah bread, or grab a blueberry scone for snacking. Steel & Rye Bakery (S&R) meets all your doughy needs with options like fresh-baked focaccia, pasta, and pizza dough. If you're searching for an on-the-go meal, S&R sells sandwiches and pastries, which can be paired with their excellent bottled teas, coffees, and even an Arnold Palmer.
Still hungry? Stop by some of the street food stands for a more substantial bite. Guru the Caterer is a local halal Indian destination selling full meal plates—with favorites including chicken tikka and spicy vegetables—or smaller snacks like vegetable samosas or a mango lassi. On Fridays, look for the Boston Bluefin Inc. stand, which sells take-out seafood and fresh, ready-to-eat lobster rolls.
The Copley Square Farmers Market also stands out for its specialty offerings. Beverly Bees sells artisanal honey and honey products—including beeswax candles, skincare, and salves—that make for a perfect self-care treat or a unique gift. At the Happy Beans Roaster stand, customers can find specialty coffee harvested from across the world. The family-owned and operated Smith's Country Cheese farm offers a wide range of specialty butter and cheeses made from fresh milk for $6 to $8. Visitors can pick up the $17 mini-charcuterie set with cheese, crackers, jam, and all the treats you need for a perfect picnic spread. 
Of course, the star of the farmers market is produce. Alongside the typical greens, the Stillman's Farm stand sells berries, including currants, raspberries, and blueberries, while they're still in season. Stillman's also sells potted plants (including sage, basil, mint, and lavender) for $5 or $6, for those who want to start their own herb garden at home. At the Red Fire Farm stand, customers can choose from an array of organically grown produce as well as from colorful displays of bouquet flowers. Foppema's Farm is a popular central Massachusetts farm bringing their best homegrown fruits and vegetables and $6 packs of their famous cider doughnuts (available year-round) to their Copley stand.
You can check out all the vendors on the Copley Square Farmers Market webpage. Still have questions? Visit the market info booth during the event to find information on the different farm stands and types of products available. The information booth can also help exchange EBT, SNAP, and WIC benefits for farmers market purchases.