COM's Thato Mwosa Is Creating Short Films for Teens about Mental Health, Gender Identity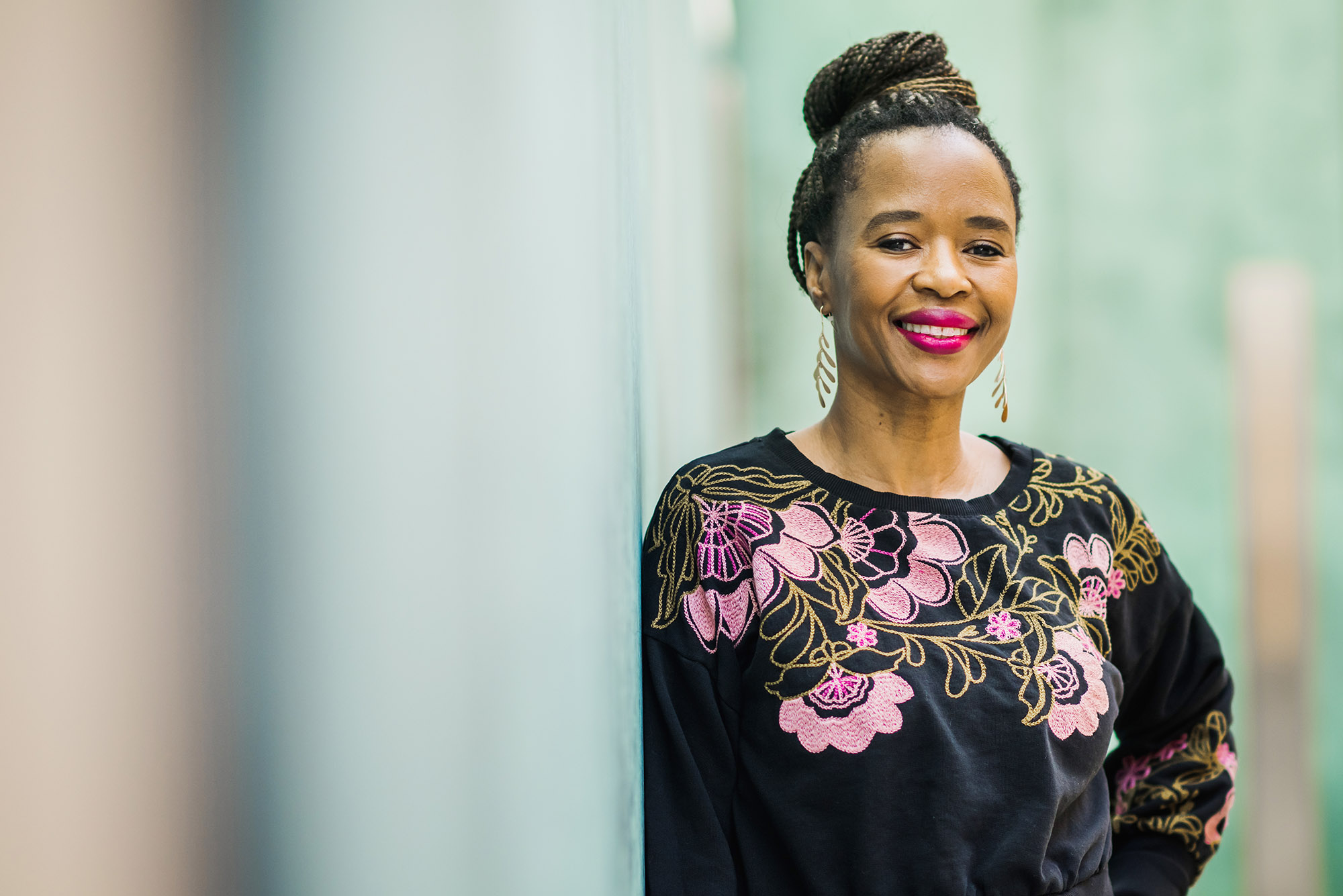 FILM
COM's Thato Mwosa Is Creating Short Films for Teens about Mental Health, Gender Identity
Visiting film and TV lecturer has partnered with Mass. Department of Public Health
No medium can tell a story quite like film.
That's why Thato Mwosa, a visiting film and TV lecturer in the College of Communication, fell in love with filmmaking.
It's also why when the Massachusetts Department of Public Health (DPH) approached her with an idea for a short-film project highlighting issues faced by Greater Boston youth, Mwosa's answer was a firm and resounding "yes."
"Film is the most powerful art form," Mwosa says. "People always say that a picture's worth a thousand words, right? But then imagine a picture that's moving, that has sound—it's worth even more than a million words."
Mwosa, a longtime filmmaker and educator, began teaching screenwriting at COM in 2022. Previously, she taught at Emerson College, Lesley University, and Brookline High School. Her work includes short films, feature films, and documentaries. Her works have screened at numerous festivals, including the Roxbury International Film Festival and the Boston Globe's Black History Month Film Festival.
And, since the fall of 2022, she's been working with DPH's Office of Sexual Health and Youth Development (OSHYD) to create a series of four short films exploring different themes important to teens and young adults.
Mwosa and the office partner with a different local nonprofit on each film. So far, they've produced a film with Girls Inc. of Lynn, Something to Tell You, that chronicles a nonbinary teen coming out to their conservative parents. Next up is a short on mental health in the Black immigrant community with Teen BLOCK, an after-school nonprofit based in Lowell. 
Each film puts young people at the center of the creative process. Once OSHYD selects a nonprofit to work with, youth involved with each organization select a theme that they want to focus on. Mwosa's job is to help shape and guide their vision.
For Something to Tell You, for example, many of the teens from Girls Inc. identify as nonbinary and wanted to highlight gender diversity in their project. The group brainstormed a backstory of a Hispanic American teenager wanting to come out as nonbinary to their parents. The only problem in that scenario? Their father is a conservative politician involved in anti-LGBTQ+ legislation.
That was Mwosa's jumping off point. "Once they gave me all their ideas, my role was to take in the whole story and write a 'treatment,' or a synopsis you create before you actually write a script," she explains. As soon as she had the go-ahead from Girls Inc., she wrote up a script, incorporating feedback from the teens along the way.
And then, showtime. It was important to both DPH and Mwosa that the young people stay involved throughout the production process, too. That means for both Something to Tell You and the subsequent shorts, teens are also acting in the films and working as production assistants for the light, camera, and sound professionals. Best of all: thanks to DPH funding, every position is paid.
OSHYD plans to use the videos as educational tools for youth programs across the state. The office is currently developing discussion guides for each short. If all goes according to schedule, the video series will wrap this summer.
For the youth involved in the videos, the project is about "learning new skills and getting a taste of what it's like to make a film," Mwosa says. And it's "about showing young people that they can actually use their own voices to tell their own stories. They're the only people who understand what it's like to be young right now."
In every aspect, she says, "I'm just the vessel for their vision—really, I'm trying to empower the young people involved to own their narratives."
It's the same ethos Mwosa brings to her teaching, as well as to her personal projects. She makes a point to hire current and former students to work on her films as much as possible. Due to high equipment costs, filmmaking is an expensive industry to break into, and opportunities for young people to try out—and succeed in—the field can be few and far between.
That's why the OSHYD videos resonate with her.
Every time a young person has to leave the film industry due to lack of opportunity, "we lose the chance to learn from them," she says. "I love what the Office of Sexual Health [and Youth Development] is doing. I wish that more organizations would think about creating programs like this, where they are giving youth the platform to really explore their own ideas and use their voices for social change."
And even if the teens involved in this project don't go on to become script supervisors or camera operators or lighting experts, she hopes they at least feel inspired by the creative process and their leading roles in it.
The second film in the series was filmed in March. It follows a young African immigrant experiencing a mental health crisis due to pressure from school and from her parents, who don't want her to pursue her artistic ambitions.
The storyline was directly influenced by local high schoolers' experiences coming out of COVID-19 lockdown, Mwosa says. Many of them were also involved in theater and were "so excited" to act in the film.
She was happy to give them the opportunity.