Terriers Aiming High at Indoor Patriot League Track and Field Championships
Varsity Sports
Terriers Aiming High at Indoor Patriot League Track and Field Championships
Men's and women's teams hope for strong finish at Navy this weekend
Boston University men's and women's track and field teams are heading to Annapolis, Md., to compete in the annual Patriot League Championships at the US Naval Academy on Saturday.
Competing in individual and team events will be 61 Terriers, earning cumulative results for the scarlet and white. Last year, both BU teams finished third in the PL Championships, earning the women's team a third consecutive bronze. It was the men's best showing since 2017.
Last year's results were headlined by Toby Makoyawo (CAS'25), who swept the 60- and 200-meter dashes, earning the championships' Male Rookie of the Meet and tying the tournament's individual points lead. Makoyawo has not competed this season.
Track and field director Gabe Sanders says he's confident his young squads will earn similar results this year.
"We have aspirations of returning to the top of the Patriot League, having a national presence, and having a program reflective of the world-class institution hosting," Sanders says. "We believe this Patriot League championship presents an opportunity to take an even larger step forward toward our vision becoming a reality."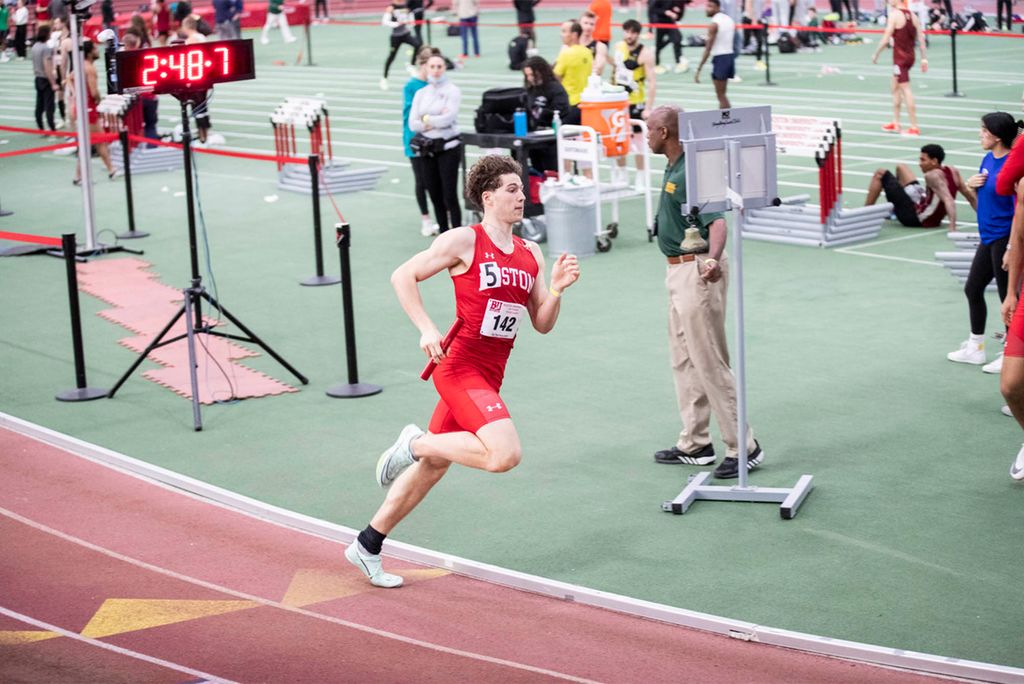 A men's squad member has won Patriot League Rookie of the Week five out of seven weeks this season—with Logan Popelka (CAS'26) claiming the honor four times. On the women's side, Vera Sjöberg (CAS'25) has been named women's Rookie of the Week twice.
"Overall, we have a strong group of freshmen men who can make a huge impact," says distance runner Andrew Trapp (Questrom'23), who cites Popelka, Liam Gair (CAS'26), and Michael Onilogbo (CAS'26) as strong favorites in the sprints. "Parker Schneider (COM'26), Freddy Collins (ENG'26), and Moritz Ebbeskotte (ENG'26) are all guys I would not want to be up against coming into the final lap of the mile and 3000M," Trapp adds
And it isn't just freshmen expected to make strong finishes this weekend. Women's distance runner Daisy Liljegren (CAS'24, Sargent'24) and men's runners Leon Christian (CAS'25) and Aksel Laudon (ENG'22, CAMED'26) have been recognized as a Patriot League Track Athlete of the Week, with Liljegren earning the honor twice.
"I am confident that we will have a good showing this year from the team," says women's thrower Juliana Nakouzi (CAS'24). "Last year we got third by a close margin, so we will definitely be looking to build off of that. Our mentality has been focused on doing our best as a team—we're trying not to get bogged down on chasing times or marks, only the person in front in the competition. I believe we definitely have something special coming, and if things go according to our plan, we would love to break up the Army-Navy party for sure."
Army and Navy have long dominated the men's Patriot League Championships, winning the conference title 27 of the last 28 years and finishing in the top-two every year since 2018, when the BU men secured second place.
Similarly for the women, the top two spots have gone to Army and Navy every year since 2018, when Bucknell took home the championship. The last time the Terrier women won the Patriot League championship was in 2016. The men's squad is still vying for their first win.
The Terriers cite team chemistry as one of their best weapons heading into this year's conference championships.
"We have focused a lot on building up our team culture this year and the importance of doing things as a team unit," Nakouzi says. "At the end of the day we compete for team scores at PLs, so it makes a huge difference to have your team supporting you. I can't tell you how much it helps as a competitor to have your teammates cheering you on at your event, and knowing that they have your back regardless of the result."
Sanders believes this weekend will be an opportunity to show the Patriot League that there is a new threat coming out of BU.
"I'm proud of the student athletes and the work they are doing in the trenches, on the track, in the field, and as representatives of this proud University," Sanders says. "I'd like to think the Patriot League will have a clearer view as well in a few days' time."
The Men's and Women's Track and Field Indoor Patriot League Championships are Saturday, February 25, at the US Naval Academy in Annapolis, Md. The track events will be streamed live on ESPN+. Live stats and results will be available all day on patriotleague.org, and BU fans can find more information on goterriers.com and follow along on Twitter at @TerrierTFXC and @BUGameDay.