Teams Win $72,000 in Funding at Innovate@BU's New Venture Competition
The finalists of BU's largest pitch competition celebrated at last week's Innovator's Night
Innovation
Teams Win $72,000 in Funding at Innovate@BU's New Venture Competition
The finalists of BU's largest pitch competition celebrated at last week's Innovator's Night
Excitement and pride filled the packed Metcalf Trustee Ballroom last Thursday night for the announcement of who won Boston University's annual New Venture Competition.
An estimated 300 attendees came to see the dozen finalist teams, all in early stages of entrepreneurial ventures, pitching their ideas for how to address largely unmet needs within the community. Hailed as BU's largest pitch event, the competition awarded over $72,000 total in prizes, $8,000 more than last year's winnings.
Siobhan Dullea, the newly named executive director of Innovate@BU, started the event, deemed Innovator's Night, by emphasizing the importance of innovation across all industries and disciplines. "I joined BU because Innovate@BU isn't tied to one school," Dullea (CAS'91) said in her opening remarks. "It's so important to all students across all schools, and that's what makes innovation run."
Students and young alums who entered the New Venture Competition chose one of two tracks in which to compete: the General Track (for-profit ventures in any sector) or the Social Impact Track (ventures addressing large-scale economic, societal, or environmental issues and/or focusing on underserved communities). Teams completed three rounds of competition starting in February, including a written application and two in-person pitches, before heading to the finals.
There, three teams from each track received monetary awards to further develop and implement their ventures: $20,000 for first place, $10,000 for second place, and $6,000 for third place. Each track also included a $500 Audience Choice Award.
Enlaye, a cloud-based contract platform that streamlines the writing, negotiation, and collaboration phases of contracting, won the General Track first-place prize of $20,000. By taking a more collaborative approach to contract writing, Enlaye modernizes the antiquated contract process. Team members Stamati Liapis (CAMED'23) and Philippe Rival, an MBA candidate at Harvard Business School, had known each other since high school and worked together in the contracting space for years.
"[Liapis'] research kept resembling problems I had at work," Rival said. Liapis' research into memory and learning complemented Rival's experience with how slow writing contracts can be; it was from this collaboration that the idea for Enlaye was born.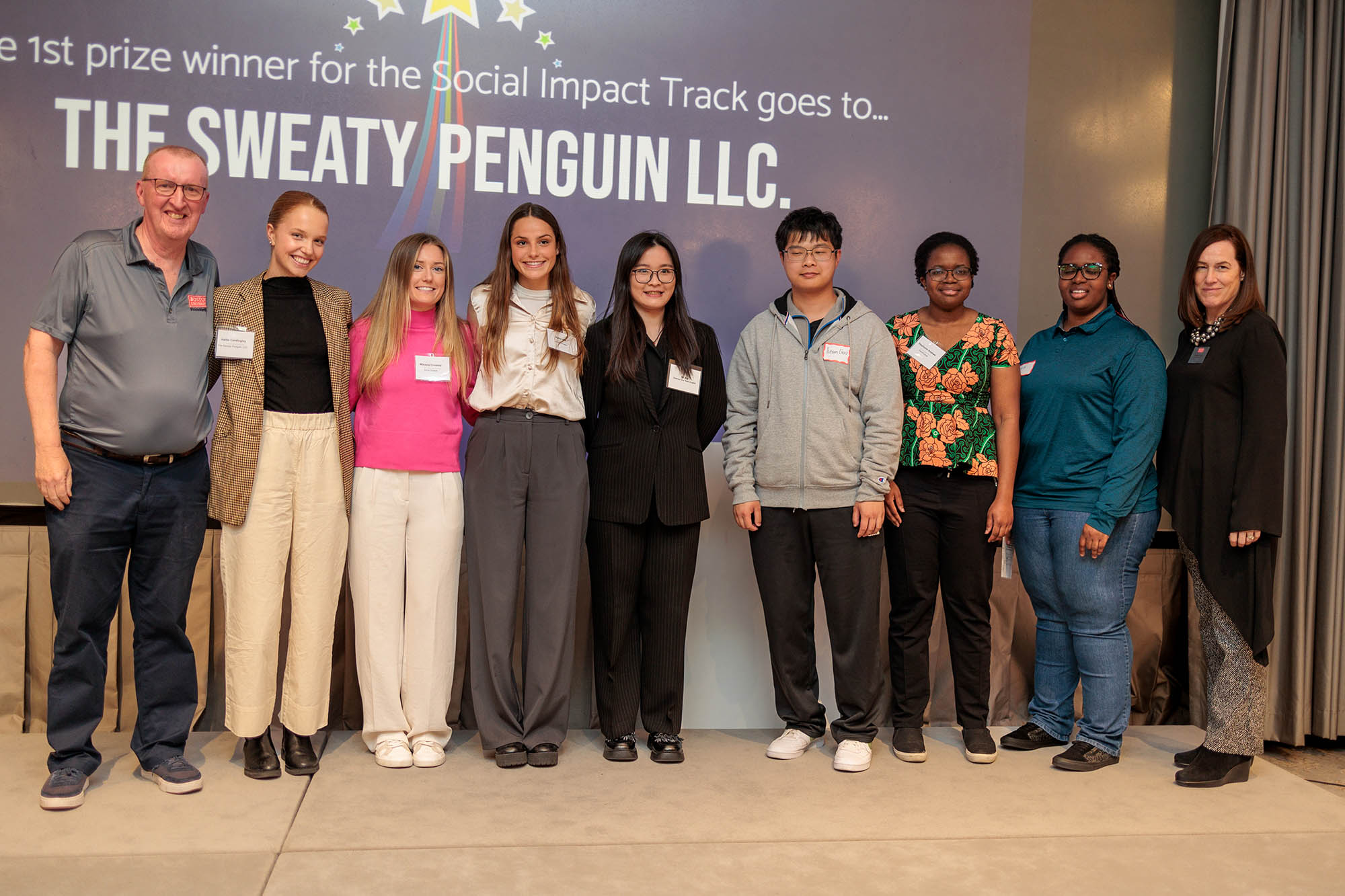 The Sweaty Penguin won $20,000 and the first-place prize for the Social Impact Track. The award-winning PBS podcast aims to combat climate anxiety and misinformation by combining two seemingly disparate topics: climate news and comedy. Yet it works well—Sweaty Penguin's 100-plus episodes have received tens of thousands of downloads.
"Podcasts are a great way to reach a population that is climate anxious," said Hallie Cordingley (CAS'24), a member of the team. "We try to bring it in a beginner-friendly lens."
Astra Wellbeing won second place in the General Track, receiving the $10,000 prize. The SMS-based employee recognition platform sends positive messages of reinforcement and gratitude directly to healthcare workers' phones. The idea for the platform came from the team's personal experiences in healthcare, and talks with industry employees helped them fully realize the increasing levels of burnout among the workers. It's all about "how can we help those who spend their lives helping us," said Johar Singh (Questrom'24), a member of the team.
In March, Astra Wellbeing also took home the $25,000 grand prize in the School of Hospitality Administration's inaugural $50K Poyiadjis Hospitality Innovation Competition.
Second place in the Social Impact Track was PalmFronds, a nonprofit organization meant to maximize opportunities for young students in Nigeria by increasing their access to scholarship, mentorship, and apprenticeship.
INIA Biosciences took home the third-place General Track prize of $6,000. INIA Biosciences was "born out of Innovate@BU," said Shen Ning (CAMED'24), half of the INIA Biosciences team. Ning and team member Dragana Savic met at a virtual Innovate@BU event and said they were inspired by biotechnology and the possibilities it offered to patients around the world. INIA Biosciences develops smart, wearable biotechnology that can noninvasively reduce inflammation.
Third place in the Social Impact Track was Glamour City Technologies, an online marketplace and community that brings together secondhand clothing stores and customers to elevate the availability and user experience of shopping sustainably. Qi Xia (COM'23) worked at a secondhand store prior to the New Venture Competition and got firsthand experience of what the industry needs.
"I love shopping online," Xia said. "But online options [for secondhand clothing] are not great. Starting from there, I wondered, why not sell secondhand online?"
The audience also got involved in the night, voting on the Audience Choice Awards for each track. The Audience Choice winners received $500 each. In the General Track, AutoPCB, a circuit-design platform that automates and streamlines the creation of circuits, won the vote. In the Social Impact Track, Shop Swapp, a clothing resale platform exclusive to specific college campuses, took home the award.
Other awards were presented at Innovator's Night. The inaugural Mentor of the Year Award went to Cynthia Cohen (MET'77), the vice chair of the BU Board of Trustees and founder and president of IMPACT 2040, a strategy firm focused on start-ups and emerging-growth companies innovating and disrupting their markets. The award recognized her unparalleled commitment to mentoring young entrepreneurs. Maria Gorskikh (Questrom'23) took home the Student Innovator of the Year Award. The Henry Morgan Award, which recognizes an outstanding BU community member and their contributions to innovation, was awarded to Wendy Swart Grossman, an Innovate@BU creative practioner-in-residence.
"Whether or not we want to admit it, we're all working hand-in-hand, working trying to push this thing forward, to our slow march towards world peace," Grossman said. "We have a lot of work to do, but it's the inspirational champions like Innovate@BU leading the way."