Tara Watchorn (Sargent'12) Named New Head Coach for Women's Ice Hockey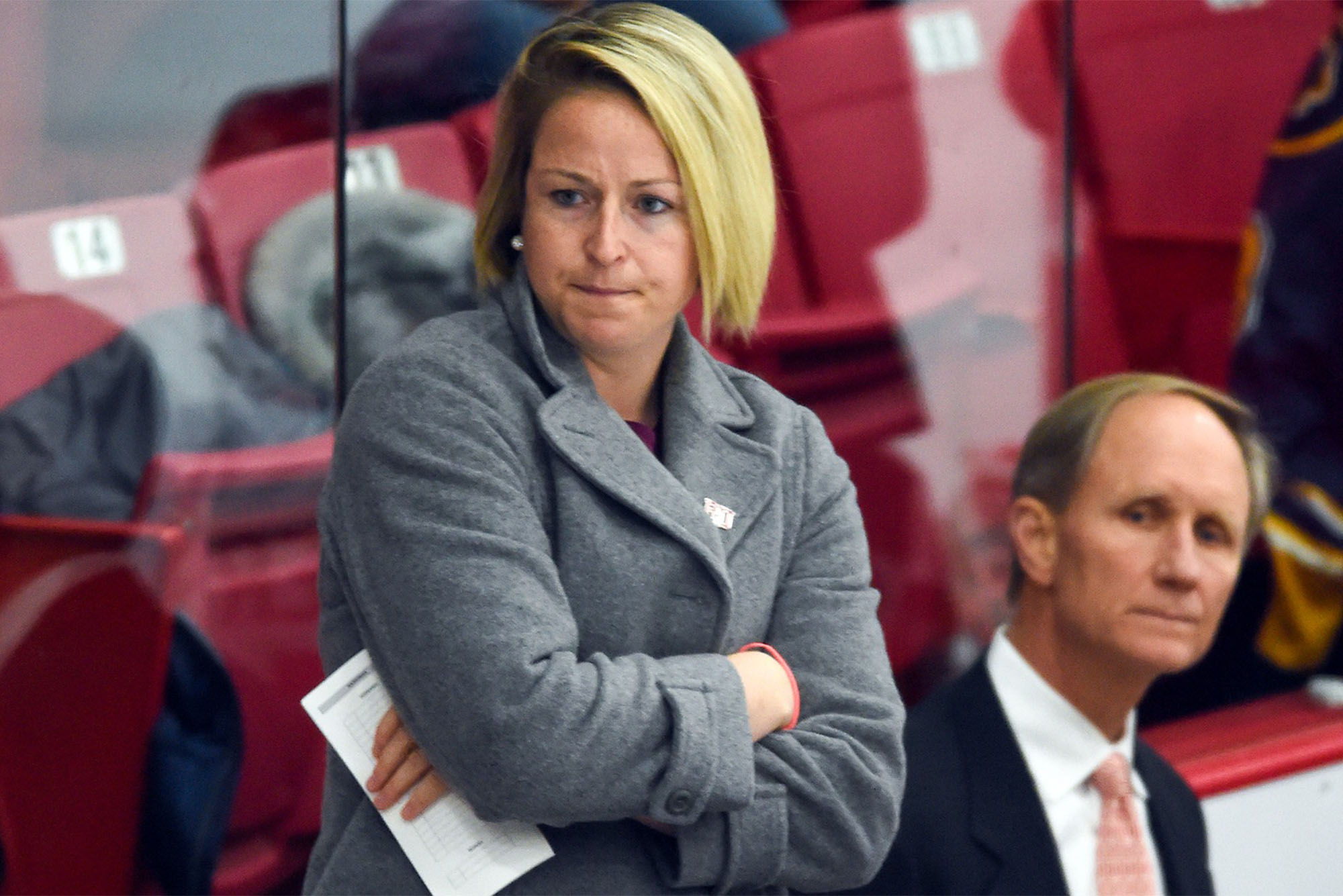 Athletics News
Tara Watchorn (Sargent'12) Named New Head Coach for Women's Ice Hockey
Olympic gold medalist was standout on defense for Terriers as an undergrad
Former Terrier star defender and Olympic gold medalist Tara Watchorn (Sargent'12) has been named the new head coach of the BU women's ice hockey program.
"This is a great day for BU Athletics," Drew Marrochello, director of BU Athletics, said on Monday. "Tara has already built an impressive legacy as a Terrier, and we could not be happier to welcome her back as the leader of a new era for our women's ice hockey program."
Watchorn replaces her former coach, Brian Durocher (Wheelock'78), who retired in February after heading the program since its inception in 2004.
"I am beyond humbled and honored to be able to return to my alma mater as the second head coach," said Watchorn. "What Brian and the alumni have built is so special, and I am excited to continue that tradition and help vault the program back onto the national stage."
Watchorn certainly knows the BU program. She played defense for BU from 2008–12 and went on to serve as an assistant coach for the program for four seasons before being named Stonehill College's first head coach for women's hockey in 2021.
The first alumna of the BU women's program to serve as a Division I head hockey coach, she was recently named the 2022–23 New England Women's Hockey Alliance (NEWHA) Coach of the Year in the Stonehill Skyhawks' inaugural season and was a finalist for the American Collegiate Hockey Association (ACHA) Division I National Coach of the Year.
Watchorn led the Stonehill team to a 17-15-2 record while going 14-9-1 in NEWHA action and clinching the No. 3 seed in the NEWHA playoffs. The Skyhawks reached the NEWHA semifinals after earning an opening-round sweep.
"BU holds a special place in my heart, and to be able to help create a positive environment for amazing student-athletes to learn and grow has always been my dream," said Watchorn. "I have had the opportunity to learn from some of the best players and coaches in the game, both in my playing career and as a coach."
She met with the Terriers Monday morning before returning to Stonehill to tell her team there of her plans to return to BU.
"When Tara walked through the door of our locker room for the announcement this morning, the whole room lit up," assistant captain Madison Cardaci (Sargent'24) said. "I looked around and everyone had a huge smile on their face, and I knew at that moment our athletics department made a great decision for us and the future of BU women's ice hockey. She is not only a great person and role model for all of us but [also] has a vision for hockey like nobody I've ever met."
"The team is extremely excited to have Tara back as the new head coach," said captain Nadia Mattivi (Questrom'23), who plans to return for a fifth year. "She's a great coach but an even better person. Her passion and competitiveness will help us succeed next season and beyond. She is one of the most knowledgeable coaches I've ever been coached by and we are excited to start working with her. BU is lucky to have her back!"
As a player, Watchorn was key in vaulting the Terriers onto the national scene, helping lead BU to its first two Hockey East titles (2010 and 2012), with her overtime goal in 2010 pushing BU to its first league crown. She played in the NCAA tournament in each of her final three seasons and was a member of the 2010–11 squad that became the first Hockey East team to reach the NCAA championship game. In 127 games for BU, Watchorn scored 21 goals and added 63 assists for 84 points. She was a two-time Hockey East and New England All-Star.
As assistant coach under Durocher, she focused on player skill development and defense. The BU defense twice ranked in the top five nationally in goals-against average under Watchorn, while the team's penalty kill finished fourth in the country in her final season. BU posted a 65-39-18 (.607) record over her four seasons and won the 2019 Beanpot championship.
The pinnacle of Watchorn's playing career came in 2014 when she and three other Terriers claimed gold with Team Canada at the 2014 Winter Olympic Games in Sochi, Russia. She appeared in 46 games in international competition as a defender for Team Canada, and remains active with Hockey Canada as an assistant coach, most recently winning gold at the 2023 U18 World Championship.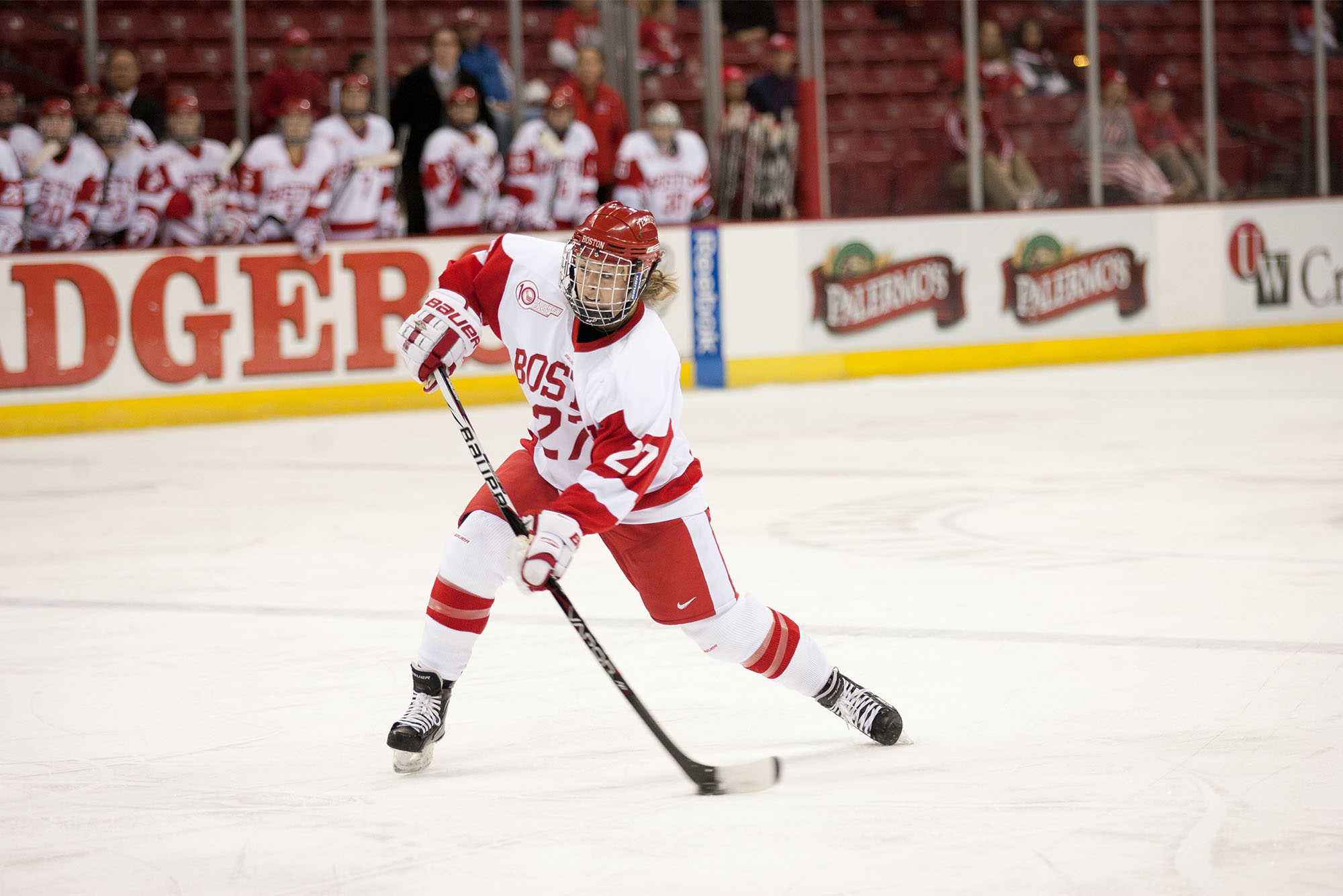 Watchorn also played for the Boston Blades of the Canadian Women's Hockey League. She played in two CWHL All-Star Games and was named CWHL Defenseman of the Year in 2015.

"Tara quickly emerged as a top candidate for this job," Marrochello said, "and with each conversation we had with her, it became clear that her coaching experience at BU, Stonehill, and internationally with Hockey Canada has allowed her to build a confident vision and plan for BU hockey.
"We have witnessed her contributions to many of our program's top moments over the years," he added, "and we are ready to watch her add to that list while developing our student-athletes into leaders both on and off the ice."
Watchorn graduated from BU's College of Health & Rehabilitation Sciences: Sargent College in 2012 with a degree in health science and recently completed a master's degree in organizational leadership from Northeastern.
"The expectations for this program have always been high," Marrochello said, "and after being in fantastic hands for its first 18 seasons, we are looking forward to more success with one of its greats proudly at the helm."