Supreme Court Justice Ketanji Brown Jackson to 2023 BU LAW Graduates: "Anything Is Possible"
The associate justice shared lessons learned through her career—and her love of musical theater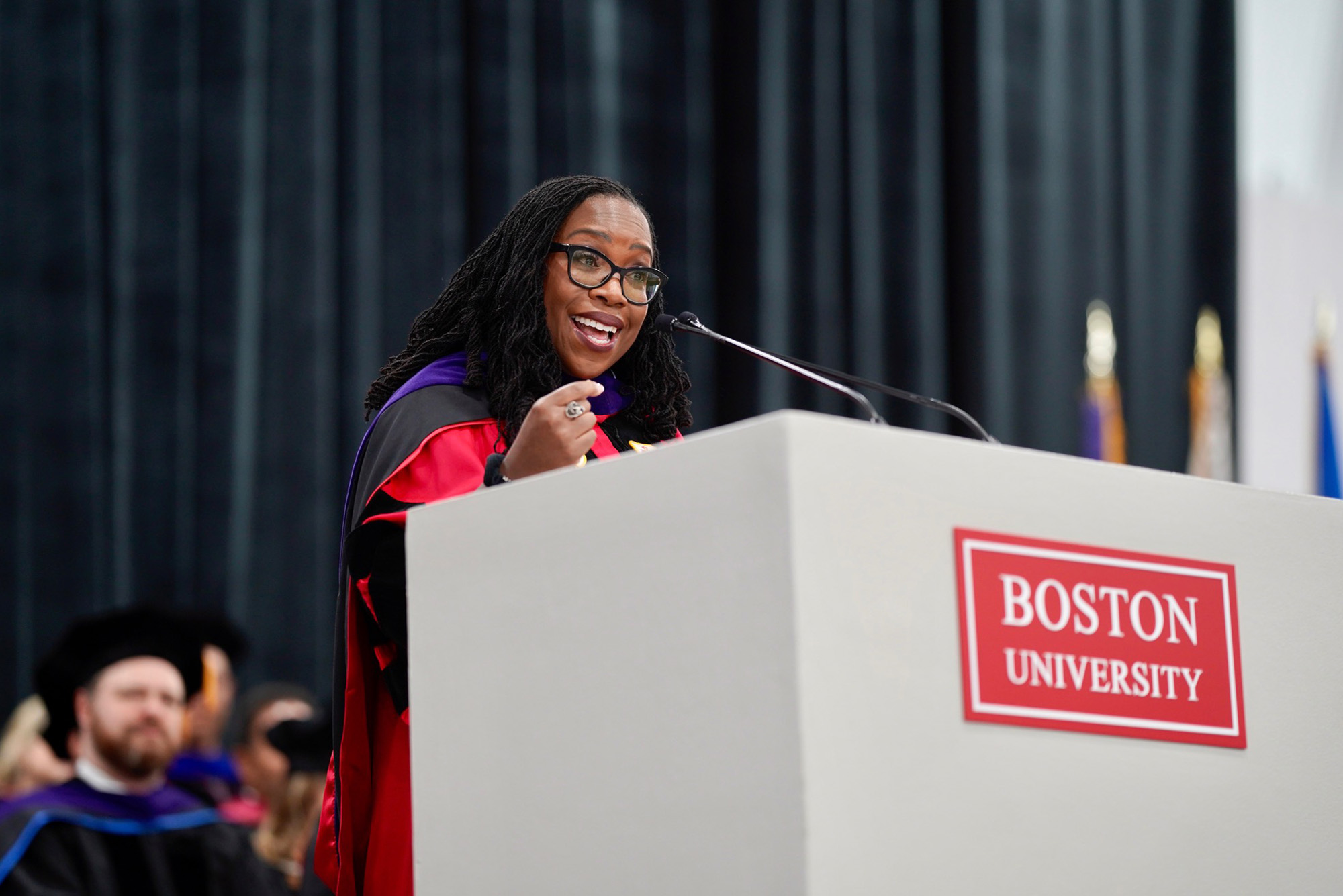 Commencement 2023
Supreme Court Justice Ketanji Brown Jackson to 2023 BU LAW Graduates: "Anything Is Possible"
The associate justice shared lessons learned through her career—and her love of musical theater
In a powerful—and at times lighthearted—address at the Boston University School of Law convocation Sunday, Ketanji Brown Jackson, associate justice of the US Supreme Court, assured the newest class of lawyers that they were ready to join the profession and prepared to make an impact.
"As graduates of Boston University law school, you are well equipped to go out into the community in whatever capacity you choose and to make momentous contributions," Jackson told the roughly 500 2023 School of Law graduates at the ceremony. Later in the day, Jackson received an honorary Doctor of Laws degree during the University's 150th All-University Commencement exercises.
Jackson, who was nominated to the high court by President Joe Biden and became the first Black woman to serve on its bench, received thunderous applause and standing ovations from the crowd at BU's Track & Tennis Center that bookended her remarks.
"My professional story is truly Exhibit A of how quickly things can change, and how adaptation is one of the keys to success, which you will all soon discover as graduates of this fine institution," she said. "Being a lawyer can be one of the most brilliant jobs there is, but take it from me: change in the legal profession can also be a lot."
Jackson earned her bachelor's and Juris Doctor degrees from Harvard University—for which she jokingly asked those gathered to "please do forgive me"—then served as a law clerk for three judges, including US Supreme Court Justice Stephen G. Breyer, between 1996 and 2000. After three years of private practice, she worked as an attorney at the US Sentencing Commission from 2003 to 2005, then spent the next two years as assistant federal public defender in Washington, D.C. After another brief stint in private practice, Jackson returned to the US Sentencing Commission, serving as a vice chair and commissioner from 2010 to 2014. During that time, then-President Barack Obama nominated her to the US District Court for the District of Columbia, where she served from 2013 to 2021.
Throughout so much upheaval in her professional career, Jackson said she grounds herself in the things outside her career that remain constant and bring her joy. One such source of consistency is musical theater, a love for which Jackson has harbored since her debut as the Wicked Witch of the West in an elementary school production of The Wizard of Oz.
Jackson said she seeks out musical theater in every new city and in every new job, adding that her experience as an audience member always leaves her "refreshed and with new ideas."
"Let me tell you: I have discovered over the course of my professional career that the arts—and musical theater in particular—can teach valuable lessons about all sorts of things, including how to interact with others, and how to achieve your goals," she said.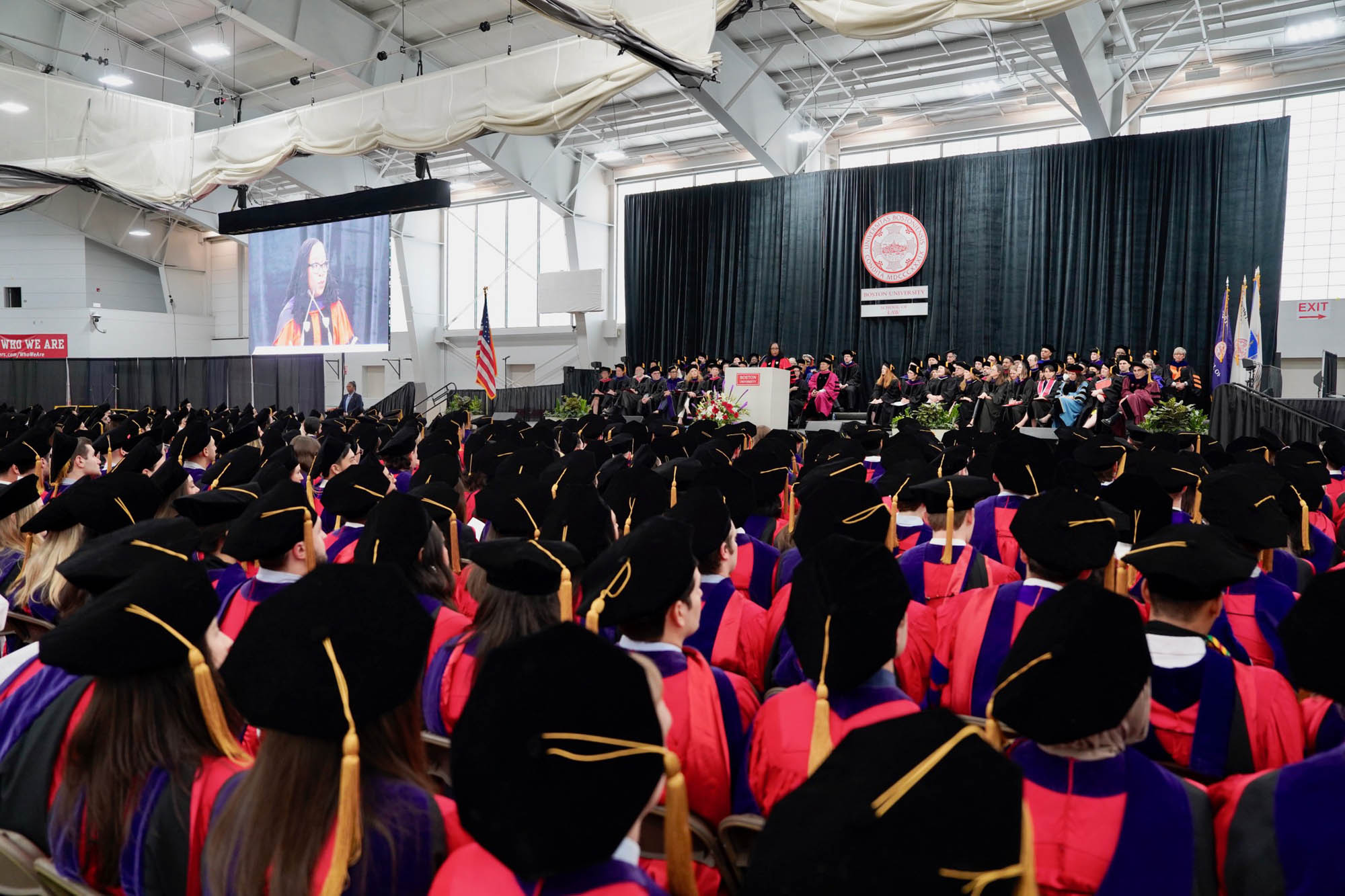 ---

As graduates of Boston University law school, you are well equipped to go out into the community in whatever capacity you choose and to make momentous contributions

---
Three musicals in particular have had a profound effect on Jackson's life and career, and she offered those lessons to new BU graduates, as well.
A performance of Little Shop of Horrors at Harvard (Jackson played Ronette, one of the show's narrators and a member of its Greek chorus, to lukewarm reviews) taught Jackson to understand the context when presented with a new challenge.
In the show, protagonist Seymour discovers a sentient, carnivorous plant that feeds off human sacrifice. The plant brings Seymour fame and acclaim, but it's not until too late that he realizes the plant's main goal was always to become powerful enough to take over the world.
"Some of you might be thinking that I'm going to suggest that the legal profession is like a dangerous plant; if you aren't careful, it will eat you up," Jackson said, to laughter from the crowd. "That's not it. Instead, the lesson I draw from the show, and the one I want you to remember as you practice, is to always start by asking why when you confront a new situation."
Understanding the machinations behind an assignment or a challenge helps contextualize it, Jackson said, and will help BU's future lawyers narrow in on a solution.
The second musical she referenced was the smash hit Hamilton. Jackson—who loves the play so much she quoted from it in a legal opinion during her third year on the bench for the US District Court for the District of Columbia—said that the show reminds her to get a seat at the table where important decisions are being made.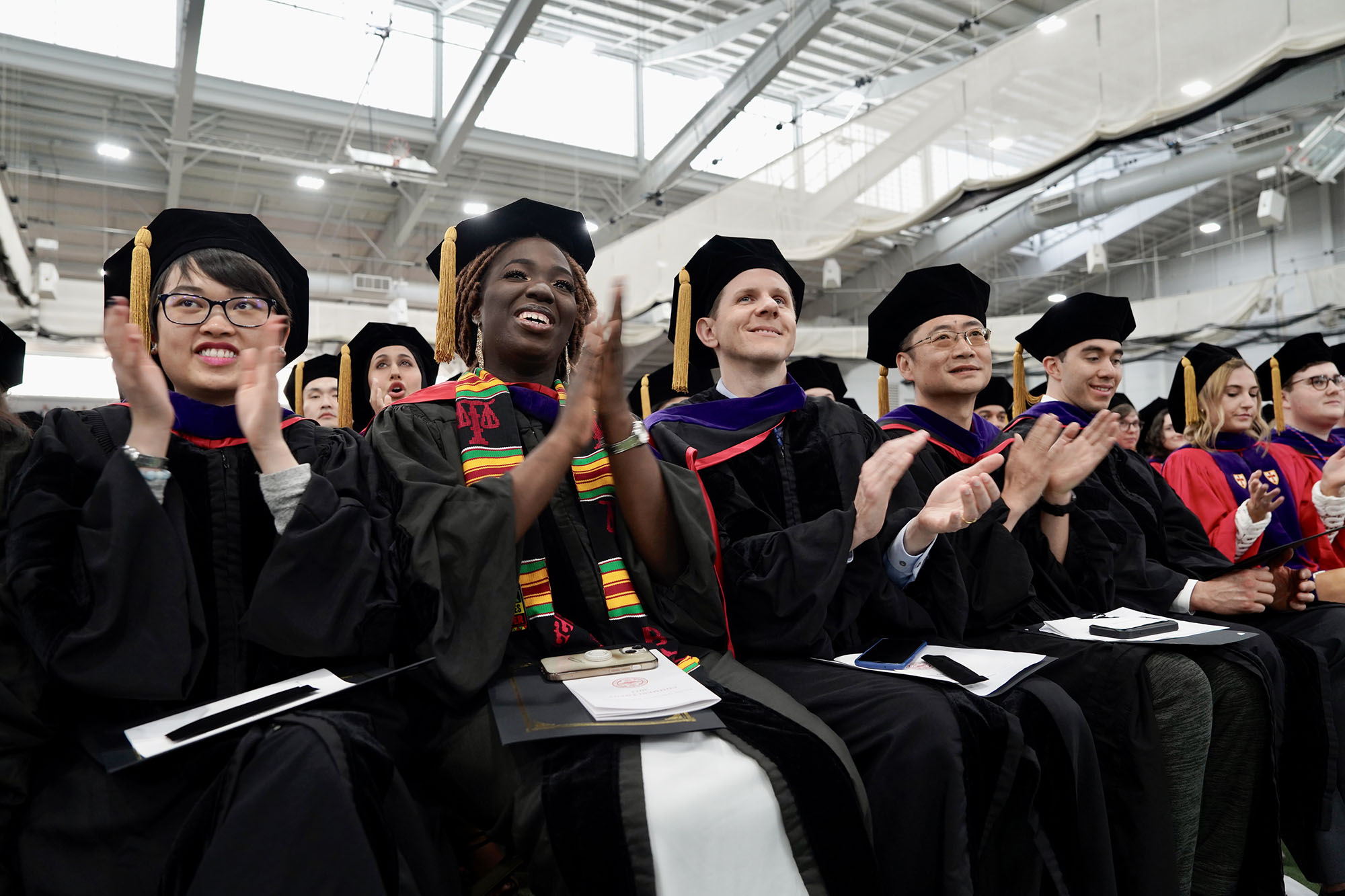 "By the end of the song ["The Room Where It Happens"], Aaron Burr realizes that if he really cares about something, and if he really wants to have a say, then he needs to do whatever it takes to get himself a seat at the table, and help to make a change. Looking back, that basic principle is what drove me to some of the most significant steps in my career," Jackson said. "Find something you care about, and get yourself into the room where it happens."
Finally, Jackson offered a lesson from a newer musical, American Prophet, which is about abolitionist Frederick Douglass.
Playwright Charles Randolph-Wright used Douglass' own writing throughout the script, often repeating phrases in different ways throughout the performance. The effect, Jackson said, is that the audience leaves with a deeper understanding of Douglass, and an appreciation that "words matter, and the framing does, too."
"It's not just what you say that leaves an impact," she said, "it's also how you say it."
Jackson left graduates with a reminder to remain open to possibility; that her own path was a surprise to her.
"What I want you to think about is the fact that I was sitting where you are, graduating from law school and excited about the future, not all that long ago. And I could not possibly have predicted that my professional path would lead to where I am today," she said. "The takeaway message for all of you is that anything is possible."
Though not a BU alumna, Jackson's historic and barrier-breaking career reflects the ethos of the School of Law and the very foundation on which it was created. Angela Onwuachi-Willig, dean of the law school, took a moment to reflect upon the school's history during Sunday's ceremony, which marked its 150th convocation.
"We welcomed our very first cohort of students before the invention of the telephone," she said. "That inaugural class had only 60 students and just one lecture hall. Back then, openly discriminatory policies were the norm in schools. But BU LAW was a rare exception. Less than a decade after the Civil War, and 50 years before a woman could cast a vote in this country, BU LAW made the bold decision to admit highly accomplished students regardless of race, gender, or religion. Our very first class included an African American student and an Asian student. The year was 1872. And only two years later, the first woman enrolled at BU LAW. This founding commitment to justice and equality was astoundingly ahead of its time. And it was a key to our long and impressive legacy."
Onwuachi-Willig encouraged graduates to keep track of the smaller, quieter, but no less important moments throughout their lives and careers, as well as the "pop-the-champagne, call-your-momma" moments, such as convocation. Those smaller moments, she said, can end up being the watershed moments.
Later, Rachel Florence James (LAW'23) delivered the student address for LLM (Master of Laws) graduates, and Gabriela A. Rosario (LAW'23) spoke on behalf of the Juris Doctor graduates. They each recalled some of the more grueling exams and late-night study sessions they and their peers undertook—adding, however, that those moments were outshone by the camaraderie and experience they gained.
"Class of 2023," Rosario said with a smile on her face, "we did it!"