A Public Theology: BU Alumni Pastors Bring Their Faith to Politics
A divine calling leads STH alums into public service, from advising a congresswoman to advocating for the environment
Religion
Mix Religion and Politics? For These STH Alums, You Bet
A divine calling leads STH alums into public service, from advising a congresswoman to advocating for the environment
Congresswoman Ayanna Pressley has come to Cambridge's Urban Hearth restaurant this October day to honor a constituent: owner Erin Miller, the first woman and Bay Stater to win the Great American Seafood Cook-Off. In the intimate dining area with an open kitchen, Pressley (D-Mass.), confidently conversational, shows how to work a room. She makes small talk about the large number of expat Brooklynites living in Cambridge. She asks Miller about her business. She compliments the savory aromas and the decor. ("Your restroom is cozy.")
In contrast to her gregariousness, a Pressley staffer in a blazer and jeans stands off to the side, unobtrusively scanning his phone. The Rev. Art Gordon (STH'16) is no wallflower when he takes the pulpit as senior pastor at Roxbury's St. John Missionary Baptist Church. There, he sways at the lectern, his impassioned sentences tailgating each other with barely a breath between them, as in a 2021 sermon about bad things befalling good people: "God, why me? Why do I have to go through this? God, I've been treating everybody right!"
But when he's on the clock as a senior advisor to Pressley, Gordon blends into the background, modeling Christian humility: Blessed are the meek. You'd never know that the 34-year-old was part of the event's glue, having coordinated Pressley's visit with the Massachusetts Restaurant Association.
Gordon exemplifies School of Theology graduates who practice politically what they preach, advancing justice through the affairs of God's people. These clergy bridge two worlds, the partisan rancor of politics and the we're-all-God's-children inclusivity of faith. Gordon hustles early out of Urban Hearth and catches the MBTA's Red Line to a Central Square coffee shop, where he reserves space for a get-to-know-you meeting later that day between Pressley and Cambridge's new city manager. Once the tete-a-tete begins, he fades away again, this time to prepare for the commute home.
In addition to arranging such individual constituent meetings, Gordon stage-manages bigger events around matters of regional and national import: working as Pressley's staffer to help coordinate Boston's COVID-19 response, arranging meetings with religious leaders last fall on student debt relief, organizing a November town hall in Roxbury with Pressley and voters.
The man in the spotlight on Sundays doesn't mind stepping out of it in his political job. "There are times you're able to be on stage and speak and lead people," he says. "And then there are times you have to take a back seat or step back to let somebody else get to shine."
Federal law prohibits tax-exempt churches from endorsing specific political candidates. But any political work by clergy, like Gordon's, discomforts some. In 1980, five-term Congressman Robert Drinan (D-Mass.), a Jesuit priest, obeyed Vatican orders to give up his seat. (Canon law bars priests from elective office.) And that was decades before today's partisan warfare forced ministers to tread even more gingerly before flocks whose members may hold divergent political views.
Gordon and his classmate, the Rev. Vernon Walker (STH'16), muse about seeking office themselves someday. Both field occasional objections to their current activism—in Walker's case, as program director of Cambridge-based Communities Responding to Extreme Weather (CREW). Walker has been instrumental in building the nonprofit's nationwide institutional web—libraries, churches, schools, nonprofits, and local businesses—that helps communities, especially low-income and those of color, spread information about, and fortify against, climate change. He's also studying for a master's in public policy at Tufts.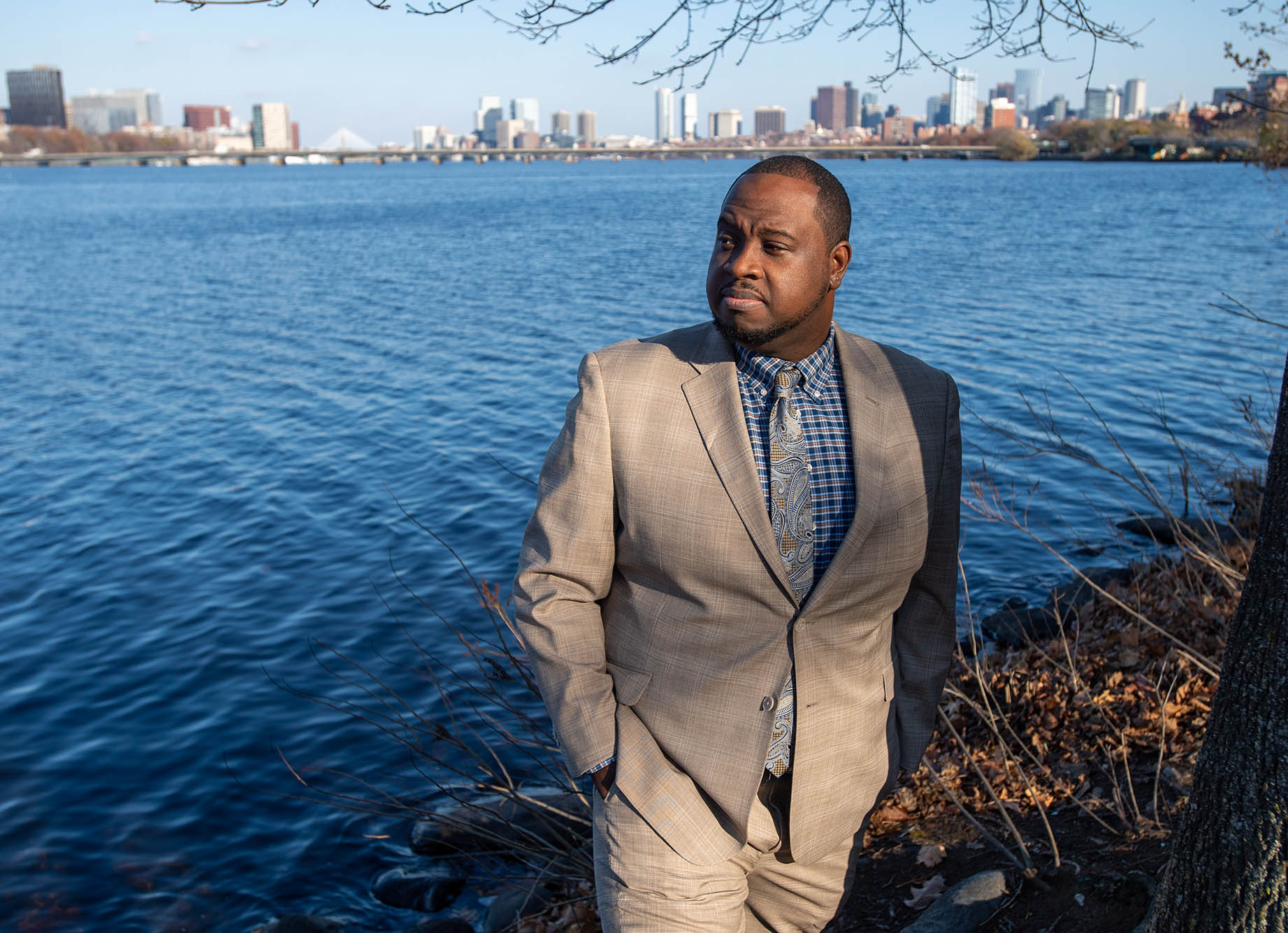 "I do get asked sporadically why I am involved in political matters," Walker says. "We, as people of faith, should care enough about political matters that govern our lives to organize with our local community, to stand up for just policies, and organize against unjust policies.… There are over 2,000 Bible verses that talk about justice and poverty. It seems it is important to God how the poor are treated."
---

There are over 2,000 Bible verses that talk about justice and poverty. It seems it is important to God how the poor are treated.

---
Blowback against political work is less of an issue for the Rev. Mariama White-Hammond (STH'17), who ministers in the African Methodist Episcopal Church—historically the most politically active in the Black Christian church, she says. White-Hammond has served as the founding pastor of Dorchester's New Roots AMEl Church since 2018 and, since April 2021, has held a full-time, appointed government role as the city of Boston's chief of environment, energy, and open space.
Her portfolio includes helping to implement the city's new carbon emissions targets for large, existing buildings.
She doesn't preach about the nitty-gritty of addressing such problems. "But I do [preach about] this question of whether or not we meet the climate crisis," White-Hammond says. "These are life-and-death issues," and tiptoeing around them "ultimately makes the church less relevant, and I think it has a lot to do with why the church is losing young people," who, increasingly, check "none" when polled about their religious affiliation.
White-Hammond comfortably dons both cleric's stole and politician's hat as a pastor in the AME denomination and with a young flock that's passionate about social problems. Police reform, for example, engrosses her congregation. "I've got parents in my church who are worried about their children, whether or not they will be profiled. That's a real, lived reality," she says. "If we as a church are involved in the core moments of people's lives—marriage and birth and death—how do we not have an opinion if people are dying prematurely? How do we not have an opinion if policies make a decision about whether or not people can get married?
"If you are ministering to people who consistently throughout history have received the brunt of legal and political decisions, how do you minister to them without talking about these things that impact their lives?"
THE ROOTS OF THEIR ACTIVISM
Church-state mingling has vital historical roots. All three of these clergy are heirs to, and conduits of, the Black church's tradition as spiritual balm and political advocate for the oppressed. It affirmed enslaved people's humanity before the Civil War and became an essential engine in the 20th-century's Civil Rights Movement. Houses of worship occasionally have been made literal battlegrounds by white supremacists, as with the 1963 Alabama bombing that killed four children or the murders of nine Black South Carolinians at Bible study in 2015.
A history of producing "prophetic, moral, and politically influenced pastors, Black pastors in particular," says Gordon, attracted him to BU. That history would include the University's most famous alumnus, Martin Luther King, Jr. (GRS'55, Hon.'59).
By the time Gordon matriculated, his life had long twined religion and politics. He was born, the youngest of six children, to a religious family "living in the projects, a three-bedroom house" in Georgia. His father is also a Baptist pastor. The political bug bit Gordon in his college years, when he interned in Washington, D.C., for one of Georgia's US senators. Gordon began his own congregational ministry the year after his STH graduation. He later worked for the 2020 reelection campaign of US Senator Ed Markey (D-Mass.), then was invited to join the senator's staff—but only if he devoted himself exclusively to that job.
He couldn't. "Deep down, I'm still a pastor," he says. "I didn't want to give up the church." When he later applied to work for Pressley, he mentioned his spiritual role up front. This time, it wasn't a deal breaker.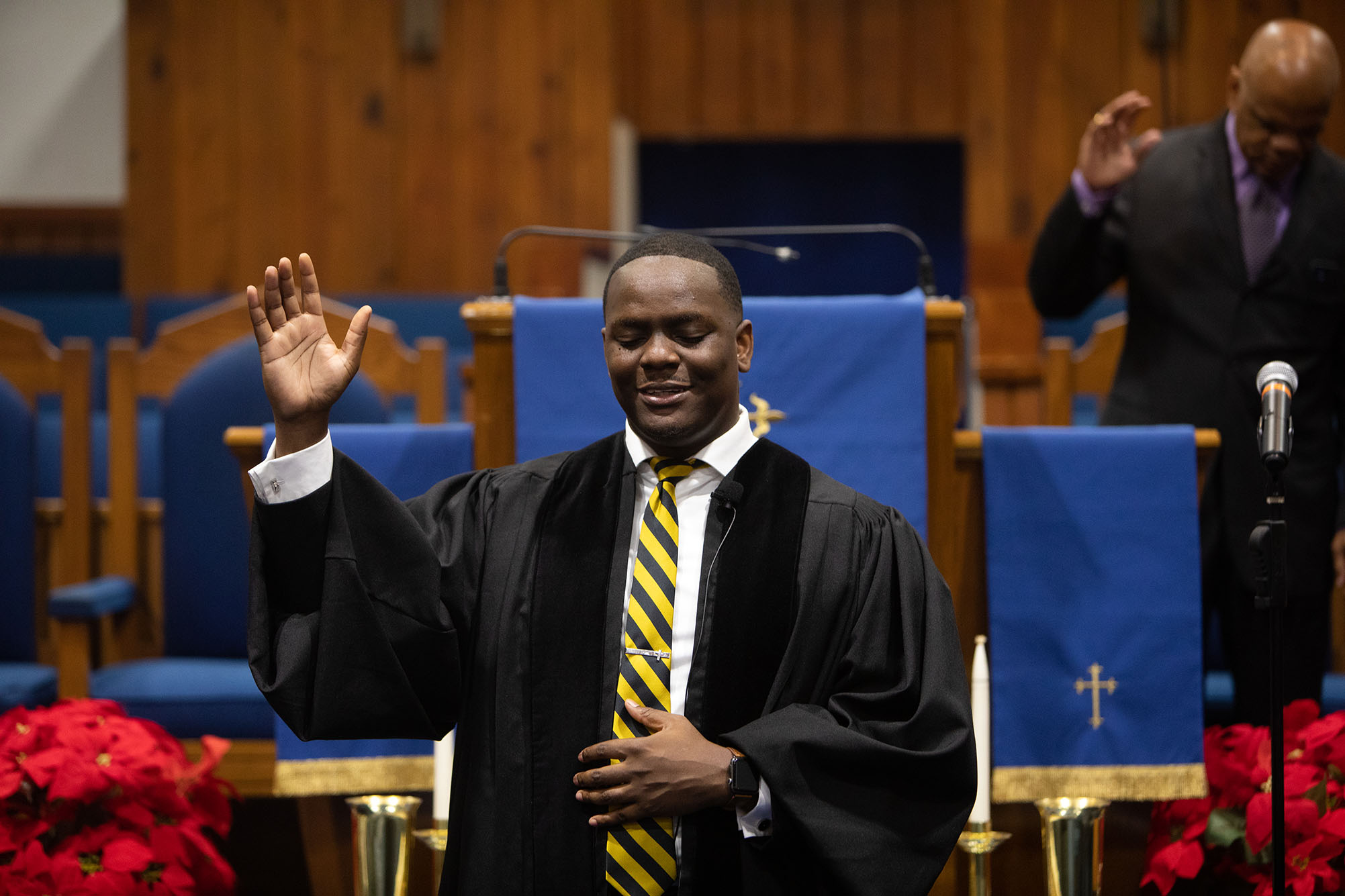 "Our office aims to govern in close partnership with those we represent, and building a team with deep ties to our communities is a critical piece of that work," says Pressley, who studied at BU's College of General Studies. "Art has a proven track record in community, and his work as a pastor gives him a keen sense of issues affecting families and individuals in the district. He has been deeply involved in supporting our most vulnerable communities, and he understands how important it is to engage our faith community in our work for justice, equity, and our collective liberation. As someone whose journey in service began in my granddaddy's storefront church on the South Side of Chicago, I'm proud to have Art on our team."
Walker's calling to ministry came in Philadelphia in the early 2000s, where, attending and working through Deliverance Evangelistic Church, he ministered to prisoners and fed unhoused people. Developing what he calls "a heart for the poor and serving the poor," he pursued chances to preach in pulpits across the City of Brotherly Love. "During this time, I felt the Lord calling me to the ordination process," Walker says.
It was Massachusetts that ordained him to politics. In 2013, he had moved to the commonwealth and was interning for a Worcester city councilor, doing community outreach as he'd done in Philadelphia. The experience taught him "how important it is for people of faith to be involved in political organizing," he says. At STH, his studies expanded his understanding of social justice and community engagement as never before: "I was able to take a trip to India and learn more about conflict there. I was able to take classes that helped me understand the roots of the Christian faith from an academic perspective. I was also able to meet classmates who were like-minded and had a heart for social justice."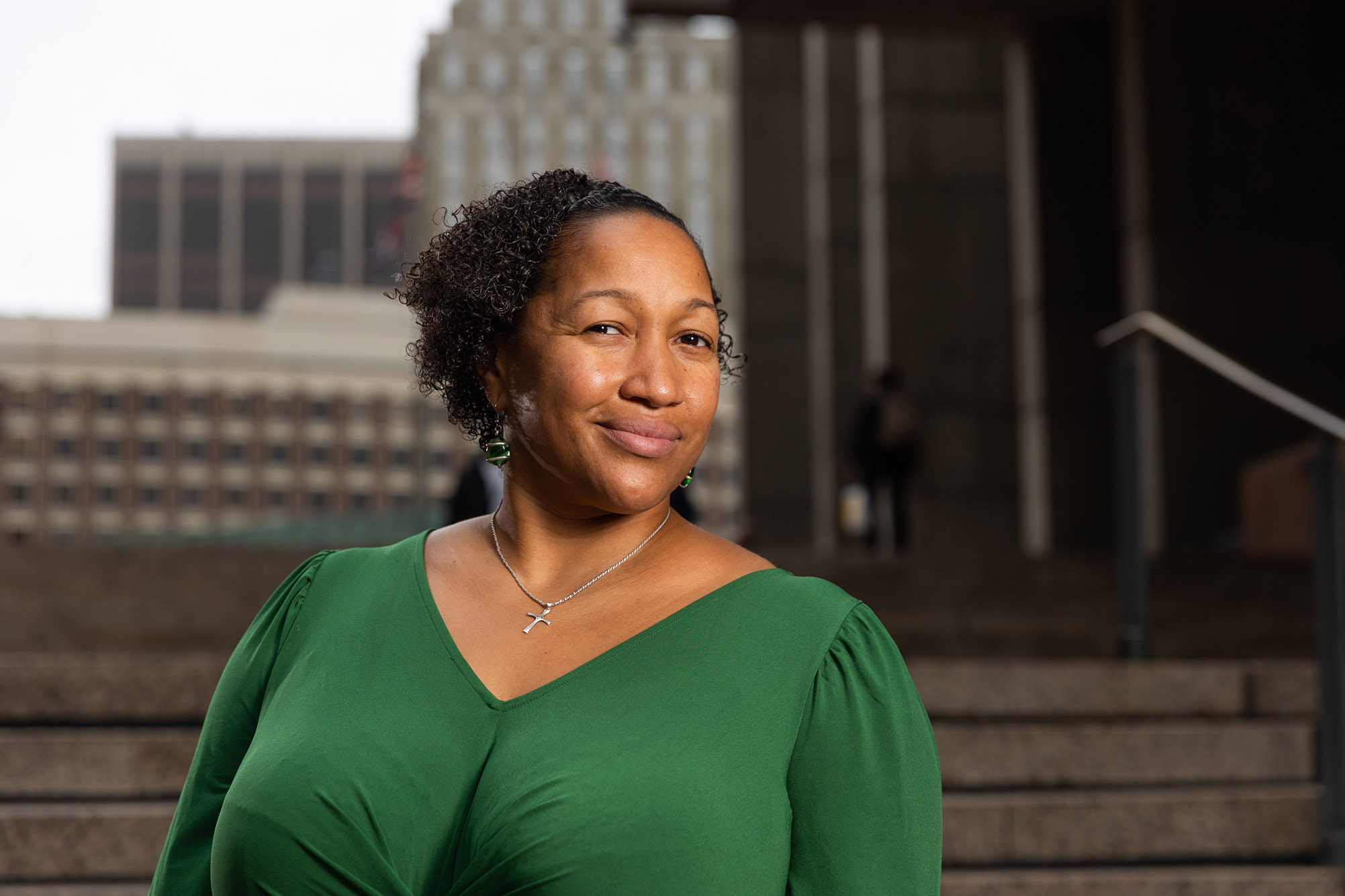 White-Hammond says STH gave her time off from activism, as a person who was born to it. Her father, the Rev. Ray Hammond (Hon.'99), cofounded the Boston TenPoint Coalition, which works to curb gang violence, and her mother, the Rev. Gloria White-Hammond (CAS'72, Hon.'09), has campaigned against genocide in Sudan. Their daughter's first social justice campaign came at age 10, when she gave up Coca-Cola to protest the company's investment in apartheid South Africa.
She participated in community organizing for environmentalism before STH gave her time off to immerse herself in Bible study and understand "the issues that Jesus was raising, the structures that he was up against that we miss when we don't have a historical understanding of the scripture," she says. "I was able to get excited about what is possible if we were to just ask, what would Jesus do?" Her preaching spurred one congregant to tell her, "You've made me want to go back and read the Bible, because there's a lot of stuff that you're talking about, I just didn't see in there."
TOWARD PEACEFUL POLITICKING
The contrast between the sour vinegar of America's divided politics and the inclusive oil of religions does not escape any of these alums.
"Politics is very polarizing," says Walker, "and it does not bring out the best of people…division, meanness, and rude behavior." To defuse tension with those he disagrees with, he points out to them "the impact a policy will have on underserved communities," and "that if we are going to love our neighbors as ourselves"—per the command of Leviticus and Jesus—"we need to elect people who will have the heart of social justice at the root of their political agenda and policymaking."
In blue-state Massachusetts, White-Hammond doesn't have to cross swords with climate change deniers in her city role; she got on well with environmental officials under former Republican Governor Charlie Baker. "I was able to cross the aisle or work together despite some policy disagreements," she says. Still, "I'm not sure that the church always is treating people with the kind of respect and basic human dignity that I would expect those people who call themselves scholars of Christ to at least attempt to live up to. I do not take for granted that the church will step up to the moment, because things are not looking great for us right now," she laments. "The church universal has not been active enough on climate change. The church universal has not been active enough on immigration. I don't think we have stood up for the least of these in the way that we are called to."