BU Art Galleries Play Host to 2023 MFA Painting and Sculpture, Graphic Design Thesis Exhibition Shows
Exhibitions
BU Art Galleries Play Host to 2023 MFA Painting and Sculpture, Graphic Design Thesis Exhibition Shows
More than 450 works by 42 graduate students on view through April 22
Leah Naxon makes sculptures that replicate the properties of human skin. She uses latex embellished with fabric, yarn, beading, glitter and, recently, the SCOBY—short for symbiotic culture of bacteria and yeast—found in kombucha. Like a sourdough starter, the SCOBY is responsible for fermenting each batch of the fizzy drink, and its gelatinous, biotic texture appealed to Naxon.
"I started using SCOBY at the end of my second semester and growing it myself, which has been such a fun process," says Naxon (CFA'23). "Both SCOBY and latex represent skin in a literal way, but I didn't want to completely rely on that as a gimmick; my thesis work is still very much about my relationship to the body, but I'm also bringing in more of my relationship to the domestic space as a queer person."
Naxon is among the 42 College of Fine Arts painting, sculpture, and graphic design graduate students whose work is now on display in this year's MFA Painting and Sculpture Thesis Exhibition at CFA's Faye G., Jo, and James Stone Gallery. This year, the painting and sculpture show features 63 individual works by 13 painters and 3 sculptors, including 3 works by Naxon. The MFA Graphic Design Thesis Exhibition runs concurrently at the 808 Gallery, located across Comm Ave.
"There are substantial lines of dialogue between the painting and sculpture programs, even though they're structured differently," says David Snyder, a CFA assistant professor of art and chair of the School of Visual Art's MFA sculpture program. "The priorities of both, I think, are neatly aligned. As they're working with each other, their social bonds develop [and], likewise, their ability to engage in great depth with the work of others develops as well." 
Josephine Halvorson, CFA professor and chair of graduate studies in painting, says the painting students' approaches to their practices can be broken into rough conceptual groups—autobiographical, metatextual, philosophical, spiritual, critical, experiential—that have made for a sprawling, four-semester-long conversation where the works reflect and refract one another.
"There's a hybridization of shared concerns in all of their work," says Halvorson, who co-taught a grad thesis seminar with Snyder this semester.
Many of Halvorson's students found themselves grappling with the complexity of visual culture, addressing normative ways of seeing with what she describes as an "immersive, direct approach to what painting can be."
"Many of the conversations we've had, as a group and individually, have challenged the ocular-centric quality within painting," Halvorson says. "The relationship to tactility and the haptic is definitely something that's come through with this group."
Perhaps no student embodies this idea better than Stephen Proski (CFA'23), whose work reflects the ways in which he, as a blind painter, prioritizes his sense of touch. Textural elements reveal themselves in his monochromatic "Platform (White Hot)," which features a raised layer of concrete dots on top of a flat white plane, similar to the dots you'd find on the top of a Lego brick or a line of Braille.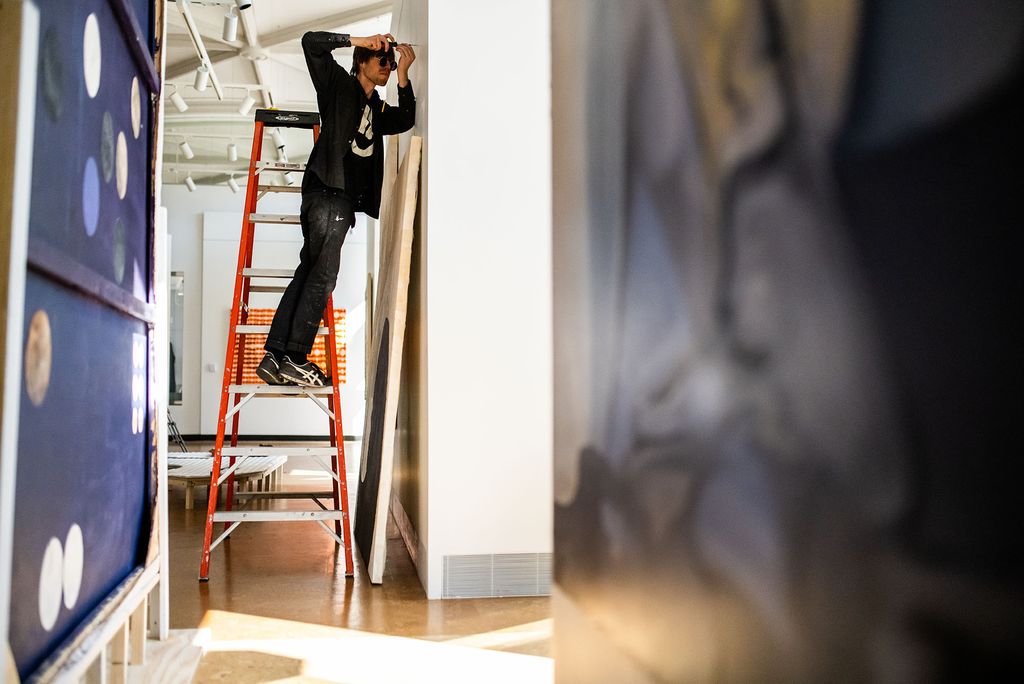 Painter Bunny Correia's approach is more introspective. Working primarily with acrylic and gouache, his gaze is trained on identity and self-perception. Correia's work is a riot of vibrant colors and characters. Some are human, some humanoid, some rendered with academic precision, and others with a child's sense of chaotic urgency.
"The figures are very personal; I have a character in mind but I don't know what it's going to look like," Correia (CFA'23) says. "The drawing is very impulsive and automatic, and as soon as I find the foundation that I'm looking for, then it becomes really methodical, like it's been lined up."
Across Comm Ave, identity-bending is a principal theme of the MFA Graphic Design show. This year's exhibition, Hide Self View, references the Zoom video-conferencing feature that allows users to participate in a meeting without being seen by others. In a statement for this year's show, Christopher Sleboda, CFA associate professor of art and chair of the undergraduate graphic design program, reflects upon how function mirrors the graphic designer's prerogative to communicate with the public from behind the scenes.
"The hide-self-view mode of practice allows participants to engage on their own terms, to show their work without needing to reveal all, to create space for others…and to look outward rather than inward," Sleboda writes.
The 26 graphic design MFA students met as a group and in small teams during their final semester to determine, through brainstorming and process of elimination, a theme that would resonate with each of them and encompass the more than 400 digital works, bound books, posters, and other pieces included in the show.
Valeria Alvarado Gutiérrez's thesis, "Learning Threads," is aesthetically inspired by her home country of Peru. She incorporates woven and beaded materials into her work to reflect traditional garments and developed a font to recall the typography used in Lima street art. Her creations serve a larger, outward-looking purpose, however, as educational tools for nontraditional learners like herself. During her time in the MFA program, Alvarado (CFA'23)–who pivoted to design after eight years as an educator–handcrafted books such as Perú: Fantastic Myths, Tales and Stories, a compilation of the stories she grew up with that includes pop-ups and other movable elements.
"I encourage the audience to discover things through exploration, play, and manipulating materials," she says. "My heritage comes in as a transversal thread that creeps into my design through the vibrancy of colors, handmade quality, and materiality."
Nina Gozzi's thesis, "Plant Me After Reading," addresses the duality of looking inward and outward in her practice by, in her words, "aim[ing] to define sustainability on a personal level within the framework of accountability, ethics, and growth." Her pieces in the exhibition include instructional prints on building a sustainable design practice, which she created using natural dyes on recycled paper.
"Designing in a socially responsible manner does not mean limiting the creativity of an artist," Gozzi (CFA'23) adds. "It means understanding design as a rational practice for everything and everyone around us."
For graphic design student Siddharth Thanganataraja Mani (CFA'23), the most rewarding aspect of the MFA program has been the artistic liberty it has given him. Originally from Chennai, India, he developed an interest in typography after arriving at BU; by combining characters from the Roman and Tamil alphabets, he has created a practice that melds his cultural identities and invites viewers to do the same. That level of experimentation, he says, is not something he would have been able to pursue in his previous educational environments, which he says were far more rigid in their instruction.
"I never felt competitive in this program," he says. "There's just a complete freedom to express yourself."
In a statement accompanying this year's MFA Thesis shows, Dana Clancy, director of the School of Visual Arts and an associate professor of art, praised the painting, sculpture, and graphic design programs for their emphasis on "form-making that pushes the boundaries of disciplines and dimensions.
"The reach of our exhibitions across two buildings mirrors the sense of opening up after several years of Covid-19 restrictions," she writes. "The work also engages with what it means to create mental, physical, and social space and brings attention to the relationship of the self to larger systems."
The MFA Painting and Sculpture Thesis Exhibition is at the Faye G., Jo, and James Stone Gallery, 855 Commonwealth Ave., and the MFA Graphic Design Thesis Exhibition is at the 808 Gallery, 808 Commonwealth Ave., through Saturday, April 22. Hours: Tuesday to Saturday, 11 am to 5 pm. The exhibitions are free and open to the public.