New Music March 2023: Local Boston Concerts, New Album Releases
Indie supergroup boygenius returns with their highly anticipated debut album and John Mayer is coming to town
New Music
What's Hot in Music This Month: Local Concerts, New Releases
Indie supergroup boygenius returns with their highly anticipated debut album and John Mayer is coming to town
Welcome back, Terriers, to our monthly column "What's Hot in Music."
The semester is in full swing and spring break is nearly here. If you're like us, you've been hungry for new music and the experience of screaming along to live music. Indie supergroup boygenius returns, and multitalented Grammy winner Jill Scott is set to take the stage at MGM Music Hall at Fenway. March is stacked with exciting releases and events, and BU Today is here to round up everything you need to know as we leave behind winter and look towards spring.
New releases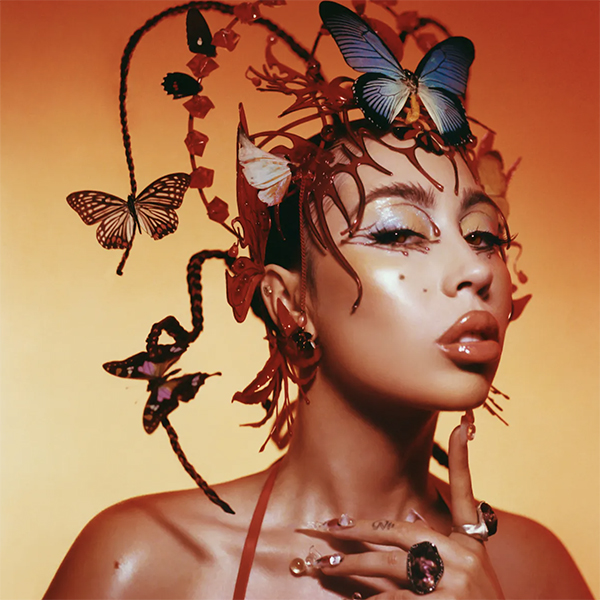 Red Moon in Venus, Kali Uchis
Kali Uchis took the internet by storm with her 2020 song "telepatía," which went viral on TikTok and shot her to popularity. Her eagerly anticipated new album, Red Moon in Venus, featuring guest appearances by Omar Apollo, Don Toliver, and Summer Walker, drops March 3. Uchis' pop R&B style and gorgeous voice come through on the album's first single, "I Wish you Roses." In the song, she wishes the best for a past relationship, singing, "just know any love I gave you is forever yours to keep." Similar to her previous album Sin Miedo (del Amor y Otros Demonios), Red Moon in Venus features songs in both English and Spanish.
---
Irish rock band U2 is back with 40 "re-recorded and reimagined" tracks selected from their decades together. Songs of Surrender, coming out March 17, offers fans a new look at some of the band's earliest hits, such as "With Or Without You" and "Beautiful Day." These new takes include fresh instrumentations and arrangements as well as some new lyrics. "Music allows you to time travel," producer the Edge said in a statement announcing the new album's release, adding: "We became curious to find out what it would be like to bring our early songs back with us to the present day and give them the benefit, or otherwise, of a 21st century reimagining." While fans may think they know these songs, Songs of Surrender offers a polished and refreshing time warp through U2's sprawling legacy.
---
Country star Luke Combs returns March 24 with Gettin' Old, the second part of his double album Growin' Up and Gettin' Old. The new 18-track record features a cover of Tracy Chapman's classic "Fast Car" along with 15 songs cowritten by Combs. It's impossible to not tap your foot and feel a twinge of nostalgia during "Growin' Up and Gettin' Old," the new album's opening track that was released in January. "It's like the less you have, the faster that it goes," Combs sings, "in the middle of growin' up and gettin' old." The release comes amid a series of recent accolades for the singer/composer. He took home the Country Music Association Awards for Entertainer of the Year and Album of the Year at the 2022 CMA Awards. Combs stands as a reminder that the country genre is as strong as ever, and his new release is bound to be another standout addition to his discography.
---
The indie supergroup—made up of Phoebe Bridgers, Julien Baker, and Lucy Dacus—developed a cult following with their self-titled 2018 EP. The band's members have proven themselves successful in their own rights, but together they've created something incredible. In January, they surprised fans with three new songs and an announcement for their upcoming debut album, which is slated for release March 31. "Emily I'm Sorry," vocally led by Bridgers, expands the group's trademark introspective and confessional style. The subdued instrumentation and layered harmonies draw the focus to Bridgers' pleading apology for her treatment of the mysterious Emily. "You know how I get when I'm wrong and I can feel myself becoming somebody I'm not," Bridgers sings, with Baker and Dacus' echoing harmonies behind her. the record is sure to delight new and old fans alike.
---
In Pieces may be her debut album, but Chlӧe is no newbie to the music scene. She and her sister Halle posted covers of songs on their YouTube channel, which was discovered by the one and only Beyoncé. Shortly after, they were signed to a record label as R&B duo Chloe x Halle, releasing two studio albums. After releasing a few singles over the past few months—including the TikTok smash "Have Mercy"—Chlӧe is turning to a full-length solo project, the long-awaited In Pieces, coming March 31. Fans have been begging for more music, and they'll be happy to hear Chlӧe does not disappoint. "Pray It Away," the first song released from the new album, is an empowering exploration of self-control, wanting to hurt an ex, but choosing restraint instead. It is an immediate classic in her discography and sets her up for a very successful debut.
---
Upcoming concerts
Meet Me @ The Altar
Meet Me @ The Altar, a pop-punk band that began making music together remotely in 2015, is coming to rock Brighton Music Hall on March 5 just a few days before their new album Past // Present // Future comes out March 10. Their music is reminiscent of Avril Lavigne circa 2002, perfectly capturing and expanding the infectious "I don't care and you suck" energy and sound that punctuates pop-punk. They are fun, fresh, and sure to bring down the house with their shredding guitars and banging drums.
Weyes Blood
After taking a hiatus following her critically acclaimed 2019 album, Weyes Blood (pronounced "Wise Blood") is back on the road in support of her latest album, And in the Darkness, Hearts Aglow, released in November 2022. It is the kind of ethereal and haunting music that truly comes to life in a live performance, a beautiful blend of Americana and folk music that invites deep contemplation. Weyes Blood, the artist persona of Natalie Mering, even has an illuminated heart sewn into the dress she wears while performing that shines on stage, bringing to life the cover of the album.
John Mayer
Music icon John Mayer is set to rock TD Garden later this month. After more than two decades, the seven-time Grammy winner is still at the top of his game, releasing the critically acclaimed album Sob Rock in 2021. The '80s-inspired, laid-back album sees Mayer singing about life lessons and heartbreak in a way that is just lighthearted enough to work. "What do I do with all this love that's runnin' through my veins for you?" Mayer asks in the song "New Light." The album topped the Billboard album sales chart and has spawned a solo arena tour, aptly named the Solo Tour, that happily arrives in Boston March 13.
Ingrid Andress
Grammy-nominated country songstress Ingrid Andress is coming to the Sinclair on March 16 for her Good Person Tour. Her critically acclaimed sophomore album Good Person features the confessional and honest writing style that endeared her to listeners with her 2020 debut Lady Like. Using familiar images like yearbook signatures, Andress shares intimate and personal stories that still feel relatable. Her blend of pop and country is unique, and it's the type of music that benefits from being heard live.
Jill Scott
Poetry, acting, singing, songwriting. Is there anything Jill Scott can't do? The Grammy-award winning, multitalented artist comes to MGM Music Hall at Fenway on March 29 to celebrate the 20th anniversary of the release of her debut album Who Is Jill Scott?—Words and Sounds Vol. 1. The R&B superstar combines spoken word with songs on her albums, making for an interesting and deeply affecting body of work. Her live performances bring her words to life and show she's still an icon blazing her own trail.