Make Your Way to Make Way for Ducklings, the Musical at Wheelock Family Theatre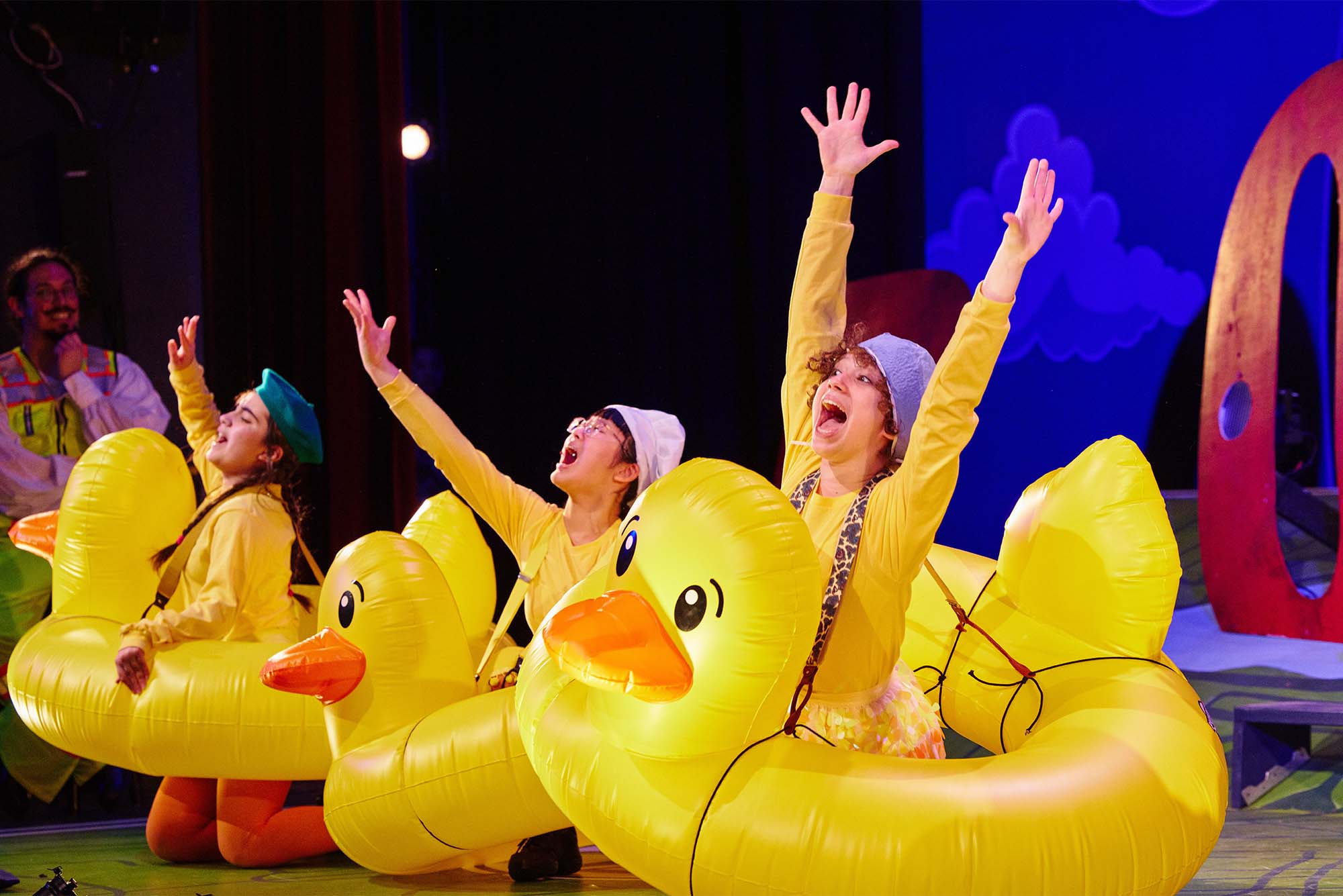 Things-to-do
Make Your Way to Make Way for Ducklings, the Musical at Wheelock Family Theatre
The world premiere of the theatrical adaptation of Robert McCloskey's beloved children's book presented the cast with challenges, fun opportunities
When Emily Ranii was approached in 2019 about co-commissioning a musical adaptation of Robert McCloskey's beloved children's book Make Way for Ducklings, the artistic director of Wheelock Family Theatre (WFT) jumped at the chance.
"My immediate response was 'YES,' in all caps," Ranii (CFA'13) says of her initial conversation with Michael Bobbitt, then the artistic director of Adventure Theatre-MTC in Maryland, who had secured the rights to adapt the book for the stage. "What story is more Boston…it goes from one historic Boston landmark to another."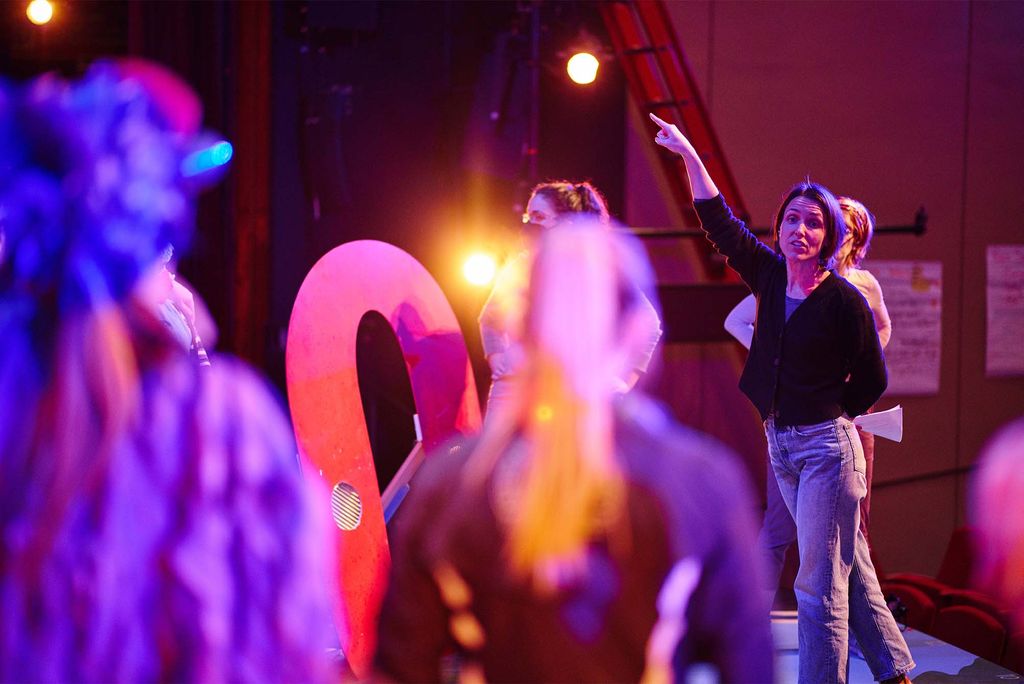 Published in 1941, Make Way for Ducklings is the story of a pair of mallard ducks and their efforts to find a safe home where they can raise their soon-to-hatch brood of eight ducklings. Mr. and Mrs. Mallard fly over the Charles River, the Massachusetts State House, and Beacon Hill's Louisburg Square before finally settling on an island in the Boston Public Garden. As the book progresses, the couple's newborn ducklings—Jack, Kack, Lack, Mack, Nack, Ouack, Pack, and Quack—learn to swim, dive, march, and stay clear of bicycles and cars, while the adults learn a thing or two about parenting.
Now, after several detours because of the COVID pandemic, Make Way for Ducklings: The Musical is finally having its world premiere at WFT in a production directed by Ranii, opening February 17 and running through March 12. The show, written by Bobbitt (now executive director of the Mass Cultural Council), Sandra Eskin, and William Yanesh (music and lyrics), received an early, and virtual, production by the Wheelock Family Theatre and the College of Fine Arts School of Theatre in December 2020 before getting a fully staged production last year at Adventure Theatre. The show has since had a number of revisions. 
The musical incorporates all of the fun and mischief that has made McCloskey's story a staple of children's literature for more than 80 years, but has also undergone a number of tweaks to make it feel more contemporary. In the book, Mr. Mallard flies off in search of a new home while Mrs. Mallard is left to raise her brood alone for a week. "We decided that was too gender normative and old-fashioned," Bobbitt says. Now, the couple co-parent equally and the family remains together throughout the story.
McCloskey's iconic illustrations of local landmarks earned him a Caldecott Medal, the nation's highest honor for children's picture book illustrators. But the drawings' sepia tones harken back to another time, and set designer James Rotondo (CFA'17,'23) wanted to create a visual world that would resonate with today's audiences.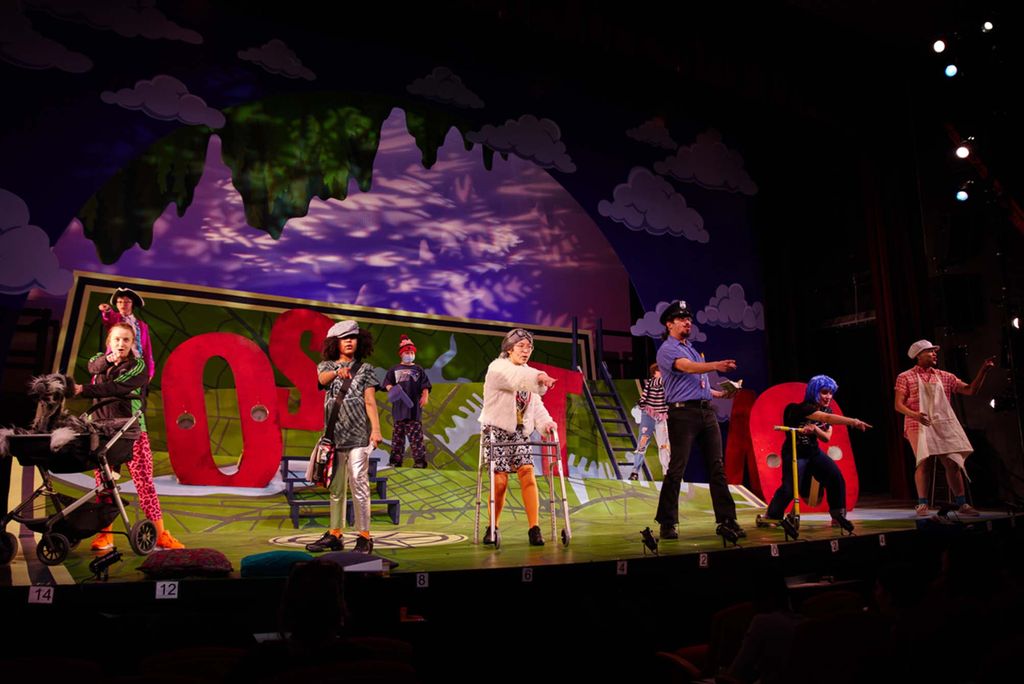 His solution? A map of intersecting angles and planes rendered in a bold graphic and colorful style that includes some of Boston's most recognizable landmarks and streets. Cloud cutouts serve as a transition as the ducks fly from one neighborhood to another in search of a home. Beacon Hill is represented with a cutout of the State House, the Public Garden by branches of a willow tree that fly in from above. (As any Bostonian knows, there is also a Make Way for Ducklings sculpture, by artist Nancy Schön [DGE'48], in the Public Garden.)
"When creating a set, I always try to instill a sense of wonder or mystery," Rotondo says. "When the audience enters the theater and sees the giant map, they can connect to that space immediately. They can trace the roads and find places they might have traveled themselves. They get to wonder where the story might take them."
One of the biggest challenges for the cast and crew? How to convincingly portray a duck.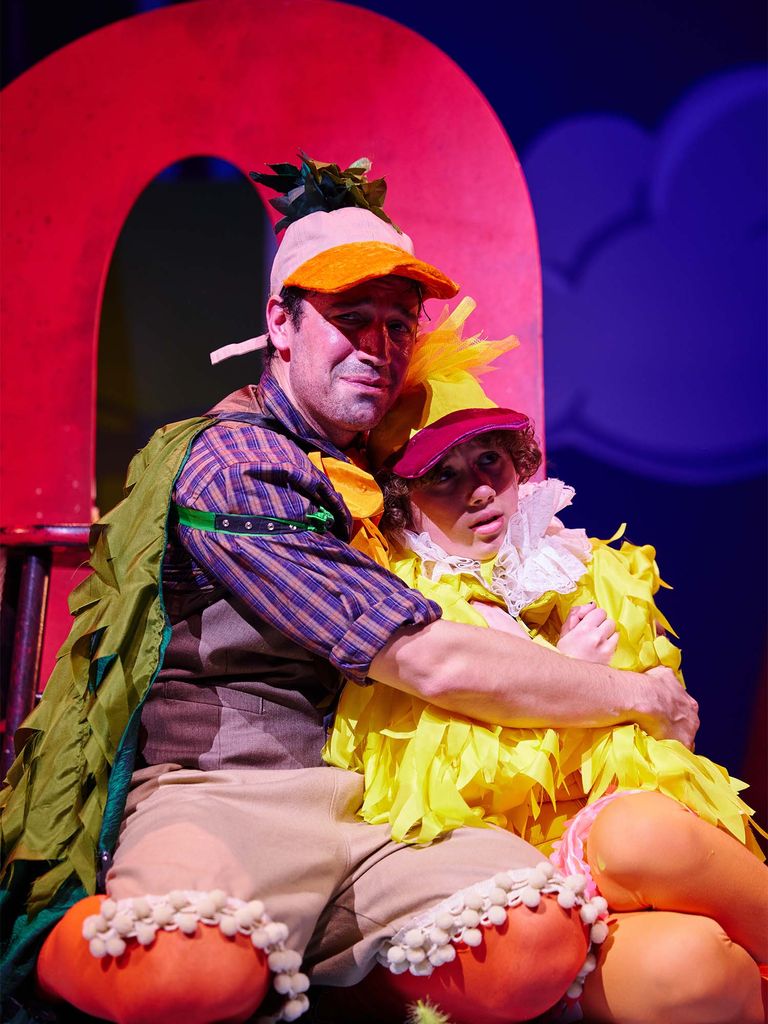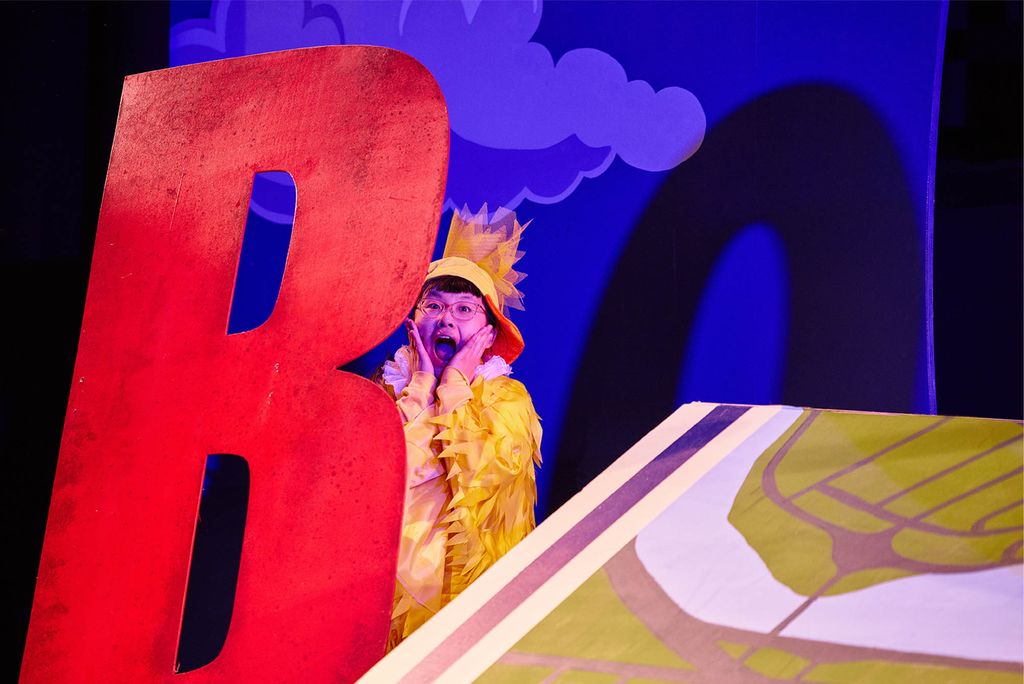 "Our choreographer, Joy Clark, and costume designer, Kathleen Doyle, have been watching tons of duck videos. I know, because they send them to me all the time," says Ranii, with a laugh. In addition to weeks of rehearsals—where they've learned how to swim, fly, and yes, walk and talk like a duck—cast members (with two teams of young actors portraying the ducklings) have undertaken their own research. For high school freshman Echo Kaufman, who plays timid duckling Mack, that's meant studying photos and videos of ducks as well as watching them in person. "Nothing can fully prepare you to be a duck, but it's a lot of working with the physicality of how ducks move and trying to find a way to implement it," Kaufman says.
Bonnie Shao, an eighth grader making her WFT debut as comedic duckling Quack, has spent a lot of time finding the right voice to portray her character. "I've had to make my voice more childlike and a bit sillier," she says, "because Quack is this newly hatched little duckling."
Even the adult actors acknowledge that playing a duck has been something of a learning curve. Becky Bass, whose previous roles have ranged from Disney's Aida to Billie Holiday to Motormouth Maybelle in Hairspray, says prepping for her role as Mrs. Mallard took work. In addition to watching YouTube and National Geographic videos of ducks, she's been visiting a pond near her home in Rhode Island to watch geese (the closest thing she could find to ducks).
"Really getting the opportunity to study them when they're eating, when they're chilling, when they're with their buddies, it's amazing seeing the different ways they interact," she says.
Bobbitt says he can't wait to see how Boston audiences react to the show. (After all, the book is the official children's book of the commonwealth of Massachusetts.) "There's lots of Boston humor in the show. I'm hoping the families who come to see it appreciate the jokes I put in about Boston."
Make Way for Ducklings, The Musical runs weekends through March 12 at the Wheelock Family Theatre, 180 Riverway, Boston. Performances are Friday, February 17, at 7:30 pm, Saturday, February 18, at 2 pm and 7:30 pm, Sunday, February 19, at 2 pm, Saturday, February 25, at 2 pm, Sunday, February 26, at 2 pm, Saturday, March 4, at 10:30 am and 2 pm, Sunday, March 5, at 2 pm, Saturday, March 11, at 10:30 am and 2 pm, and Sunday, March 12, at 2 pm.

ASL and AD performances are Saturday, March 5, at 2 pm, and Thursday, March 9, at 10:30 am.

There will also be special school vacation performances Tuesday, February 21, through Friday, February 24, at 1 pm.

Ticket prices range from $24 to $48. BU students, faculty, and staff are invited free of charge opening weekend (to reserve your ticket, use code "BUOpen"). BU students can purchase $12 tickets to any performance using the code "College." Faculty and staff receive a 25 percent discount off a full price ticket with code "BUStaff." Purchase tickets here, call 617-353-3001, or email WFTtix@bu.edu.