Jazzman Bill Banfield (STH'88) is Bridging Jazz, Faith, and Community
Music feeds his mind, body, and soul. It also saved his life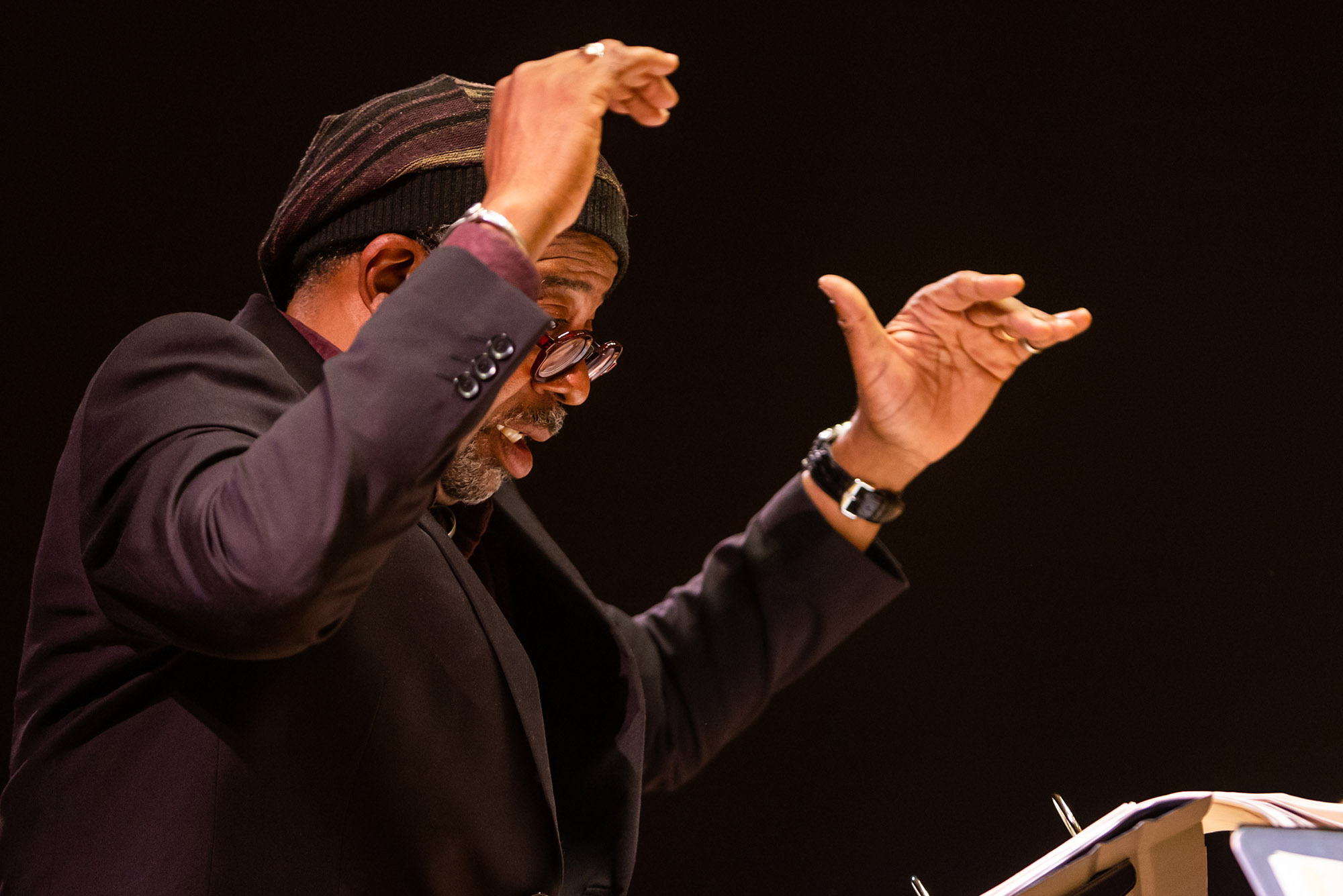 Creatives
Jazzman Bill Banfield (STH'88) is Bridging Jazz, Faith, and Community
Music feeds his mind, body, and soul. It also saved his life
Jazzman Bill Banfield is breaking ground at the corner of music and community.
"I'm building the arts church, my brother," says Banfield (STH'88). "When you come there, your soul is gonna get fed."
Banfield is a jazz guitarist, composer, pianist, recording artist, teacher, conductor, and arranger. He taught at Berklee College of Music for 15 years, retiring in 2020, and is now senior scholar in residence at Longy School of Music of Bard College in Cambridge, Mass.
If all goes as planned, this year he will open Jazz Urbane Café—a 200-seat performance venue, restaurant, and community space—in a 7,800-square- foot space in the city-owned Bruce C. Bolling Municipal Building in Boston's Nubian Square.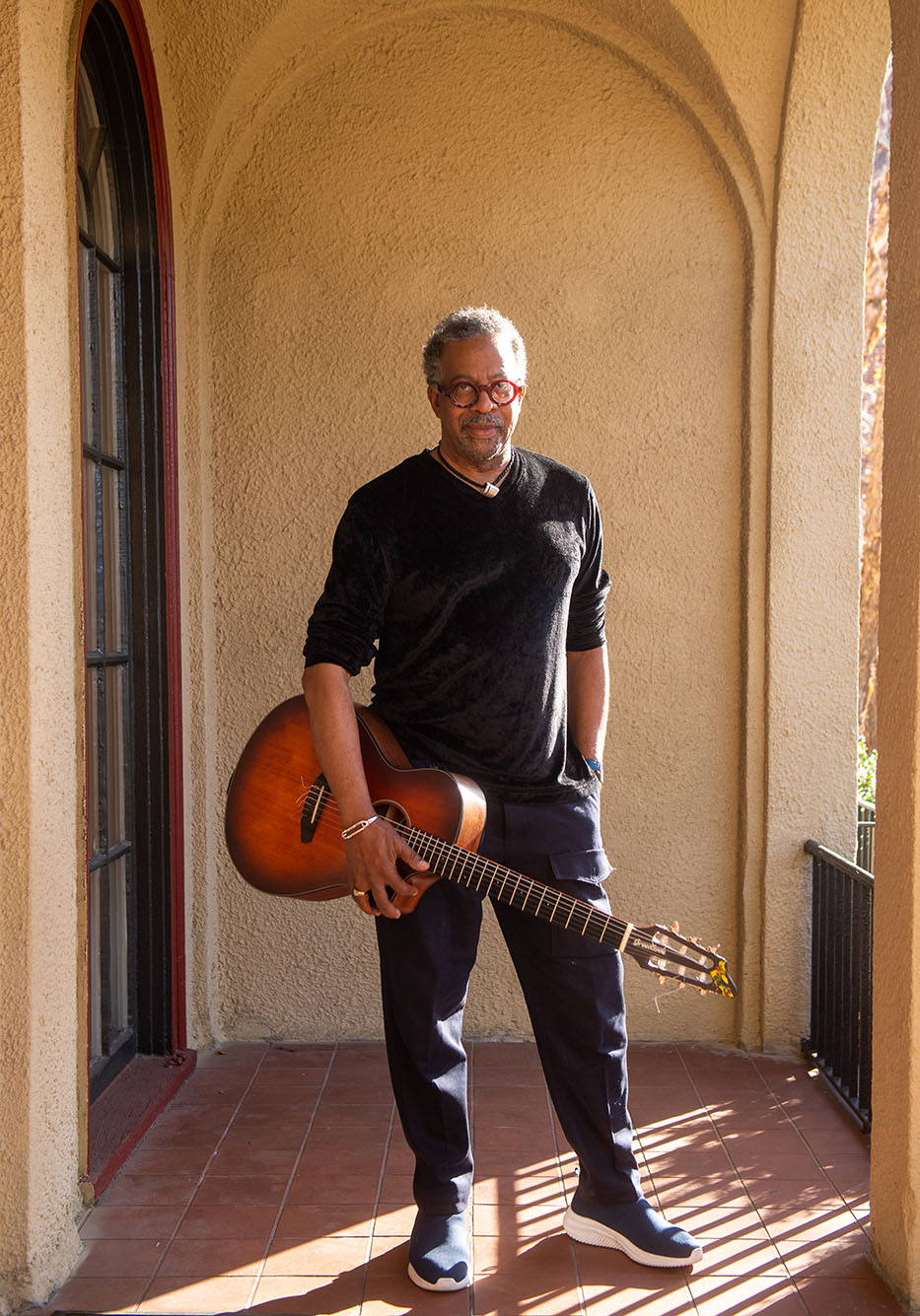 The pandemic delayed the project, but a lease with the city has been in place since 2019, he says. Architectural plans have been drawn up, renderings made, funding arranged. Banfield says Mayor Michelle Wu's administration
is on board.
The venue shares its name with Banfield's long-running record label and jazz-based performance series involving Berklee friends and other collaborators. He says hammers could swing this spring, with hopes for a soft launch in the summer and a grand opening in the fall.
Banfield is also a lay minister and "exhorter"—a role within the African Methodist Episcopal Church whose function is to employ their talents to teach and encourage members—with the Bethel AME Church in Jamaica Plain. The interweaving of music, community, and faith is the deep current that unites his many projects, including Jazz Urbane Café.
"Your mind is gonna get fed and your stomach is going to get fed, and the community is being fed by all those throughlines of art, culture, community, commitment, care," he says.
"You have to create a space for that and a kind of ideology that people participate in. So, the musicians play, they bring all of that spirit and identity in, and love and care."
Banfield: Renaissance Man From Detroit
At Berklee, Banfield was a professor of Africana studies/music and society and founding director of the Center for Africana Studies/Liberal Arts, and taught in the department of composition. As a composer, he has completed operas and symphonies; his Symphony 10: Affirmations was commissioned by the National Symphony Orchestra and premiered at the Kennedy Center. His latest effort is a jazz guitar record he's working on with the duo Tuck & Patti.
In addition to a Master of Theological Studies from BU, Banfield received a Bachelor of Music from the New England Conservatory of Music and a Doctor of Musical Arts in composition from the University of Michigan. He has served three times as a Pulitzer Prize judge in American music, most recently in 2020. Renowned academic Cornel West has called him "one of the last grand Renaissance men in our time."
---

Bill Banfield is "one of the last grand Renaissance men in our time."

---
But Banfield's first college of musical knowledge was his hometown of Detroit, where Motown was in the air and his friends included rising jazz star Earl Klugh. He attended Cass Technical High School, alma mater of Regina Carter, Donald Byrd, Paul Chambers, Diana Ross, and many more.
His faith also has deep roots in Detroit; his parents were devout members of Detroit's Second Baptist Church, where his father was a head deacon and oversaw its Sunday school. "I was born in the Christian faith, and I have a love of God in Christ and am led by the Holy Spirit," he says.
He also learned about Martin Luther King, Jr. (GRS'55, Hon.'59), whose time at BU led Banfield to the Charles River Campus.
"One of the things I wanted to go to theology school for was that it would train me and give me the tools to be able to understand how to navigate my faith and my art," he says.
But his "African notion" of wisdom and spirit coming through musical performance—while commonplace in ethnomusicology today—got his first thesis rejected by his BU thesis committee, he says with a slight smile. That added a year to his studies. Then it was on to the University of Michigan for his doctorate.
The first class he taught, at Indiana University, was Theology of American Popular Music. He held up John Coltrane and Aretha Franklin, Bob Dylan and Woody Guthrie as popular priests.
"Music and arts was their way of preaching in the world," he says. "So, the arts have this social-political-spiritual embodiment to it. People come to it like a ritual, like a church. So, there's the arts-church idea."
Longy President Karen Zorn has known Banfield since they both taught at Berklee. His Longy residency is open-ended, and his Imagine Orchestra is an ensemble in residence.
"At Longy, we have this wider view of the role of the musician in society and how to prepare our students for that wider role," Zorn says. Longy was already thinking about issues such as diversity in repertoire, she says. Banfield's wide and deep knowledge of African American music and its place in our culture made him a perfect fit.
"He is a great bridge-builder," she says. "Just who he is as a musician—I want [students] to be able to rub elbows with that.
"Wherever Bill goes," Zorn adds, "he builds community around him."
Coming Back from COVID, with Music
In early 2020, Banfield went to New York for deliberations on the Pulitzer Prize that was awarded to Anthony Davis for his opera The Central Park Five.
"When I came back to Boston I was sick with COVID and had to be hospitalized. I was in a coma for a month," he says. "My wife and my family thought that I was not gonna be here. I mean, I went to sleep April 3 and woke up April the 20th. God, who decided in her great wisdom that I had some more work to do, brought me out of that."
While he was comatose, his family decided the only way to reach him was through music. They put a boom box by his bed that played music he loved by Miles Davis, Norah Jones, and Lionel Richie.
"A favorite song of mine is a tune by Lionel Richie called 'Love Will Find a Way.' There's a line in there that says, no matter what you're going through, no matter what the difficulties are, just remember, love will find the way," he recalls. "And the tune that I heard in those coma nightmares constantly, helping me to be alive and to breathe, was 'Love Will Find a Way.'"
Still, he puts his survival down to God, not the former Commodores singer.
"In that kind of horrible fight with COVID," Banfield says, "I just made a promise to the Spirit that I would really double down on this if I was gonna be brought back to life, that I'd continue to do some good."
Jazz Urbane Café: Music, Food, Events, Community
Saxophonist Greg Groover was a Boston seventh grader when he first met Banfield through Berklee's City Music Preparatory Academy, run by Banfield's wife, Krystal Prime Banfield, vice president of education outreach and social entrepreneurship at Berklee College of Music. Later, as a high school student, Groover heard Banfield give a talk on the "cultural context of music, and why that was important," Groover says. "'Why are you playing this? What was the time period? What did it look like? What was the scene? Who was involved? What was going on socially?' At a young age, it was important to me, and I realize it really did create a theme in my later work."
Groover is now assistant chair of ensemble at Berklee and a recording artist. He also performs with the Imagine Orchestra, including recently at Longy, where Banfield conducted a setlist of jazz classics and his own compositions.
Don't be surprised to see Groover's band playing Jazz Urbane after it opens. The café will offer family-friendly dining and two stages for all kinds of events, from spoken word to a scene from Hamilton, from a neighborhood meeting to a Boston Symphony Orchestra chamber group. And don't be surprised to feel, upon leaving Jazz Urbane, as if you've been to church, given the spirituality Banfield has found around and through music.
Banfield is "kind of an incubator for thinking talent, creativity, community," Groover says. "That's the magic of Dr. B, that he could be in so many spaces and be thinking and doing so many things so well with so much care, and create opportunities for people to add into that. He's got a lot going on."