How the AR-15 Divided a Nation
BU historian and alum Cari Babitzke studies how guns came to shape partisan politics in the US
Politics
Under the Gun: How the AR-15 Divided a Nation
BU historian and alum Cari Babitzke, who grew up among hunters and shooters in the Texas Panhandle, studies how guns came to shape partisan politics in the US
A mall in Allen, Tex.
A grocery store in Buffalo, N.Y.
A supermarket in Boulder, Colo.
A synagogue in Pittsburgh, Pa.
A movie theater in Aurora, Colo.
A banquet hall in San Bernardino, Calif.
A church in Sutherland Springs, Tex.
A music festival in Las Vegas, Nev.
A school in Parkland, Fla.
A school in Uvalde, Tex.
A school in Newtown, Conn.
THERE WAS A TIME WHEN THESE places were so unremarkable, hardly anyone gave them a second thought. But they have become memorable, horribly so. These are the places of mass shootings, of incomprehensible death and all-consuming grief. In total, 215 people ages 3 to 97 were killed in these 11 shootings—among the deadliest in the United States in the last decade. In each case, the shooter opened fire with a type of semiautomatic rifle that's become the stark symbol of violence in America: the AR-15.
There's no question that AR-15-style rifles are deadly—the wartime rifles on which they were modeled can fire up to 30 rounds at a distance of a half mile. After each mass shooting, the debate heats up over magazine limits, mandatory waiting periods before purchasing a firearm, and even outright bans of semiautomatic weapons, only to taper off before the next one. (Such a ban on "assault weapons" is included in California Governor Gavin Newsom's proposed amendment to the state constitution, for example.) Part of what makes this problem so intractable is that guns are also used by so many people who aren't harming anyone: hunters, shooting sports athletes, hobbyists, and collectors. Herein lies the inherent tension in any national conversation about guns or gun policy: while most people have firearms for recreational uses, some still turn to them for the efficient destruction of human life.
For Cari Babitzke, a College of Arts & Sciences history lecturer who studies firearms politics in the US, the tension is personal. "Firmly Gen X" and having grown up in the Texas Panhandle, she used to join her family on deer hunting excursions, and at least once got into a heap of trouble as a kid for shooting through a pile of glass windowpanes with a BB gun.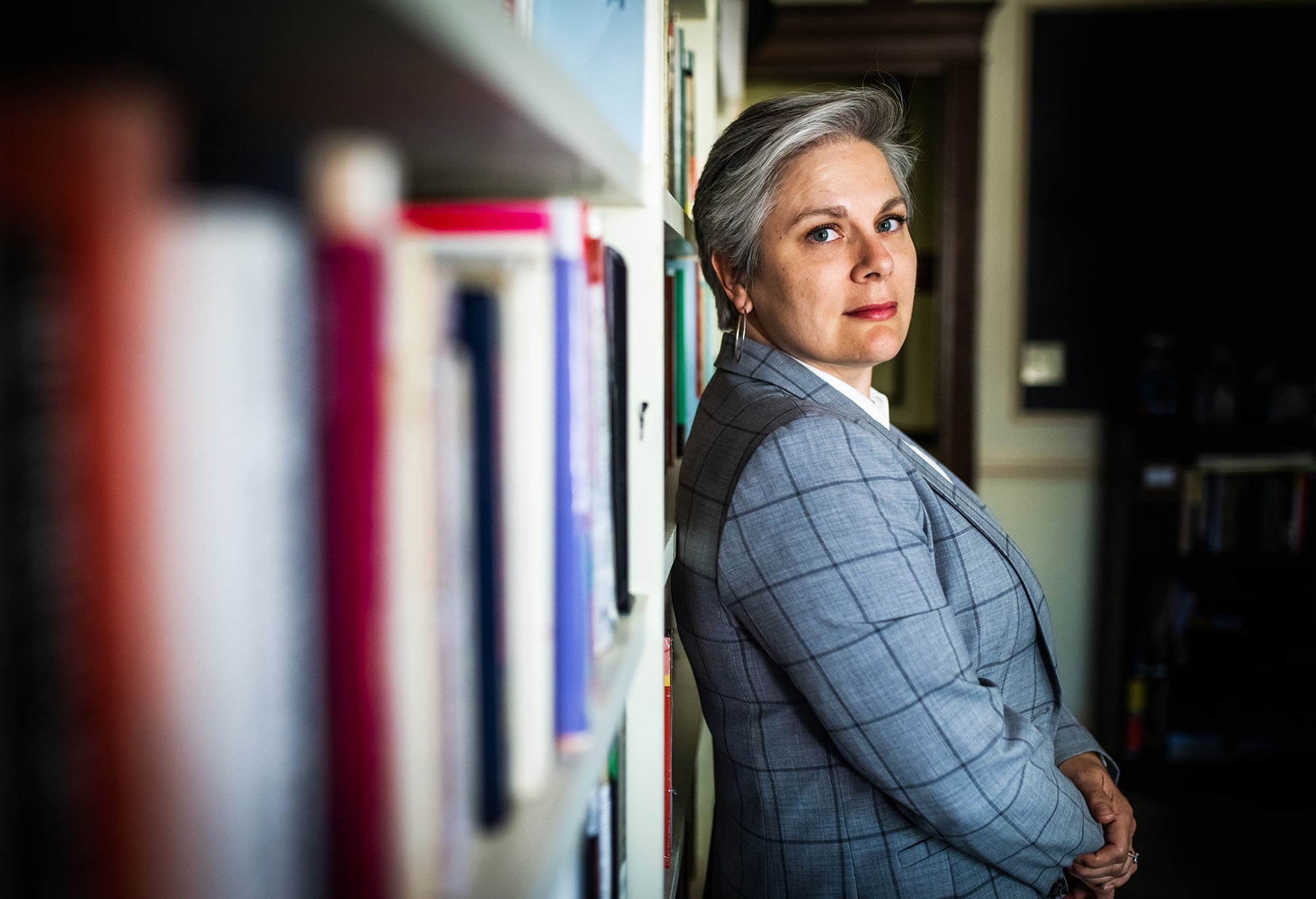 "I grew up in a family of hunters and shooters, who would go deer hunting or shoot clay pigeons, those sorts of things," says Babitzke (GRS'22,'22). "I never really gave it much thought; this was just a part of life."
Given her childhood background, Babitzke, now a historian with several years of research and publication in major news outlets under her belt, has a unique perspective on how we've come to an impasse between gun rights and gun control.
The AR-15-Style Rifle
AR-15-style rifles aren't the most common weapons used in mass killings—according to a database maintained by USA Today, the Associated Press, and Northeastern University, handguns retain that odious superlative—but they have nonetheless risen to prominence in American politics, culture, and identity.
Also known as "black rifles," AR-15s "have become a glaring exaggeration of the core problem of gun deaths and gun violence in the US," says Jonathan Jay, a School of Public Health assistant professor of community health sciences.
A 2022 estimate by the firearms industry trade association NSSF indicates that there are more than 24 million "modern sporting rifles"—an umbrella term for semiautomatic rifles such as AR-15s and AK-style weapons—in circulation in the US. The figure, which is drawn from a host of government and private industry data from 1990 to 2022, represents an increase of 4.5 million rifles since the organization's last estimate in 2020.
Since 2012, 10 of the 17 deadliest mass shootings in the US have involved AR-15-style rifles, and they continue to crop up in public mass shootings to this day. Indeed, during the reporting for this story, I received a number of notes from my editors with links to yet another mass shooting. These emails often came with subject lines such as "Another one…," the ellipses standing in for a numbing heartache that's become all too familiar.
Here again is that push-pull that motivates the gun debate. For many, rifles have come to represent a certain swashbuckling freedom, the kind of rugged, armed individualism that laid claim to this country, and is enshrined in the Second Amendment. The National Rifle Association (NRA), the largest gun rights advocacy and firearms education group in the country, has claimed the AR-15 as "America's Rifle." Its unmistakable silhouette can be found on all manner of merchandise and serves as a political, and ideological, statement.
But it wasn't always this way, and indeed at the outset, hunters and sport shooters looked down their noses at AR-15-style rifles because they seemed ill-suited for hunting and overkill for home defense. So, how did it become the best-selling rifle in the country? To trace that thread through history is to untangle a knot of politics, influence, money, and culture.
Gun Ownership in America
Babitzke, who specializes in 20th-century US history with a focus on firearms politics, didn't set out to become a historian of guns or gun politics. Her undergraduate degree is in literature and language, and during her master's studies at Texas Tech University, she was drawn to the Populist Party of the 1890s. ("What else could you want to do on a Friday night? Drink a little wine, talk about the Populist Party—it's a cracking good time," she says with a laugh.)
However, after struggling to find the resources she needed to delve into that topic, she began considering a new tack: the role that gun ownership has played in US politics.
"I found another way to explore this language of patriotism that made me so interested in the Populist Party," she says. "Given my own history, and given the present moment, I thought, 'Well, there's a gap here. There's work that can be done here.' That's how I got into guns. I mean, I wasn't really expecting to do the work that I do. I was expecting to do something very different."
What she's found is that the way gun ownership evolved into a verifiable political identity was a matter of concerted effort on the part of gun owners, the NRA, and political actors.
By the late 1960s, then-presidential hopeful Richard Nixon was casting about for voters. The GOP was also casting about for voters. "Law and order" as a campaign slogan—and a political Rorschach test—had been popularized by Barry Goldwater a few years prior. And many gun owners were feeling railroaded by the Gun Control Act of 1968, which restricted who could buy and sell firearms.
The overall result was a number of ideological factions—conservatives, business owners, evangelical Christians—whose members were in search of a political party. The NRA, an organization whose political activity had been growing steadily since the 1930s, was there to provide an inroad.
"We think about the 'new Right' or the GOP post-'68 as a group of coalitions," Babitzke says. "They did a great job of bringing a lot of disparate groups into the fold. And my contention is that gun rights is the language through which the rest of that shoots. It's not that the Republican Party captured the NRA; it's the NRA that captured the Republican Party."
Until just about this time, gun owners were as nonpartisan a group as shoe owners or coffee drinkers—owning a gun was no more a political ideology than owning a hammer was. But building off the work of political scientist Matthew Lacombe—who has written about the NRA's political prowess and how it deployed specific, targeted language in messaging to its members to develop and maintain cohesiveness among them—Babitzke argues that the NRA's messaging about hard work, traditional values, and self-reliance found a home in the ambitious post–civil rights, law-and-order-seeking Republican Party, and the two identities merged. Owning a gun, once merely a factual statement, became a partisan statement. "There's very little contention any longer that this is a politics of identity," she says.
It's against this backdrop that the AR-15 first emerged as a civilian rifle. With every threat—real or perceived—to gun ownership in the US since, sales of the rifle spiked against fears of future legislation restricting it. But it was the 2012 shooting at Sandy Hook Elementary School in Connecticut, carried out with an AR-15-style rifle, that tipped the scales.
According to extensive reporting by the Washington Post, the AR-15 was elevated to a political symbol after the Newtown shooting. In an emotional speech immediately afterward, President Barack Obama called for new gun laws and a ban on "military-style assault weapons" and high-capacity magazines. The legislative efforts failed, and the focus on the AR-15 only made it more popular. People who might never have considered such a rifle before were suddenly purchasing one to stick it to the political left. If gun ownership is a political identity, the AR-15 has become its emblem.
Gun Violence in the US
The prominence of the AR-15 has also served to spotlight the growing problem of gun violence in the country.
"We work on gun violence as a public health issue because it costs so many lives," says SPH's Jay. "Gun injuries are the leading cause of death among children and teens. They're the leading cause of death for young Black men in the US. And deaths are just a fraction of the total injuries."
Public mass shootings—the kind that most often make the news—are only part of the story. In 2021, the most recent year for which complete data are available, 48,830 people died from gun-related injuries in the US, according to the Pew Research Center, which analyzed data from the Centers for Disease Control and Prevention, the FBI, and other available sources. Of those deaths, more than half (26,328, or 54 percent) were by suicide, tragedies that tend not to get news coverage but that have long accounted for the majority of gun deaths.
It's more difficult to examine the number of people killed in mass shootings in the US, partly because there's no single, agreed-upon definition. The FBI collects data on "active shooter incidents," which it defines as "one or more individuals actively engaged in killing or attempting to kill people in a populated area." Using this definition, 103 people—excluding the shooters—died in mass shooting incidents in 2021.
The Gun Violence Archive, an online database of gun violence in the US, takes a more expansive view on mass shootings. It defines a mass shooting as an event where four or more people are injured (excluding the shooters), though often these incidents include deaths as well. By this definition, 666 people died in mass shootings in 2021.
Finally, the USA Today/AP/Northeastern University database tracks mass killings (this database includes mass deaths by knife, fire, and automobile, as well as guns) in which "four or more people, excluding the offender, were killed" within a 24-hour period. By this definition, there were 154 mass shooting deaths in 2021.
By any measure, it's more likely that people will be killed by someone they know than in a random shooting by a stranger. According to the USA Today/AP/Northeastern data, "mass shootings in which family members or intimate partners are targeted are twice as common as fatal public mass shootings in which strangers are killed."
"The availability of guns is certainly a problem," Babitzke says. "But the roots of that violence, the perceived need for a firearm, are beyond the manufacturer or the firearms dealer. There's no question that we need to address the amount of lethality available to our citizenry. By the same token, we need to address all the other problems that cause people to feel like they need [a gun]."
---


The part of this where it crosses my own personal history is knowing I was raised by people who had a deep respect for firearms, and who are themselves uncomfortable with the ubiquity and lethality of firearms. And they're not the only ones.

---
These other root causes can be found in the myriad ways people and communities are already suffering. The Brookings Institution identifies that most gun violence in the US "is spatially concentrated—disproportionately occurring within a select set of high-poverty and disinvested neighborhoods, and within these neighborhoods, a select set of streets." Poverty, racial segregation, lower educational attainment, and high unemployment are all factors.
Addressing these root causes, Jay says, can make a difference. His research has shown that interventions as simple as demolishing abandoned buildings and increasing tree canopy so there's more shade in the summer can drastically reduce gun violence within communities.
"I find that I've been thinking about the ways that this problem has resulted in this accumulation of traumas that we're all just carrying around, and some people more than others," he says.
The Road to Damascus
The gun debate is so fraught, with passionate advocates on both sides, that even studying the subject in any capacity is to open a person up to harassment. For Babitzke, whose research focuses on the co-opted language of the NRA to influence politics and coalesce a voting bloc, harassment is a matter of course.
Asked if she's ready for that kind of attention when interviewed for this piece, it's clear she understands what might be coming. After she published a piece for the Washington Post about the history of the AR-15 (see sidebar above), Babitzke received emails that attacked her character, her credentials, and even her gender.
I wonder why she keeps going in a field whose subject matter is so volatile. (She's also working on a book about the politics of guns in America.)
"You mean, what's my 'Road to Damascus' story?" she asks, then takes a long pause.
"The part of this where it crosses my own personal history is knowing that I was raised by people who had a deep respect for firearms, and who are themselves uncomfortable with the ubiquity and lethality of firearms," she says. "And they're not the only ones. So, I'm curious about why voters who might be uncomfortable with the gun policies advocated by the Republican Party still stay inside the Republican Party."
She pauses again, and her voice catches. "I also think it's such a disservice to our children, to our fellow citizens, that so many now feel worried to go to school, to the grocery store, to go see a movie, to attend a concert. I stay in the work to try to pull out some thread that makes it possible for us to find some kind of solution."