BU Historian Kathryn Lamontagne on King Charles' Coronation
CGS lecturer's expertise, and experience working in the Royal Household at Buckingham Palace, provides a glimpse into the British monarchy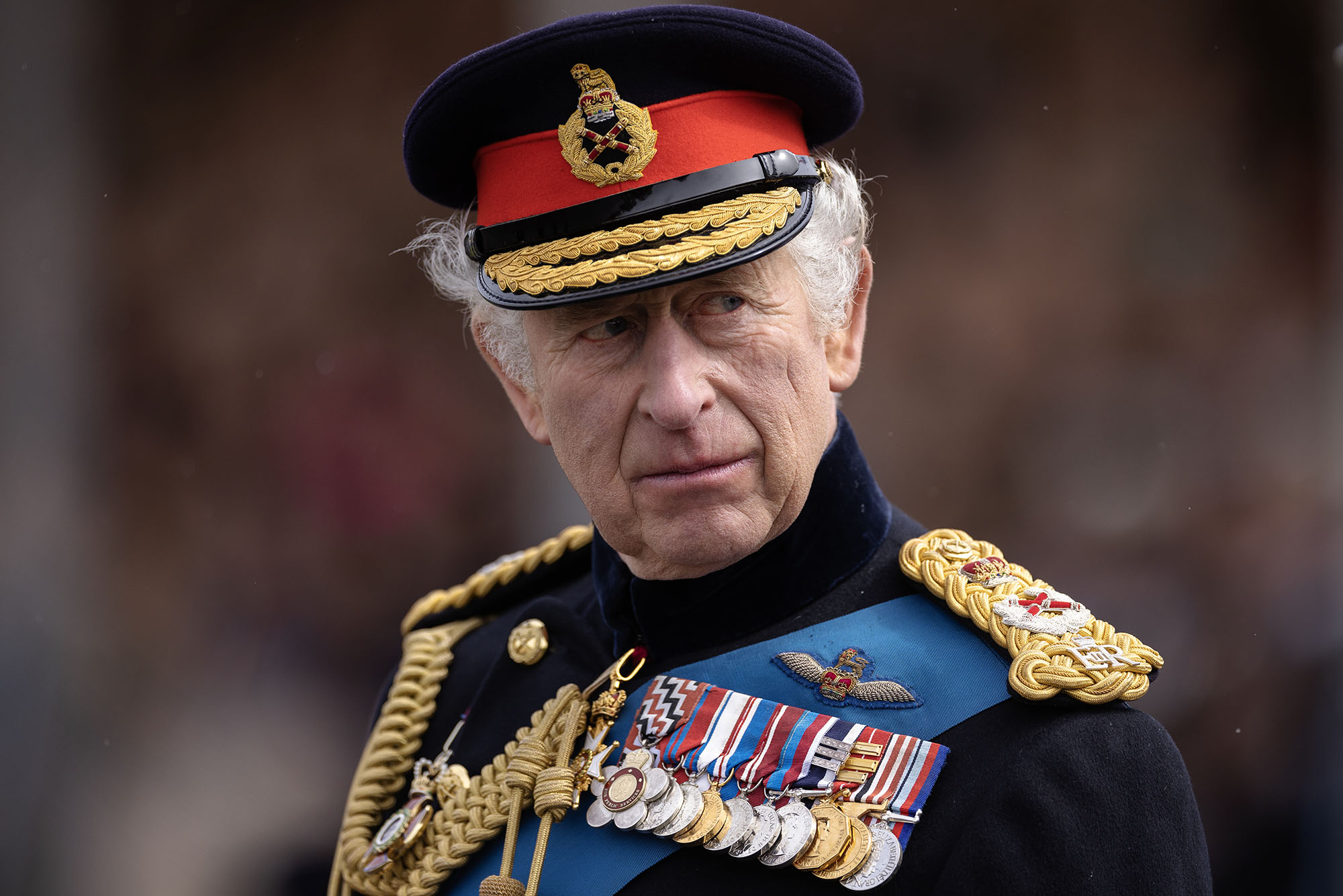 Arts & Culture
BU Historian Kathryn Lamontagne on King Charles' Coronation
BU lecturer's expertise, and experience in Buckingham Palace, provides a glimpse into the British monarchy
Kathryn Lamontagne was pursuing a PhD in British history at BU and working in the London Study Abroad Program, when she came across a posting about job openings at Buckingham Palace. "As if writing my PhD, teaching, and working in the library weren't enough," she says, "I thought, oh, I should apply for one."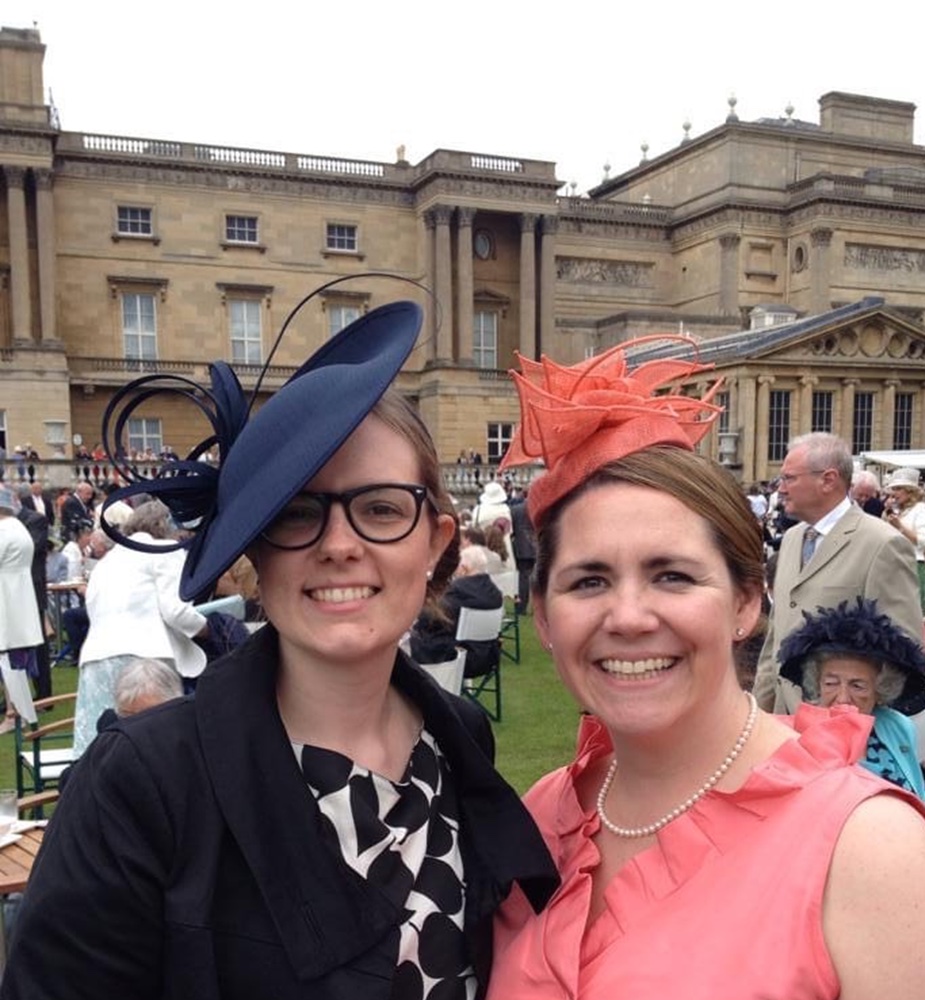 She got a job in the Royal Household, which primarily involved being a tour guide at sites around the palace. "It was the best two years of my professional life, because history was coming alive around me," says Lamontagne (GRS'16,'20), who was there for Queen Elizabeth II's Diamond Jubilee. "I was surrounded by other people who were passionate about the topic. I was diving deep into what I love, and on an experiential level beyond what most historians would ever experience."
She recalls the feeling she had after taking part in small guided tours of the palace all day during the holidays. "When it was all done, I remember just sitting on the stairs of the palace with my shoes off for a bit because it had been a long day on my feet, and then I got to take this little key to go lock the front door of Buckingham Palace—it was just a really amazing opportunity for historians to live their topic."
Today, Lamontagne, a College of General Studies lecturer in social sciences, returns to London each summer to teach in the CGS London Program. With King Charles III's coronation set for Saturday, May 6, Bostonia spoke with Lamontagne about the future of the monarchy, Britain's new prime minister, and Prince Harry's recent bombshell memoir.
Bostonia:
First, tell us a little more about working at Buckingham Palace.
Kathryn Lamontagne: That year, Buckingham Palace was very interested in bringing Americans on board, especially Americans who had backgrounds in public history and hospitality, which I did because I had worked in the Newport, R.I., mansions, and also the Whaling Museum [in New Bedford, Mass.].

My job was in the Royal Collection, which is one of the five branches of the Royal Household and focuses on the objects and artifacts in the Royal Family's personal collection. I worked across the royal properties that were in central London. I mostly worked at the Royal Mews [the stables] at Buckingham Palace, giving guided tours. I also worked with the Queen's Gallery, which is part of Buckingham Palace. I helped doing garden tours as well. Sometimes I'd be called to work at Windsor Castle or St. James's Palace.

Working in the Royal Household, yes, there were lots of "glamor" things, where you were at a ball and all of a sudden you turn around and the Queen is behind you. Or there was Prince Charles walking in. Sometimes you could have chats with them. Those things were very exciting…but for me, as a historian, walking into that building and being in the lower floors and just seeing all these bits of history in the hallways was exciting. Even just going up to the cafeteria at lunch and seeing people in their formal liveries [uniforms], with their ruffs [big collars], things like that were amazing to me.
Bostonia:
How did your job in the Royal Household enrich your research?
I did most of my doctoral research while working at both BU London and Buckingham Palace. Historians can never truly know what it was like to live in the places and times we spend our lives researching, but to be able to inhabit the spaces where both big and little moments of history happened is invaluable to us as we consider the possibilities and plausibilities of our theories. One can't help but do more research on the places and people who lived where we worked. I was just as entranced with the lives of the Windsors as I was with the everyday lives of the thousands of other employees of the Royal Household. Knowing the groom from Jersey who loved carriage driving and was one of the first young women to take on the role of carriage driver was just as thrilling to me as being at a Christmas Ball in the palace. Wanting to learn more about the young Polish woman raising her family on the grounds of the Mews or the courtiers that served the Queen for years were all part of that experience.

The quotidian, the everyday, is truly what excites me as an historian—that would be the link for me from the palace to my research. One is often forced by what records exist to focus on the lives of the famous, the wealthy, but I truly find my purpose in uncovering the everyday and spaces in between.

My first book will be published [in July 2023] with Routledge UK and reflects a very different area of study. I write about lay Catholic women in late-Victorian and Edwardian Britain. I'm particularly interested in the lived Catholicism of queer Catholic women at this time and have published on Radclyffe Hall and her lover, Mabel Batten.
Bostonia:
Charles' coronation is this Saturday. What do you think that will be like, especially considering the economic issues you just mentioned?
It's going to be pared down for sure. All eyes are going to be on him and how he's handling that. He's not going to want to seem as if he's out of touch with what's going on to the average Briton. I think the fact that they're likely paring things back is really a great idea. It's appropriate on a number of levels, linked to cost of living, the environment, and the lower approval ratings of the monarchy.
Bostonia:
Do you think there will be any other kind of strategic messaging conveyed through this coronation?
I think, without a doubt, Charles is going to be making sure that things are environmentally thoughtful, because that has always been a passion of his. He's a great advocate for conservation and preservation.
Bostonia:
King Charles III is the oldest monarch to assume the British throne. What do you think his reign might look like, especially as Britain is in such a time of flux?
Buckingham Palace is mostly used for ceremonial purposes and offices, but I think we will see an increased use of that building for tourism beyond the currently limited summer openings and small windows at Christmas and Easter, which will provide an increase in funds for the Royal Collection Trust more broadly. I think that is an impact people will see most clearly.

But, in terms of his activities, as the head of the church and head of the state, we really should not see him in anything but a ceremonial role moving forward. He does need to stay out of public activities, especially given the political situation. It would probably be best for him to keep his head down in those ways.
"No one can deny the fact that [Charles] is dedicated," Lamontagne says. "He's been waiting to fulfill this role that he was born to do for a very long time."
Bostonia:
What is the public's perception of Charles around the world?
There's Charles as a monarch and then there's Charles as a person, and I think you can separate those two as an American. That's important because the way that he has been presented to us since his marriage with Princess Diana is one thing, but the way that he has been presented in the media to the European and the British public is also very different. And many in Britain have gotten past what happened with Princess Diana and their perceptions of it, and have even come to embrace [Charles' second wife] Camilla.

No one can deny the fact that the man is dedicated. He's been waiting to fulfill this role that he was born to do for a very long time. People are interested to see how that's going to pan out. Then there's this other issue of the monarchy itself as an institution, and is that outdated? Is that problematic? Is the relationship between the home country and the Commonwealth problematic? That is something that is going to continue to be unpacked everywhere. It's a space we should watch.

The Queen had very high approval ratings, and Charles will have to work harder for those, but people are really eager to support him. That's one of the things that I've been reading and hearing from friends in the UK. I also have two friends who worked in his household and very closely with Charles himself, and they have great things to say about him and his work ethic. It is my opinion that the public should just give him a chance to make his mark. He's not his mother, but none of us are our parents.
Bostonia:
This is such a watershed moment in British history. In addition to a new monarch, the country also has a new prime minister, Rishi Sunak. What do you think Sunak's priorities will be during his time in office?
The transition from [Boris] Johnson to [Liz] Truss to Sunak has been, in retrospect, less of a shock than was anticipated in August. Every week, the prime minister meets with the monarch. When the Queen was monarch, she had so much experience and so much history to draw from and say, "This works at this time" or "Have you thought about this?" And she could kind of lead the prime minister in a certain way.

But Charles doesn't necessarily have that. He can learn through studying, but I just think it will land in a different way than it did with Her Majesty. I would love to know what he and Liz Truss spoke about in those maybe two or three times that they did end up meeting. Would that have been different if the Queen was still alive?

As far as Sunak's work, the cost of living must be dealt with, as well as issues with striking and shortages. People are very concerned about the price of petrol. My husband is British, and in the early winter, my in-laws were thinking in terms of where were they were going to go during the day so they could avoid turning on the heat for that time, because it was anticipated to be so expensive.

The high price of petrol also affects all the goods coming in, and as an island nation and with Brexit, they are especially subject to import-export costs. It's just highly problematic for them. There's also, of course, the situation in Ukraine that is weighing on people's minds greatly. Britons have been extremely generous in opening up their homes to Ukrainian refugees. What is that going to look like down the line? Is this going to be a long-term solution? There are a lot of worries about a lot of different issues.
Bostonia:
What were your initial thoughts after reading Prince Harry's tell-all memoir, Spare?
I've been reading as well as listening to it on Audible, and I like listening more. [Prince Harry narrates the audio version himself.] It's one of the most engaging books I've read in a long time. There were some parts of this book that were incredibly moving, hearing his voice catch when he's speaking about his mother. And when he talks about having a pint with the lads, he has a little laugh that comes through as he's reading it. These are really beautiful human moments that we would not see from the royals traditionally.

The theme of dulce et decorum est pro patria mori ["it is sweet and honorable to die for one's country"] was threaded through, a reference to the First World War, but also a standard upper-class British idea of loyalty and duty. He was brought up with a very specific understanding of Britishness and Englishness that reflect this and was then further inculcated at school and through childhood play. Even the image on the back cover of the book depicts him as a child in military uniform.

His sense of duty has shifted now to his own family, and while his country and extended family are still important to him, this text provides us with, perhaps, a window into contemporary royal life that we might never get a glimpse of again.
Bostonia:
Given the 2022 series Harry & Meghan on Netflix, the numerous TV interviews, and now the book, is there a limit as to how much people want to hear about the Sussexes?
I am enjoying seeing and reading the primary sources. This, for a historian, is a very, very unique opportunity to see history truly in the making and to hear the primary sources discuss it in real time. Not 50 years later, 100 years later, or when papers are released, so that's amazing.

Harry, the Duke of Sussex, is not meant to be a reality TV star. But we have somehow become part of a reality TV movement, a family drama. Now that they have produced the documentary and the book, the Sussexes have had a unique opportunity to tell their side. Historically, they have done their job. But, in this age of tabloid journalism or reality TV, it might be time for them to pull back and begin the work of rebuilding their family out of the public eye, if possible. As a historian, I relish the primary sources being released in real time and not held in the archives, but I have empathy for them as a family and hope there can be some coming together in the future.
Bostonia:
What else struck you as you read the book?
In chapter 19, he introduced this idea of Divine Right and how royals were once afforded the deepest respect, but his experience was oppositional to this—terming himself "an insect" and [that anyone] could "pluck their wings…for fun." I think this is particularly fascinating because it shows a slippage—wanting respect for position, but also there is engagement throughout the book with desiring "normalcy" and "privacy." This brings us back to the main issue for many of the public—can he have it both ways: a private life and a public life to turn on and off at will? I don't know if it is helpful for them to be taken off the shelf—meaning, do they need to stay apart from us to remain "special"? Or is it humanizing them in a way that Diana had previously humanized them?

You know, I've stood next to this man in pubs before. You have this opinion of who he is, which is largely from the press, but also [from] one's own networks. And it just shows you that we think we know something about their lives, but maybe we really never know. And even as historians, we write books analyzing why people do things and why things happened. But, perhaps we can never really, truly know the motivations of these historic personages and how they have reacted in these particular moments.
Senior writer Amy Laskowski contributed to this story.
The coronation of King Charles III and Camilla, the Queen Consort, will take place on Saturday, May 6, at Westminster Abbey in London. US viewers can watch the coronation starting at 5 am EST on May 6 on all major US networks. The coronation will also stream on Sky News' YouTube channel, on TODAY.com, and on NBCNews.com, as well as on Hulu + Live TV, ABC News Live, CNN Live, DIRECTV, fuboTV, and Sling TV.