Grace Bumbry (CFA'55) Broke Barriers, Rose to International Stardom in Opera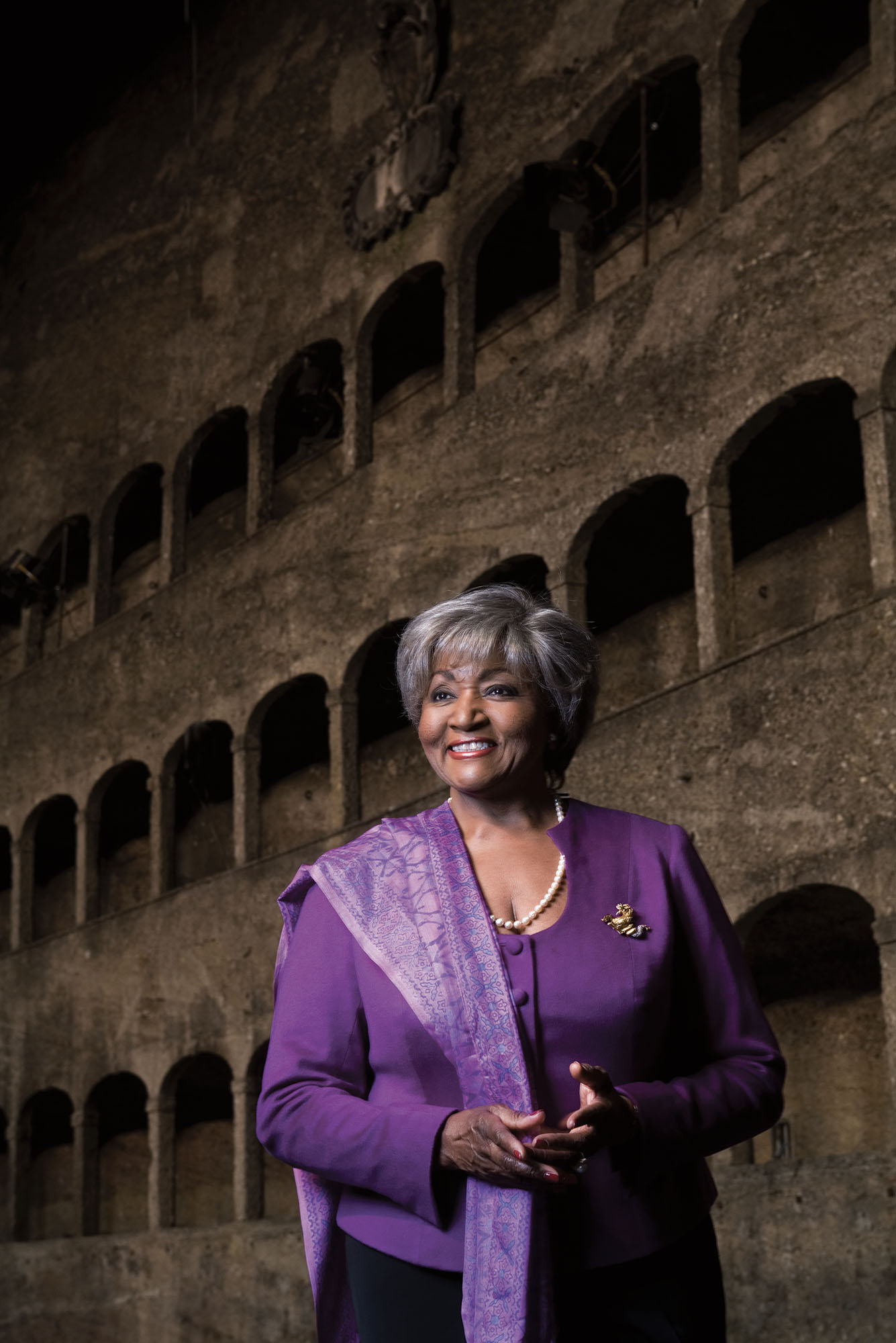 Tributes
Grace Bumbry (CFA'55) Broke Barriers, Rose to International Stardom in Opera
Mezzo-soprano was known for her versatile voice and her stage presence
Grace Bumbry, a mezzo-soprano who broke the color barrier as the first Black artist to sing at Germany's prestigious Bayreuth Festival in 1961 and who went on to become a superstar of the opera world, died on May 7, 2023. She was 86.
Bumbry (CFA'55) made her operatic debut in 1960, singing Amneris in Verdi's Aida, at the Paris Opera. The next year she performed at Bayreuth, shocking conservative opera-goers "who had huffed that Bumbry's casting as Venus in the production of Tannhauser was a cultural outrage," according to a 2010 Bostonia profile of Bumbry. (The New York Times notes that she was "showered with 30 minutes of applause" following her performance.) In 1962, at the invitation of First Lady Jacqueline Kennedy, she gave a recital at the White House, the first time a Black opera singer had performed there.
Bumbry went on to make debuts at the great opera houses, including the Royal Opera House in London and La Scala in Milan. "In five decades on the stage, Bumbry mastered a wide range of mezzo, and later soprano, roles, from Puccini to Wagner to Verdi, from a steamy Carmen and a vibrant Dalila to Adalgisa, Gioconda, Tosca, Elvira, Leonora, Salome, Eboli, and Medea," according to Bostonia. Richard Dyer, retired classical music critic for the Boston Globe, told the magazine in 2010, "Her Carmen wasn't particularly French, but it was spectacularly sung. To me, her great roles were Verdi roles—Aida and Don Carlo."
Bumbry sang more than 200 performances over two decades with the Metropolitan Opera, which, in a statement following her death, described her as "one of its most illustrious singers" of the last century. "Her rich, powerful, and sensuous voice straddled the traditional categories of mezzo-soprano and soprano, and in all of her 15 Met roles, she was an intense, thrilling performer," the company said. "In her final Met appearance, at a 1996 gala honoring James Levine's 25th anniversary with the company, she astounded the audience with an aria from Samson et Dalila that showed her voice was still plush and potent some 30 years after her debut."
Bumbry was born January 4, 1937, in St. Louis, Mo. "As her career and her renown soared," Bostonia wrote in 2010, "the unfailingly glamorous Bumbry, who drove an orange Lamborghini, remained at her core the middle-class daughter of a railroad freight handler and a homemaker. A serious student who sang in the church choir, at 17 she won a local radio competition with a rendition of 'O don fatale' from Don Carlo." Bumbry attended BU's College of Fine Arts and then Northwestern University. She returned to Boston occasionally to lecture and teach.
In December 2009, Bumbry was among those awarded Kennedy Center Honors for their artistic achievements. "For Grace, art transcended color," Aretha Franklin said at the ceremony. "Throughout her career, she broke barriers and she eradicated taboos." Franklin added later, "I say for myself, she's amazing Grace."