Getting to Know Your Neighborhood: Newbury Street
Things-To-Do
Getting to Know Your Neighborhood: Newbury Street
A guide to shopping, eating, and hanging out in Boston's crème de la crème commercial area
What Fifth Avenue is to New York, Michigan Avenue is to Chicago, and Rodeo Drive is to Beverly Hills, Newbury Street is to Boston. Featuring more than 120 stores and nearly 60 restaurants, Newbury Street's mile-long stretch of elegant Back Bay architecture is a shopper's paradise. Across eight blocks, spanning from the Public Garden to Massachusetts Avenue, you'll find an eclectic mix of the hottest luxury brands, like Chanel, Marc Jacobs, and Cartier, and more affordable haunts, like Newbury Comics and Uniqlo.
Beneath Newbury's bustling sidewalks is fascinating history: in the early 1800s, Newbury Street and its Back Bay environs were part of Boston Harbor. Developers, seeing potential for an upscale residential area, filled the site with land in 1857 and built what would soon surpass Beacon Hill as Boston's most sought-after place to live. From 1865 to 1916, Newbury Street was even home to the Massachusetts Institute of Technology.
On today's Newbury Street, you'll probably find more designer goods, and brunch reservations booked weeks in advance, than actual residents. But don't let the street's upper-crust reputation turn you away. The iconic stretch is also home to delicious and affordable eats, trendy bookstores, free art galleries, consignment stores, and more.
Read on to see what Newbury Street has to offer.
Start your Newbury Street journey with an award-winning cup of joe. Thinking Cup, one-time winner of Boston Magazine's Best Coffee Shop in the city, was also the first cafe in downtown Boston to serve Stumptown Coffee Roasters beans. Located in the eastern end of Newbury Street (near the Public Garden), where whitestones and glassy exteriors line the road, Thinking Cup offers coffee classics as well as specialities, such as the vanilla ginger latte. Check out the food menu for breakfast options, innovative sandwiches, and a gluten- and dairy-free options.
Aigo
119 Newbury St., Suite 10
Old meets new at this trendy secondhand clothing store with an eye on streetwear trends. Aigo houses vintage pieces from Balenciaga, Adidas, Vivienne Westwood, Issey Miyake, and other big names in fashion. Though some of the chic clothing comes at a steep price, the store offers an intimate and comprehensive look into 1990s and 2000s designer wear. If you're looking to explore rare vintage items and expand your sense of style, Aigo is for you. And, if all else fails, you can always pick up one of the vintage Japanese fashion magazines sold at the front.
Glossier, the "no-makeup makeup" brand that has amassed a cult following in the past five years, opened a brick-and-mortar location on Newbury Street in March 2023. Known for simple, cylindrical packaging and subtly pigmented products, Glossier offers a unique approach to makeup that their TikTok-generation customer base can't seem to live without. At the new Newbury location, check out fun architectural details like Hollywood Regency moldings painted pastel green.
At first glance, Jonquils' impeccably made pastries resemble optical illusions. Geometric prisms that mimic actual fruits but look as if they've been 3D-printed in a lab, these desserts impress both at first glance and at first bite. Try out the tessellated apple or vanilla- and strawberry-filled rose, or sink your teeth into the leaf-shaped tulip, filled with mango mousse, raspberry coulis, and orange sponge. Jonquils also offers a variety of drinks, such as floral teas, matcha lattes, and coffee beveragess. With PhD-scientist-turned-pastry-chef Fred Csibi-Levin at the helm as creative director and executive chef, Jonquils has no shortage of tasty innovations.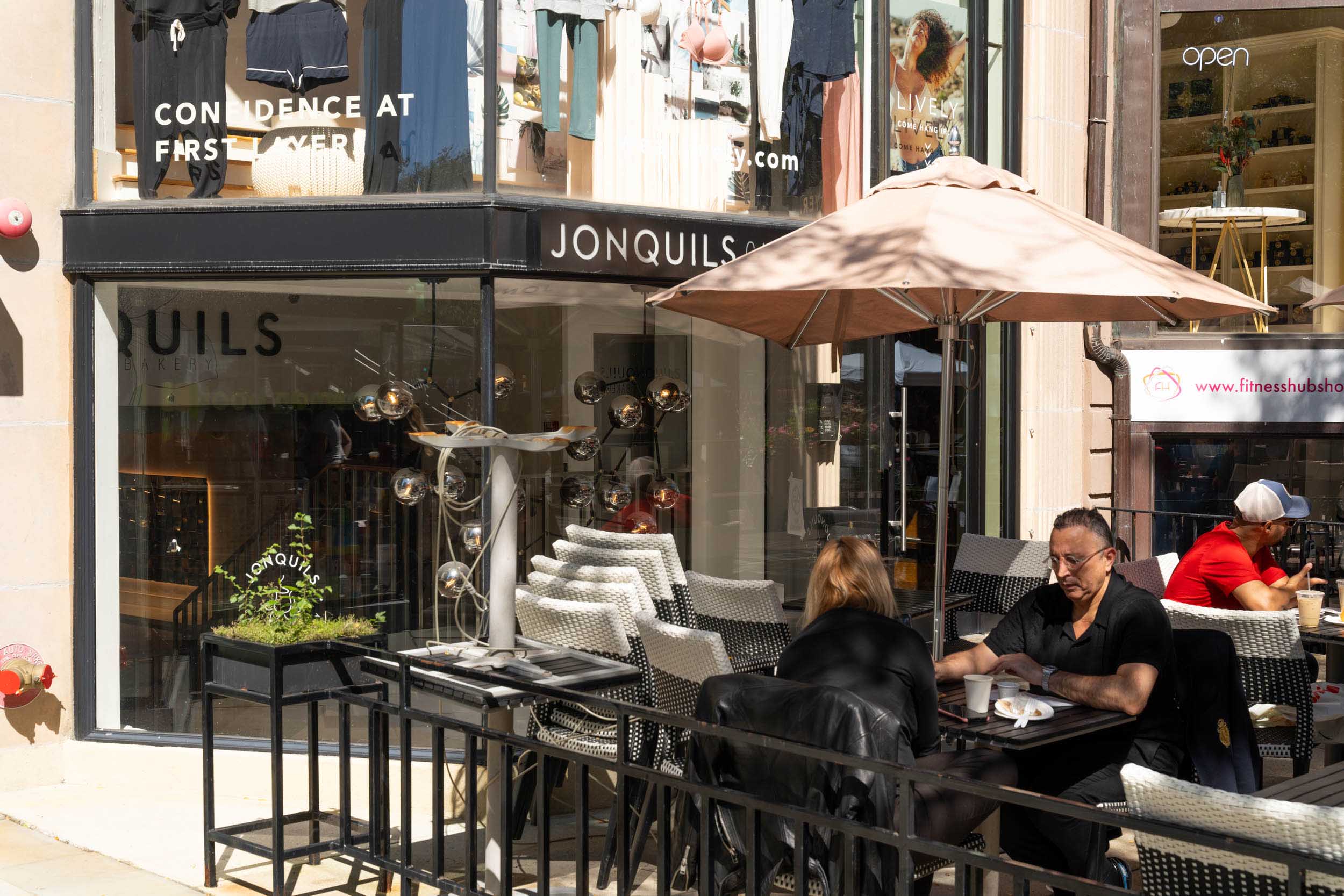 In spite of its bright, eclectic interior, Posman Books offers a peaceful escape from Newbury Street's busy sidewalks. Enter into this family-owned store for a curated collection of books, as well as assorted gifts and toys. The company, which started selling college textbooks in New York more than 50 years ago, now runs indie bookstores all over the country and says they want customers "to have as much fun shopping in our stores as you do returning to the pages of your most earmarked paperback." Check out their website for staff picks and upcoming events.
At the Copley Society of Art, you can lose yourself in a world of creativity while supporting America's oldest nonprofit arts association. Founded in 1879, the society currently represents more than 300 artist members, giving each a platform to share their work and engage with the public. For no cost, visitors can explore the elegant gallery's many pieces and even attend periodic events, like receptions, demonstrations, and artist talks.
Crunchy on the outside, gooey on the inside, and oh so sweet, Levain's iconic cookies have developed a cult following since their establishment in New York almost 30 years ago. Since then, they have expanded nationwide, slinging signature chunky cookies that appeal to chocolate-lovers everywhere. At the Boston location, be sure to also try other baked treats like loaf cakes, baguettes, and brioche buns. Make sure to budget some extra time, though—the line often extends out the door, with cookie enthusiasts eager to discover the irresistible treats that took the Big Apple by storm.
Got a glazed look about you? Take a break from classes and relax with some ceramics. Rainbows Pottery offers the chance to paint and glaze pottery with unlimited time and painting materials. Students pay $48 for access to the studio, while the fee for adults and children is $54, plus the price of the pottery piece you'll be customizing. Once you've finished painting your creation, the piece will be ready in two weeks for pickup, or you can opt to ship it. Rainbows Pottery also sells unique ceramic pieces for purchase and holds regular events like psychic readings and candle making.
Stop by Dirty Water Dough Co. for a slice that pays homage to a little-known era in the city's culinary history. According to the pizzeria's website, Bostonian home chefs in the 19th century used beer to make bread in order to avoid drawing water from the polluted Charles River. While the Charles' cleanliness has seriously improved—and Boston now gets its water from further afield—this pizza shop uses its own Dirty Water India pale ale in its crust, creating a unique flavor in each slice. If you're buying a pie, choose from funky flavors like Steak 'n Cola, Fenway frank, or Mac Cheesy. Slices go for $3-$4, and can be washed down with a house soda.
From its wooden ceilings and rack of newspapers to its open-air seating area filled with people enjoying their food, DeLuca's brings a sense of old-school neighborhood pride to an otherwise touristy area. This charming market opened its doors in 1905 and has a second location in Beacon Hill. A woman-owned family business, DeLuca's sells fresh produce, drinks, cheeses, specialty Italian goods, and more. Head deeper into the store and you'll find a back deli counter that makes fresh sandwiches. If you're over 21, check out the wine cellar for premium bottles. One look at the storefront and it's clear: some things may change, but DeLuca's is forever.
Amorino
249 Newbury St.
At Amorino, an Italian-style gelateria, each delicious scoop of gelato is arranged on the cone to look like the petals of a flower. Try flavors like amarena (Italian cherry), blueberry cheesecake, salted butter caramel, dulce de leche, and more. Amorino also sells treats like Italian hot chocolate, macarons, waffles, and biscotti. While hot summer days draw long lines outside the store's sleek exterior, Amorino's smooth creamy gelato—made without artificial dyes or flavors—is well worth the wait. Whether you order a delicate flower cone or a rich hot chocolate, Amorino will take you from the streets of Back Bay right to Italy.
La Neta
255 Newbury St.
Looking for delicious Mexican food that won't break the bank? Stop by La Neta, a bright, bustling restaurant tucked underneath a real estate company, offering a robust menu of tacos, burritos, salads, crudo, enchiladas, and more. La Neta tacos start at $6 each, and you can choose from tons of different meat fillings or opt for the veggie. There's even a "taco light" option that replaces the corn tortilla with a lettuce cup. The rest of the menu is made up of generous platters, burritos, and enchiladas starting at $14, with a variety of add-ons like refried beans and chiles toreados, or roasted jalapeños.
Dentists, look away. The Bittersweet Shoppe is an old-school soda fountain with a dazzling menu of sweets to satisfy even the strongest of sugar cravings. Cool off with a birch beer, a strawberries and cream float, or pineapple upside-down cake milkshake. Or, if you're looking for a pick-me-up, their extensive coffee menu also offers innovative flavors like the creme brulee latte, glazed cinnamon roll iced coffee, and Almond Joy mocha. Not a sugar fiend? Step into Bittersweet's old-timey interior for a meal and sample the menu's breakfast plates and twists on classic American lunch staples like grilled cheese and hot dogs. Once you've decided on your order, take your old-fashioned fare up to the sunlit patio and enjoy some people-watching.
Whether you're a certified sneakerhead or still wearing shoes from last decade, Sneaker Junkies is a must-visit shop where all can get a glimpse of Boston's street style. Find sneaker brands from Jordan, Iceberg, and Adidas to Yeezys, Air Jordans, and Stan Smiths. As you look through the store's collection of trendy shoes and streetwear, take advantage of the opulent interior by sitting in one of the royal red velvet chairs underneath a chandelier. Though small, Sneaker Junkies offers a wide range of brands, apparel, and price points. Sneakers start as low as $70, with more exclusive brands and models priced higher.
Calling all Potterheads! Come find the magic in this poky shop tucked away in the heart of Newbury Street. Don't be fooled by the store's size, though: the walls are packed with Hogwarts apparel, books, and merchandise—and you can find every beloved Potterworld goodie from Bertie Bott's Every Flavor Beans to (nonalcoholic) Butterbeer. Whether you're looking to buy a backpack to blend in with the muggles or a new wand to hone in your spell-casting skills, this magical gift shop is not to be missed.
Tired of Dunks? Reimagine your donut experience at Mochi Dough. These premium Japanese donuts use rice flour, instead of traditional yeast or cake, to create a chewy texture that remains delightfully crisp on the outside. Mochi Dough makes their donuts fresh daily, with rotating weekly flavors they announce on their Instagram. Try the Fruity Pebbles or Lucky Charms flavors for a side of nostalgia with your sweet treat, or opt for the classic, earthy flavor of taro, a purple tuber popular in East Asian confections. Donuts come at $4.75 a piece, and be sure to wash yours down with some Mochi Dough bubble tea.
Fun, funky, and flavorful, Emack & Bolio's ice cream offers both a refreshing dessert and a taste of rock 'n' roll history. The store's original Coolidge Corner location opened in Boston in 1975 as a hangout spot for local musicians. After rock clubs closed at midnight, musicians came to Emack & Bolio's for a late-night snack and jam sessions that lasted into the early morning. Now, the ice cream store has expanded nationwide and offers cheeky flavors like Beantown Buzz and Trippin on Espresso. Check out the cozy Newbury Street location for a laid-back vibe, generous servings, and an array of tasty vegan flavors to accompany all the old hits.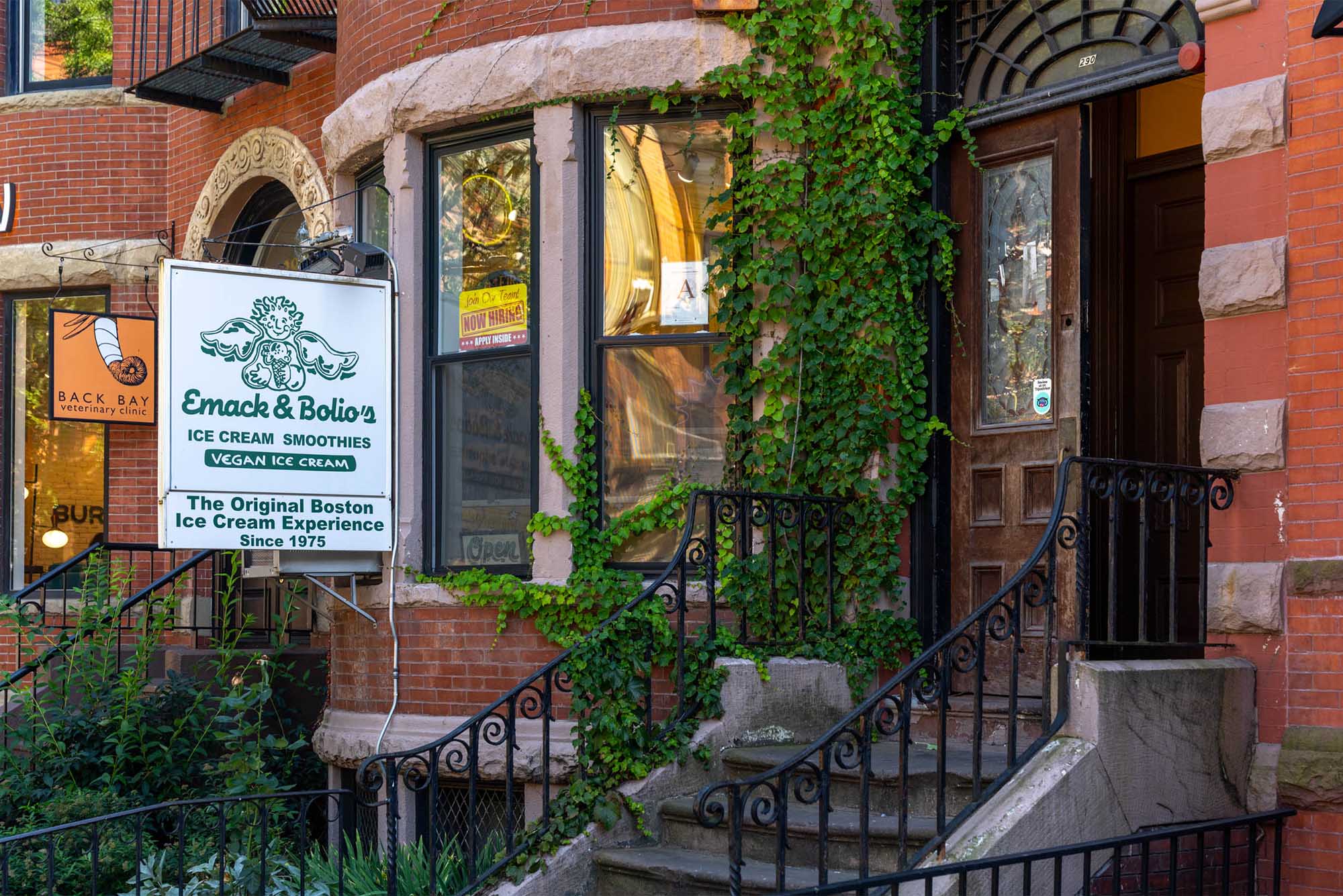 Located on a small side street, Santouka's expertly crafted ramen draws long lines of diners clamoring for the restaurant's unique flavors. Santouka makes its ramen with tonkotsu broth, which the restaurant creates by simmering pork bones for 20 hours. From there, they add flavors like miso, soy sauce, and salt, as well as traditional ramen components like noodles and grilled meats. Vegetarians can enjoy Santouka's authentic Japanese flavors by subbing pork broth for a soy-based one. A cozy yet elegant little shop, Santouka also serves its delicious dishes in traditional serving bowls, made thick to prevent the ramen from cooling prematurely.
Don't have enough time for Santouka's line? Check out Red White, a ramen restaurant selling dishes so flavorful you'll have a hard time believing the entire menu is vegan. Try out the original miso broth for a mild umami flavor profile or experiment with the truffle salt ramen. Each bowl comes with a variety of traditional and innovative toppings, like corn, arugula, and garlic oil, and you can add fried onions for an extra $2. Red White also sells sides like vegan truffle mac 'n' cheese and roasted miso avocado. With a steady stream of customers, fast service, and affordable prices, Red White's plant-based twist on comfort food classics is a must-try.
Discover Southeast Asian flavors with a twist at Coco Leaf, Boston's first Vietnamese dessert cafe, Coco Leaf offers sweet treats ranging from bubble tea and pastries to fruit smoothies. The cafe's specialty, however, is chè, a sweet Vietnamese pudding soup that combines tapioca with coconut, goji berries, avocado, red bean, and more. Chè comes in a cup stacked with the various colorful flavor components for a fun optical effect. If you're in the mood for traditional milk tea, Coco Leaf has a wide range of flavors like caramel and pumpkin cinnamon.
Explore inspiring design work at Boston Architectural College's free gallery. Inside this airy, bright space is a wide variety of architectural works speaking to broader themes of sustainability, technology, and diversity. The gallery also regularly holds opening receptions and lectures and guest exhibitions featuring selected works of renowned architects, such as Balkrishna Doshi and Moshe Safdie.
If the sugary sweet smells and bakery-shop decor draw you in for a dessert, you're in for a surprise. Far from a bakery, Johnny Cupcakes sells T-shirts and other apparel that replace known pop culture references with a signature cupcake logo. Founder Johnny Earle started his now multimillion-dollar business from the trunk of his '89 Toyota Camry. When Earle realized how many people wanted to buy his inventive T-shirts, he quit his day job, started his online store and eventually expanded to two physical locations in Massachusetts. Inside the unique shop, guests can peruse items displayed on refrigerators and baking racks. If you decide to buy a shirt, staff will even pack your order in a pastry box to go.
There's a reason locals flock to this beloved bookstore and cafe: Trident has something for everyone: for almost 40 years, the two-story bookstore-slash-cafe has provided a generous book collection, delicious fare, and a place for the community to gather. If you're looking to attend a fun event, check out Sunday night poetry open mics or regular speed-dating events on their calendar. And whether you need a quick refreshment or a hearty meal, Trident's cafe has you covered. Pair a snickerdoodle latte and your new favorite book, and you might just see what keeps people in this cozy cafe for hours.
Music, pop culture, comics, and more come together in this lively store near the Convention Center end of Newbury Street. On the first floor, find collectibles and apparel from your favorite fandoms, like Marvel, Doctor Who, and more. You'll also see popular manga comics and recently released vinyl records. More serious music lovers should head downstairs, where hundreds of records in almost every genre await discovery. On the second floor, find an even bigger collection of comic books, with popular favorites like Avatar: The Last Airbender, Sailor Moon, and Naruto. But even if your anime knowledge stops at Studio Ghibli, and you're still not really sure what a "fandom" is, Newbury Comics has something for you. Find goofy gifts like novelty socks and sunglasses near the back of the store, as well as stuffed animals and movie posters throughout.
Still haven't gotten your anime fix? Head across the street to Anime Zakka, which sells everything from figurines and plushies to games and apparel. You can grab a retro poster for only $12.95 or opt for a bento box and chopsticks decorated with your favorite anime character. Even if you're not sure what you're looking for, this store's bright ambience and colorful merchandise will put you in a good mood. A local, family-owned business, Anime Zakka also sells its wide range of products online.
Getting there: To get to Newbury Street from the Public Garden end, take an MBTA Green Line trolley to Arlington and walk one block up Arlington Street toward the Public Garden. To access Newbury Street from the Mass Ave end, take an MBTA Green Line trolley to Hynes Convention Center, turn right on Mass Ave, and Newbury Street is a few steps away.
Click on the points in the map above for more information on the places listed in our guide to Newbury Street.
This Series
Also in
April 27, 2023

April 20, 2023

April 5, 2023