Recent Sargent Alum Wins National Collegiate Horse Riding Cup
Elizabeth Nevins says BU equestrian club coaches prepared her for Cacchione Cup victory
Accolades
Recent Sargent Alum Wins National Collegiate Horse Riding Cup
Elizabeth Nevins says BU equestrian club coaches prepared her for Cacchione Cup victory
Elizabeth Nevins waited to hear her number as the announcers called out—in reverse order—from a list of the top-10 horse riders.
The eighth rider called won third place. The ninth took second. At that point, Nevins knew she'd won the big one: first place. "I was the last one standing," Nevins says. "It was kind of a surreal moment."
Nevins (Sargent'23), a member of Boston University's club equestrian team during her four years at BU, as well as captain her senior year, was vying for the Cacchione Cup at the Intercollegiate Horse Shows Association (IHSA) National Championship, held in Lexington, Ky., in May. The Cacchione Cup is the first place prize in the competition for an individual rider—in other words, it's a huge deal.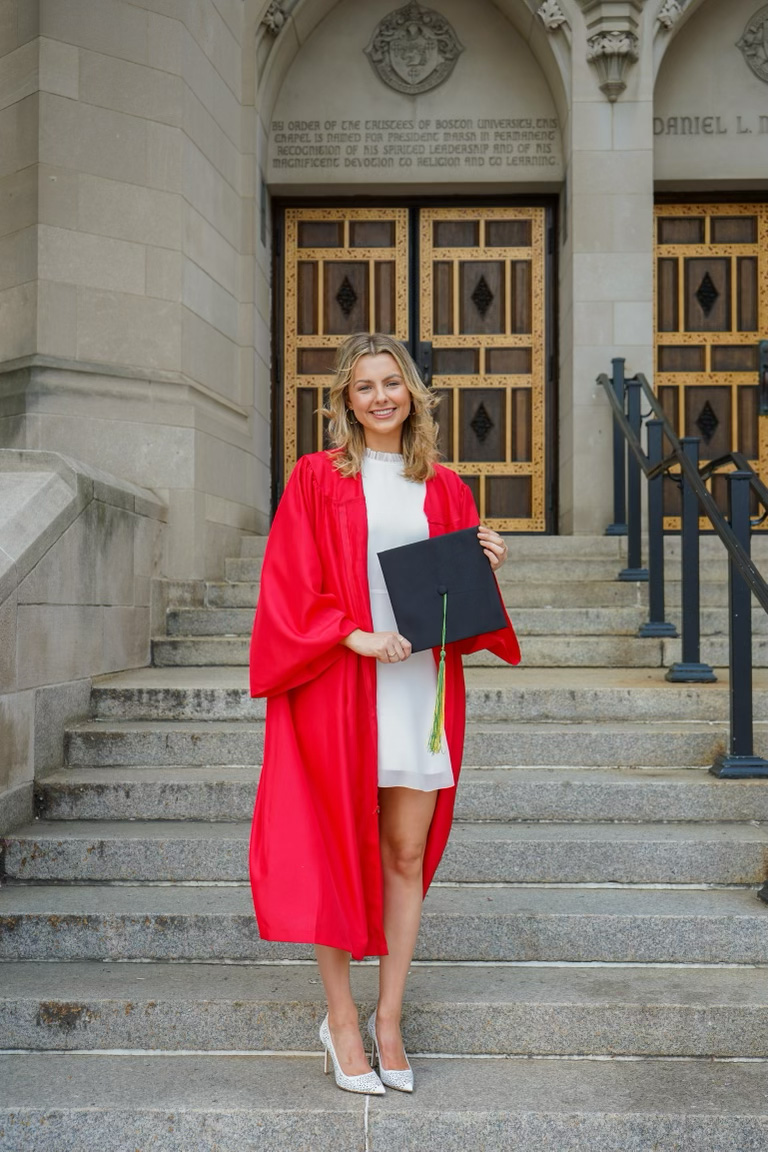 She credits her BU coaches for helping her develop the "mental toughness" she needed to succeed in and outside of the arena. Cool-headedness came in handy during the final round of the National Championship, when the top 10 riders faced a difficult series of six jumps, including different types of canters and turns.
"Those are things that really only people at the top level even know how to execute, let alone do correctly," Nevins says.
Eileen Blair, assistant coach of BU's equestrian team, says the Cacchione Cup competition is especially challenging, requiring competitors to deliver consistently strong rides over three rounds with a horse they've never ridden before. But Nevins was ready.
"Those who know Lizzy also know she takes on any challenge and conquers it," Blair says.
Nevins started riding competitively when she was nine years old, shortly after seeing a foal for the first time at summer camp. "From that moment on I was just obsessed with ponies—and every week I begged for horseback riding lessons," she says.
Her parents didn't know much about riding. When they brought her for lessons at Thumbs Up Farm, near their home in Washington state, and finally signed her up for lessons, they had no idea Thumbs Up was one of the top training facilities in the country. Nevins says she stuck with the sport because she loved how working with horses made her feel grounded and connected to nature.
She eventually became a dedicated hunter seat equestrian, a reference to the rider's ability to complete tasks in the ring gracefully and with no visible effort.
An entirely new experience
While she was originally committed to join a Division 1 equestrian program at another university, Nevins says she ultimately chose BU for its location, and more important, its academic opportunities. While horseback riding is her passion, she says, she was certain of two things before college: first, she wanted to be a dentist. Second, she wanted to participate in scientific research.
BU gave her the opportunity to explore those fields. She participated in BU's Undergraduate Research Opportunities Program (UROP), working for two years with Marie Kamenetska, a College of Arts & Sciences assistant professor of chemistry and of physics. She ultimately chose to join the Sargent College of Health & Human Sciences Human Physiology Program.
Nevins tried out for BU's club equestrian team when she arrived on campus freshman year, and soon discovered she was signing up for an entirely new experience. Before joining the BU club program, she had competed individually. College riding was her first time being part of a team.
She had to learn to lead and collaborate quickly. After the COVID-19 pandemic halted the equestrian program her sophomore year, Nevins' coach encouraged her and teammate Sarah Watanabe (CAS'23) to become cocaptains and help steer the program back on course when it resumed.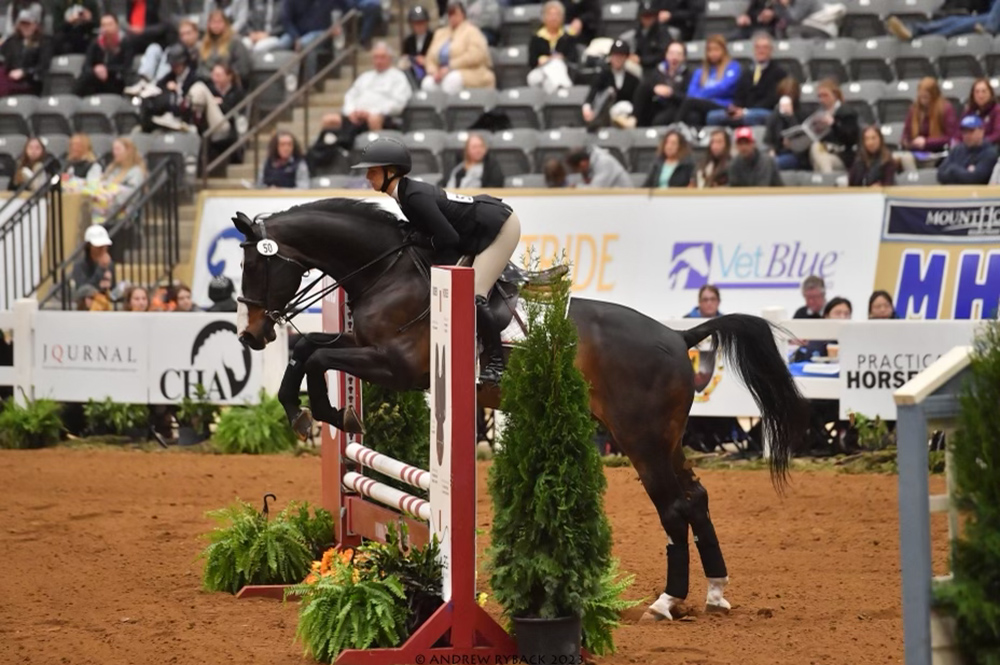 At the peak of the pandemic, the club team's membership had shrunk dramatically. They lost access to horses and fell out of contact with donors (who help fund the team). "We were asked to kind of build it back from nothing," Nevins says.
She worked hard to coordinate with team members and their coaches at BU's partner facility, Holly Hill Show Stable in Hanover, Mass., on training schedules and how best to prepare for competitions.
"Lizzy is a beautiful rider, and she has also grown into a great leader over the past four years," Blair says. "She is a role model that riders in the IHSA look to not only for strong riding, but for good horsemanship and sportsmanship."
This past season—her senior year—Nevins and her teammates saw unprecedented success. The club horse riding team won this year's regional championships and sent several riders to compete individually in multistate competitions. And they ended on an especially high note at the IHSA, which saw teams and riders from all over the country compete.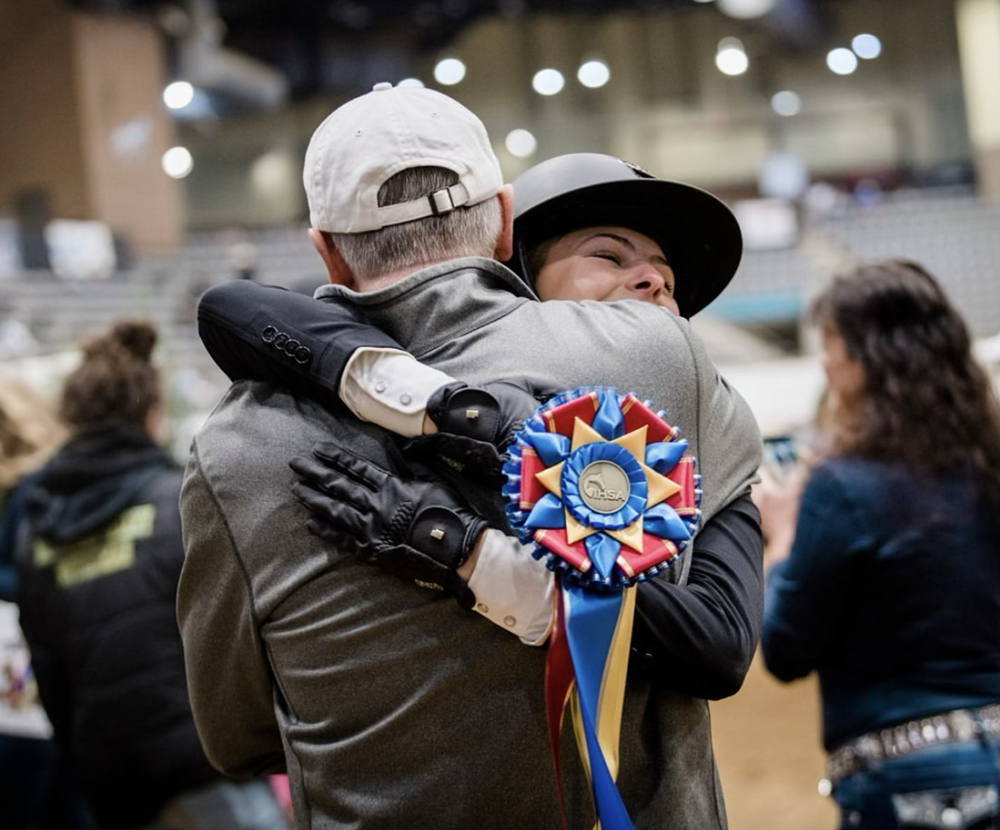 Nevins says her big win at the IHSA competition couldn't have been possible without her BU coaches, who she credits with building her confidence over their four years together. One of the ways they did this was to encourage her to compete and practice with different horses as often as possible.
"My biggest battle with riding has always been my nerves," Nevins says. "I am a great rider, but I can tense up and make rookie mistakes every once in a while in the competition ring just because of stress."
Riding high after her victory at nationals, Nevins is preparing to attend Harvard School of Dental Medicine in September. She says the teamwork skills and dedication she acquired on the equestrian team will transfer towards dentistry.
And although she'll be busy studying, Nevins hopes to continue riding and practicing with the coaches she met through BU's club team. She says that she wants to get adjusted to dental school before signing up for future competitions.
"I'm really lucky that I know that I have a barn, a barn family, and a training place that will welcome me back with open arms, " Nevins says.