Discover Wedding Traditions and Their Backstories at Museum of Fine Arts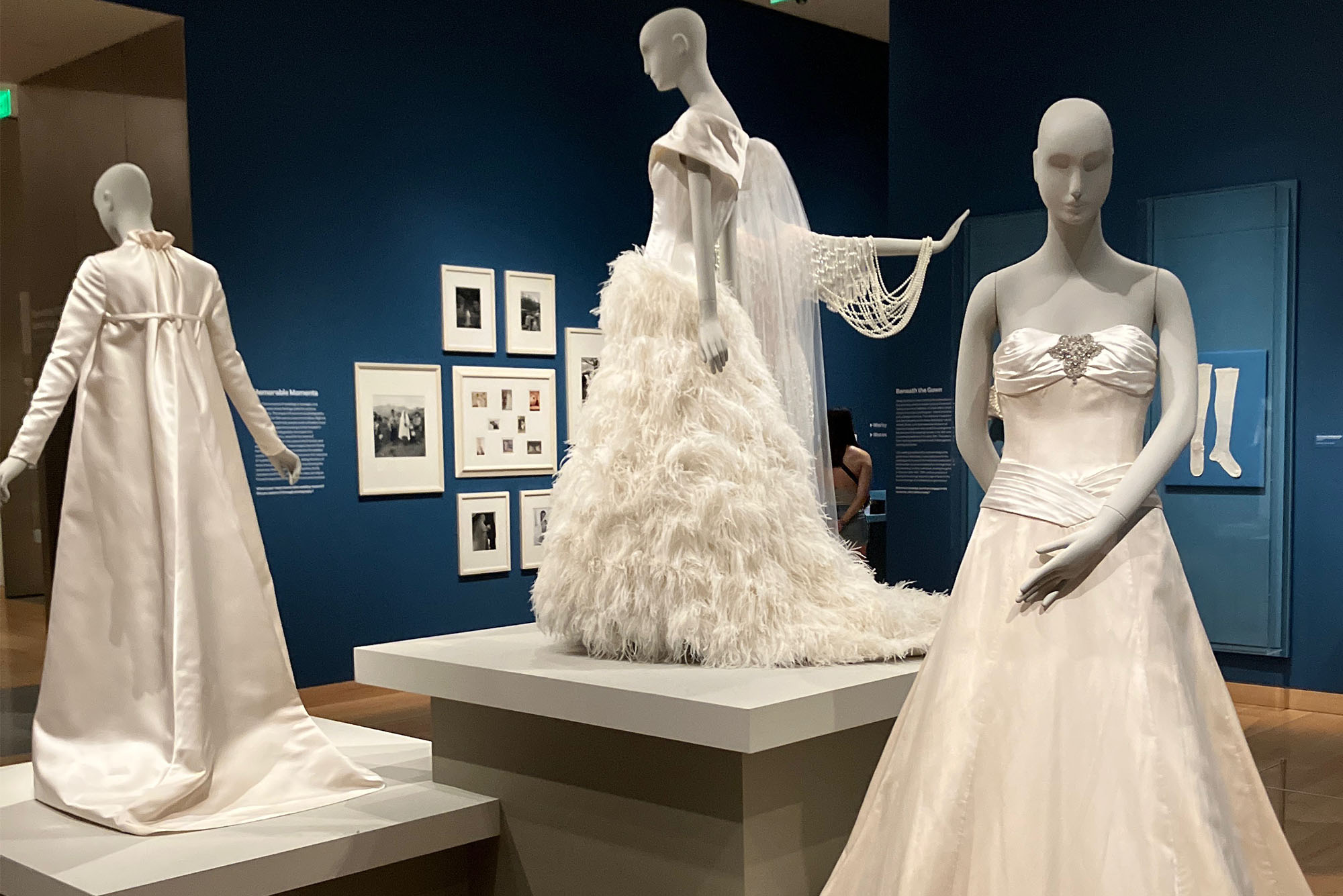 Things-To-Do
Discover Wedding Traditions and Their Backstories at Museum of Fine Arts
Something Old, Something New celebrates American wedding customs through history
What?
Something Old, Something New: Wedding Fashions and Traditions, a Museum of Fine Arts exhibition celebrating the American wedding dress.
When?
Sunday, Monday, and Wednesday, 10 am to 5 pm, Thursday and Friday, 10 am to 10 pm, through October 1. The museum is closed on Tuesday.
Where?
Museum of Fine Arts Boston, 465 Huntington Ave., Boston.
How much?
General admission is $27 for adults, $10 for youth aged 7 to 17, and free for children 6 and under. BU students with a valid University ID have free admission to the museum. Entry to Something Old, Something New is included in the price of admission.
Why should I go?
Recognized and beloved throughout the United States, the traditional white wedding forms the basis of the Museum of Fine Arts new exhibition, Something Old, Something New: Wedding Fashions and Traditions. The exhibition revisits the fundamental aspects of the white wedding through fashion, jewelry, photography, and more. 
For its hefty promise to both celebrate and interrogate traditional American wedding customs, Something Old, Something New is a surprisingly intimate exhibition: four contrasting wedding dresses by prominent American and Canadian designers stand in the center of the Edward and Nancy Roberts Family Gallery. Fun, flashy and distinctly flapper-like, Bob Mackie's 1980s dress screams his name from a mile away. The American designer dressed icons such as Cher, Liza Minnelli, and Diana Ross, and his wedding creation oozes Hollywood flair.
On the other hand, George Beene's 2002 creation, which stands right next to Mackie's, looks like an elegant smock. Beene's dress may not represent the typical 2000s-era bride, but certainly reflects the artistic restraint of a designer who dressed Nancy Reagan and Pat Nixon.
Behind these opposites, two dresses represent the work of Arnold Scaasi and Priscilla of Boston. Take some time to read the latter's description: Priscilla of Boston, a high-end bridal boutique, opened for business in 1945 on Newbury Street and dressed Grace Kelly's bridesmaids. The iconic boutique closed its doors on New Year's Eve 2011.
As visitors peruse the wall of wedding jewelry, classic wedding songs, like Etta James' "At Last," play in the background. A stunning Coburg eagle brooch made of turquoise, gold, and diamonds demonstrates the "something blue" tradition. Queen Victoria gifted one of these brooches—designed by her husband-to-be, Prince Albert—to each of her 12 train bearers on her wedding day.
There's also a wedding ring designed by Paul Revere—one of many pieces by the Revolutionary War hero in the MFA's collection—who was an accomplished silversmith and engraver in 18th-century Boston.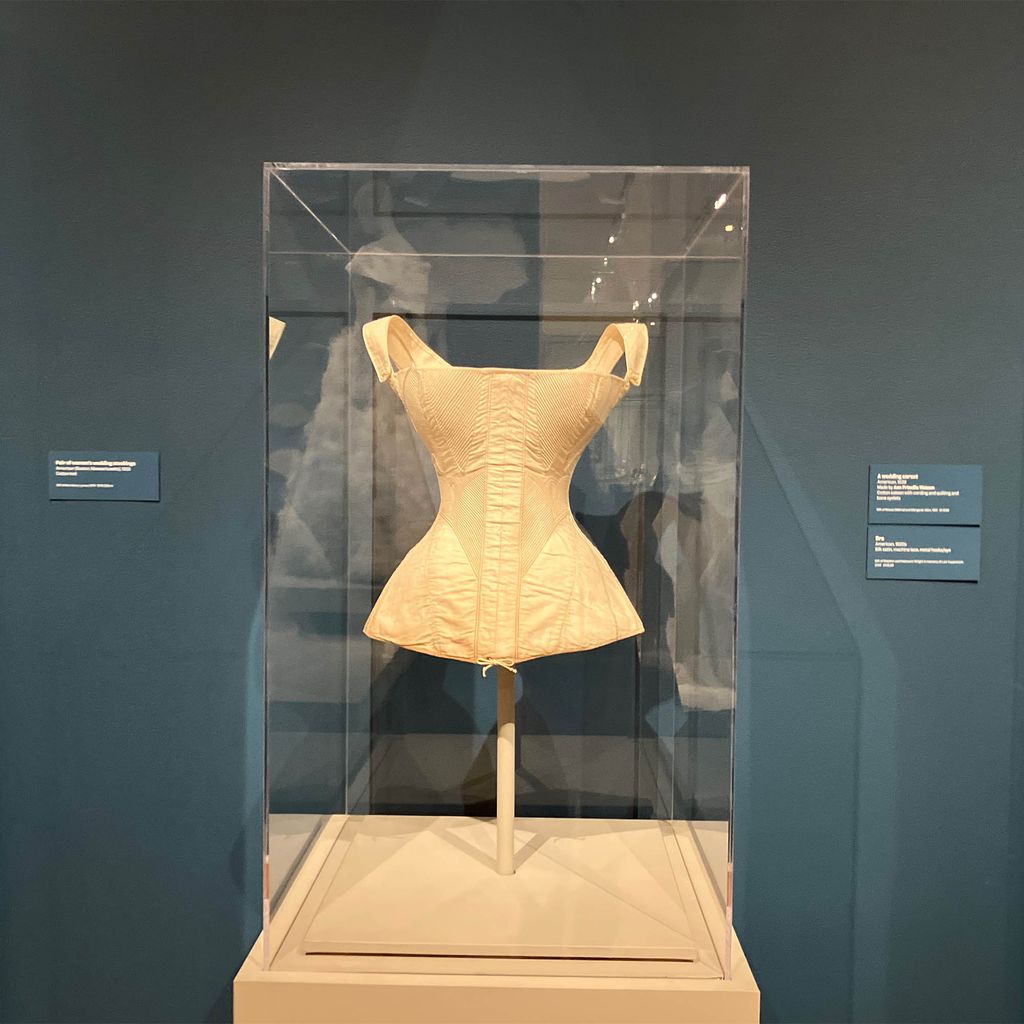 The exhibition moves on to reveal more private bridal pieces: an 1839 corset, exquisite in its intricate quilting, still holds traces of the designer's signature on the front. The brassiere next to it demonstrates the heavy fabric and boning characteristic of vintage undergarments.
If intimate garments make you blush, turn to the 1889 wedding dress nearby. Its high neck and full sleeves plunge visitors into the moral, modest Edwardian era, while the faded, yet eye-catching pale pink fabric speaks to decades of history.
The exhibition ends with a wall of wedding photographs representing American brides across various cultures and time periods. Next to it, visitors can write their favorite wedding song on a notecard and hang it on a billboard.
For the tough art critic or museum-goer with eyes tired from endless galleries, Something Old, Something New could seem underwhelming. There's no sweeping lineup of chronologically ordered dresses, no documentary playing in a separate room, and certainly no austere art museum silence.
Still, the exhibition has a way of provoking true sentimentality in its visitors, particularly those who have experienced the magic of a wedding coming together. So, embrace the schmaltzy wedding playlist, pore over the descriptions, and devote some extra time to this MFA basement room. As James croons "At Last" in your ear, you may just discover what makes matrimony so endlessly fascinating.