Alum Deena Sheldon Inducted into the Sports Broadcasting Hall of Fame
Nine-time Emmy winner is the first female camera operator to be honored by the organization
TV & Film
Alum Deena Sheldon Inducted into the Sports Broadcasting Hall of Fame
Nine-time Emmy winner is the first female camera operator to be honored by the organization
The cliché in the theater world is, "the show must go on." In Deena Sheldon's world, it's more like, "the game must go on."
Nothing stops the freelance camera operator with more than 40 years' experience in the business from documenting an event, not even a call to tell her she's been selected for induction into the Sports Broadcasting Hall of Fame.
Sheldon and her partner (in business and life), Jeff Zachary, were about to cover the marathon at the World Athletics Championships in Oregon last July, operating their RoverCam, which follows the runners from the starting line to the finish line. Just before the race, she received a phone call from Ken Aagaard, chair of the Sports Broadcasting Hall of Fame. Sheldon (COM'84), who had previously fulfilled a request to provide her bio to the organization, was already a sports legend. The nine-time National Academy of Television Arts & Sciences Sports Emmy Award winner has run camera on 12 Super Bowls, 17 Indy 500s, 17 Daytona 500s, and 24 Triple Crown races. She's covered the Olympics, the NFL, the World Series, America's Cup, NBA Finals, NCAA Final Four, the Masters Tournament, PGA Championships, US Opens for tennis and golf, the Boston Marathon, and dozens of historic events.
But she knew she couldn't take the call. The race was about to start—for a live broadcast.
Sheldon eventually spoke with Aagaard. News of her December induction brought tears, and a reflection of what her late parents—Penny and Fred Sheldon—would think about her becoming the first woman camera operator, and fourth camera operator overall, to receive this honor. Both had backgrounds in athletics and journalism. Fred qualified for the 1956 Melbourne Summer Olympics in track and field, but opted to join the Air Force instead. He eventually worked as a track coach, a professor in athletic training at numerous schools, and a firefighter. Penny was a reporter and photographer whose work appeared in publications such as the Newburyport (Mass.) Daily News and the Boston Globe.
"My father wrote to me decades ago, he wrote me this letter, that to be honored by one's peers is the greatest honor of all. And that stuck with me because this was being voted in by my peers," she says.
As a student at BU's College of Communication, Sheldon, a native of Groveland, Mass., interned at CBS News/Sports, and, after graduating with a degree in broadcast and film, embarked on her four-decade career. She started at Continental Cablevision in Woburn, Mass., moved on to WSBK-TV to cover the Red Sox and Bruins, and then to WWOR-TV in New York.
In the 1990s, she became a prominent camera operator in the NFL, working handheld cameras and operating the sideline cart camera. The cart is 15 feet high and 5,000 pounds and takes a team of at least six people to maneuver it up and down the sidelines.
She's been in the thick of the action for ABC's Monday Night Football and NBC's Sunday Night Football, in addition to some of the sport's biggest games for other networks.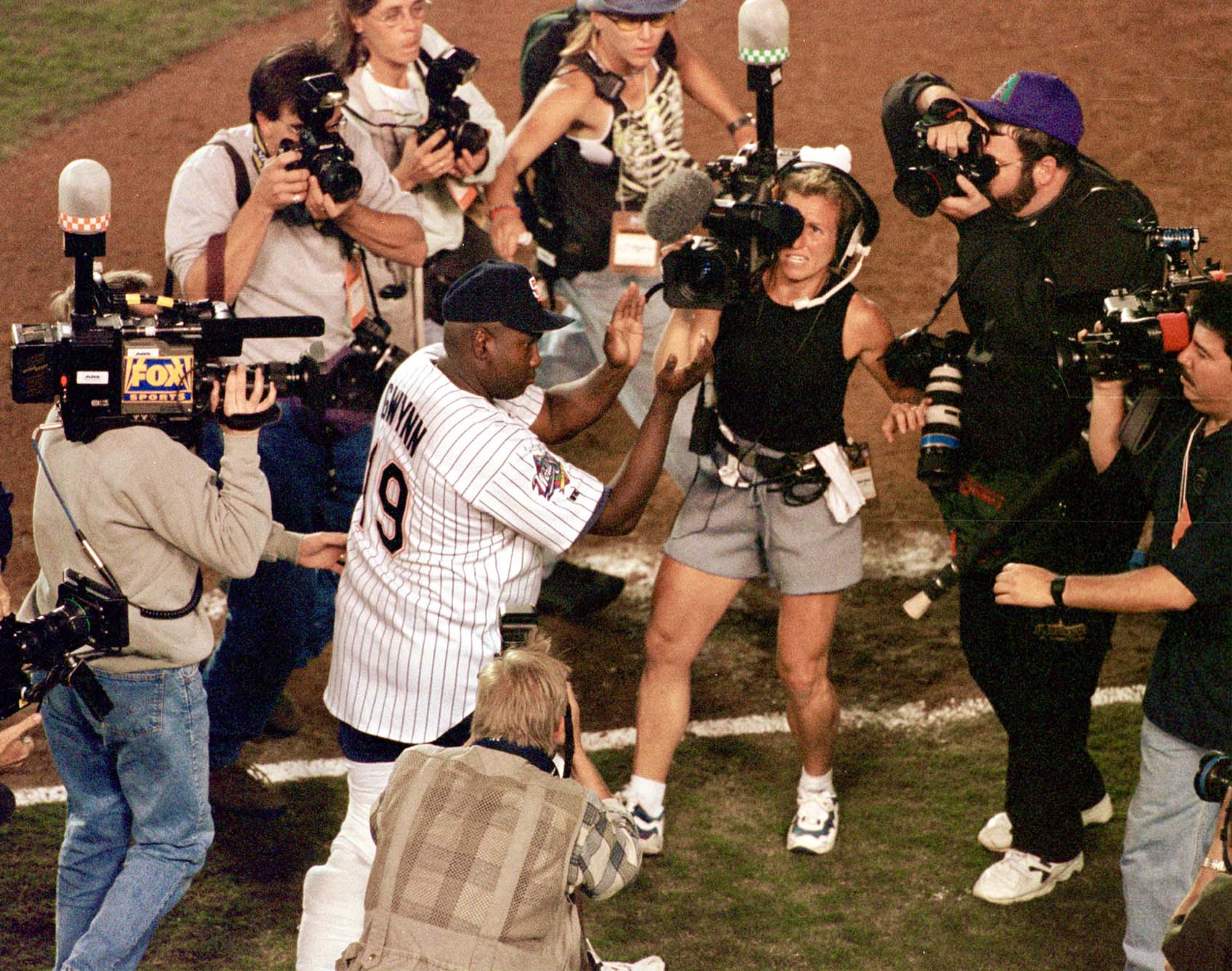 When Pittsburgh Steelers quarterback Ben Roethlisberger scored a controversial touchdown against the Seattle Seahawks in Super Bowl XL, that was Sheldon's shot of the play on the goal line from her camera cart. Likewise, when Patriots defensive back Malcolm Butler intercepted Seahawks quarterback Russell Wilson's pass on the one yard line with 30 seconds left on the clock at Super Bowl XLIX in 2015, she was on the goal line for the shot.
"Deena Sheldon managed to lasso the moon," says sportscaster Lesley Visser, a 2017 Hall of Fame honoree. "She took on an impossible dream, being a camerawoman for a network, and made good on that promise for decades. Along the way, she combined determination, loyalty, immense skill, and a genuine caring for others."
Throughout her career, which has included stepping away from sports to cover nine presidential inaugurations as well as presidential funerals and political debates, Sheldon has forged a reputation for her meticulous preparation. She puts in so much work—long before the action begins—that directors and producers know she'll get what they need, whether it's a quick shot of a backup quarterback, a team owner in their suite, or a US senator on a frigid dais in Washington, D.C.
"I mean, her preparation is not normal—it's extensive," says Fred Gaudelli, executive producer for NBC's Sunday Night Football and Amazon Prime Thursday Night Football. "She is dialed into the storylines as much as I was, the producer. And you really couldn't give her enough information. Obviously, she had talent, she had knowledge, she had desire, but her preparation put her over the top.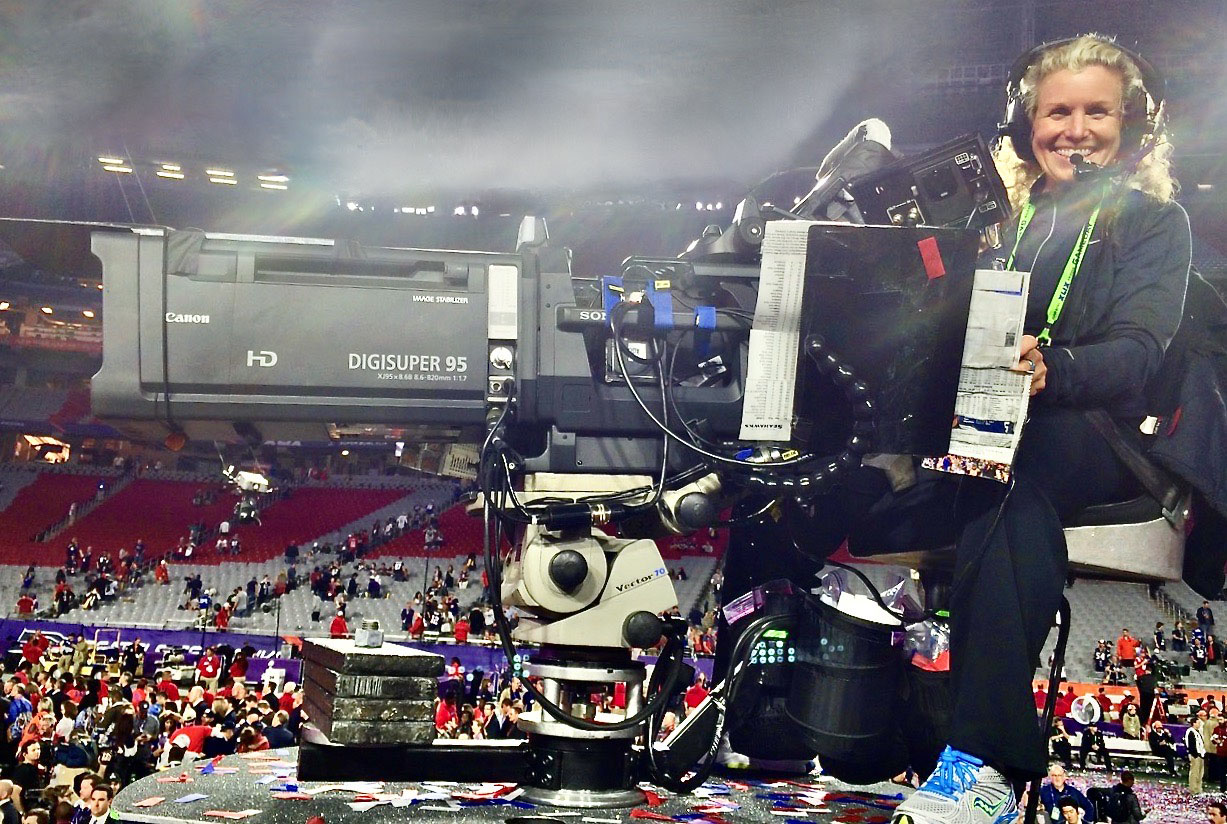 "You could tell how seriously she took it, and how she really took it to heart that she could execute her job to make the entire show better," Gaudelli adds.
"It is incredibly important to me to be prepared for any event I am asked to cover," says Sheldon. "First, it's an honor to be asked to join a director and producer to be a part of their production. My appreciation for that opportunity is to be 100 percent prepared. Because they are almost always live events, I have to be prepared for whatever challenges I may face, from memorizing all of the players, coaches, owners, and families, to political events and all of the government officials in attendance, to concerts and memorizing the band's choreography.
Then, when it comes to going live, it is totally reactionary because all of the basics have been covered, such as making sure my movement is not impeded on the sidelines by any obstacles and weather contingencies for the equipment and myself.
"I can then 'watch' and react to the game or event, and all its nuances," she adds. "If the announcers mention a player or coach, I will have memorized and practiced where they should be located. Because I try to get to my shot in under three seconds of them mentioning someone. Understanding the players and their style of play always helped me to anticipate where to position the sideline camera for the next shot. It is the 100 percent excitement of going live. There are no do-overs."
Sheldon's prep work is bolstered by first-hand knowledge of sports and competition. She won the National Ballroom Championship in 1977, and, growing up, participated in dance companies, gymnastics, field hockey, and track and field, all of which helped her develop what she calls "the mindset of competition."
She can anticipate the shot she'll need by understanding the game situation and the athletes involved. For example, she says she got to know that when quarterback Tom Brady had the Patriots down to the 10 yard line after a long reception, he would go to a no-huddle, hurry-up offense, to try to keep the defense off guard. It was imperative to get the sideline camera cart downfield as quickly as possible to get the shot lined up, she says.
These days, she and Zachary are concentrating on their business, RoverCam and BoatCam , remote-controlled camera mounts. Their camera systems have been used for commercials and events, such as Super Bowl LVI, the Olympics, and the PGA Championship. They are also producing documentaries and continuing to develop new technology to be used on live sporting events and concert productions.
Sheldon hopes the Hall of Fame honor will lead to opportunities to teach and pass on the tools of her craft. Her main focus throughout her career—which has included being a 3D producer on eight 3D feature concert films and serving as co–vice president of the sports and entertainment division for Academy Award–winning director James Cameron and cinematographer Vince Pace's Cameron Pace Group—has been to compete against herself to do the best job possible, and to be a vital part of a successful team covering each event.
If she's also blazed a trail for women in the field, that's a perk.
She knows others appreciate her breaking of barriers from the devotion that her producers and directors have shown, and from the thumbs-up she gets on the sidelines from women and men in the crowd.
Visser, a trailblazer in her own right by virtue of her being the first woman NFL beat reporter and first female inducted into the Pro Football Hall of Fame, knows Sheldon sets a great standard for future generations: "Young women (and men) can look to her and say, 'Maybe I can do that,' because Deena's provided a blueprint."