BU's Christopher Chen Elected a National Academy of Inventors Fellow
Biomedical engineer and regenerative medicine company cofounder honored for work to pioneer cures for heart attacks, liver disease, and more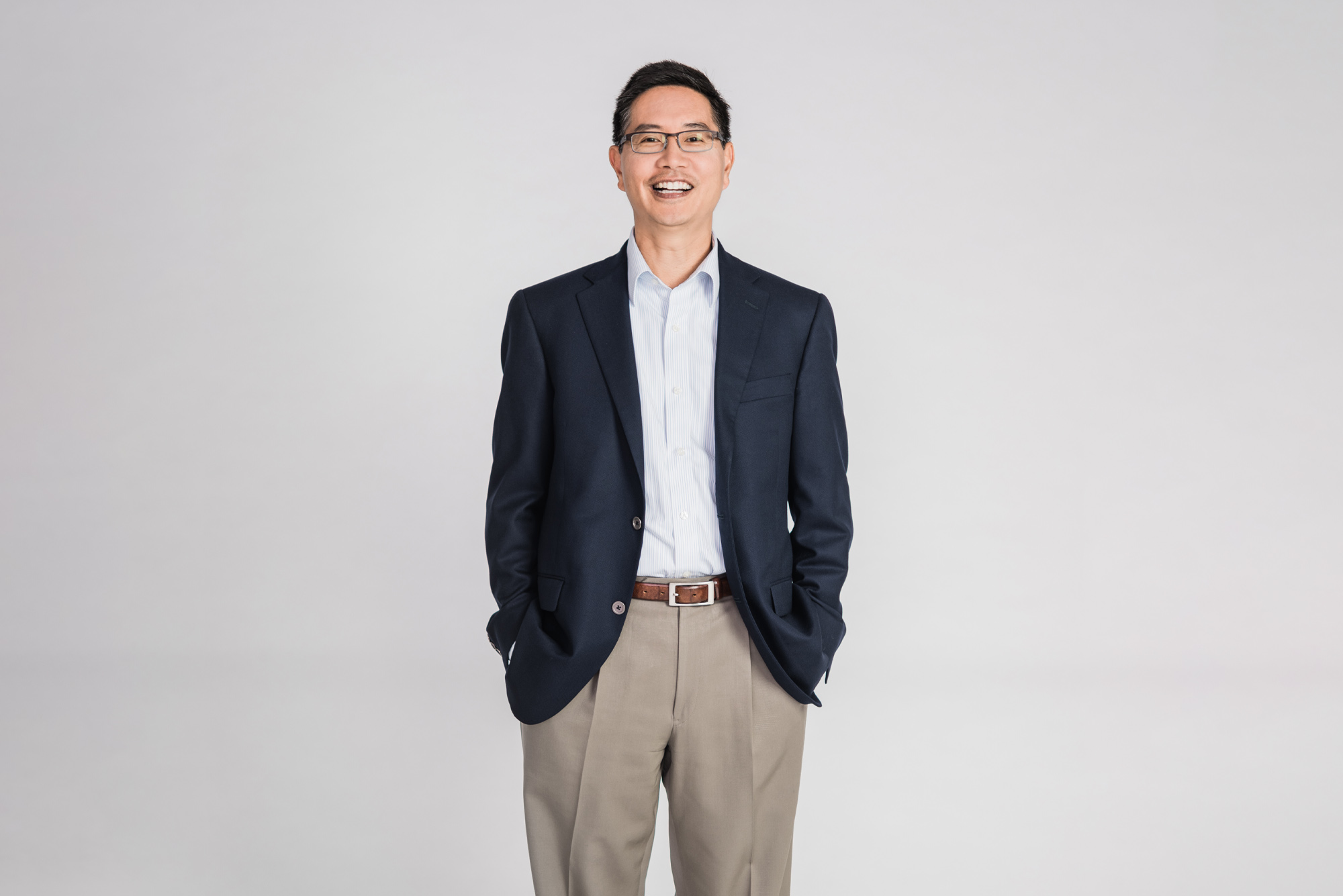 Accolades
BU's Christopher Chen Elected a National Academy of Inventors Fellow
Biomedical engineer and regenerative medicine company cofounder honored for work to pioneer cures for heart attacks, liver disease, and more
Imagine a future where we can build replacement organs as easily as tech companies churn out new phones. Or where a heart attack can be cured with a simple patch. Or where liver failure can be reversed with a supercharged tissue implant.
They might sound like ideas pulled straight from a sci-fi movie, but this future is closer than you think—thanks to Christopher Chen. A Boston University biomedical engineer, Chen was recently named a National Academy of Inventors Fellow in recognition of a career filled with patents and inventions—many building toward those potentially life-saving breakthroughs.
In just the past year, Chen has cofounded a regenerative medicine company—securing $110 million in funding to boost its organ-healing technology—and helped build a miniature beating heart that could speed efforts to repair damage from a heart attack.
To be nominated for an NAI fellowship, inventors must have a track record of "outstanding contributions to innovation" and be a named inventor on patents. Chen checks those boxes. His nearly 300 papers have been cited by other researchers more than 65,000 times and he's filed 31 patents. A medical doctor, Chen also has a PhD in medical engineering and medical physics—dual influences that have been interwoven through his research career.
"This honor means a great deal to me—as an engineer and physician I have always sought to find new ways to address important unmet needs, and it is validating that the NAI recognizes that work," says Chen, a BU William F. Warren Distinguished Professor and a College of Engineering professor of biomedical engineering. "As an academic researcher, we are so often recognized and evaluated based on the scientific papers that we publish that invention is often overlooked as one of our critical contributions to the community. By underscoring invention, NAI helps to encourage our community to continue to innovate and solve important problems."
The NAI draws members from universities and research institutes around the world—Boston University is one of nine founding charter members. The 2022 class of fellows, which includes Nobel laureates and together holds more than 5,000 patents, will be honored at a June induction ceremony.
"This year's class of NAI Fellows represents a truly outstanding caliber of inventors. Each of these individuals have made significant impact through their work and are highly regarded in their respective fields," said Paul R. Sanberg, the NAI's president, in announcing the latest class of 169 fellows. "The breadth and scope of their inventions is truly staggering. I am excited to see their creativity continue to define a new era of science and technology in the global innovation ecosystem."
Chen is the founding director of BU's Biological Design Center, which aims to improve our understanding of how cells and biological systems work, and then find ways to control them to develop new types of cells and organisms. The center's goal is to design technologies that can improve human health and the environment: engineered blood vessels that help fight cardiovascular disease, artificial microbial communities that could herald more sustainable energy.
"Over the years, we have developed a series of ways to engineer devices, materials, and approaches used to organize, characterize, and manipulate how cells interact with each other and with materials," says Chen of the inventions that have come out of his work, "and then use these platforms to help build engineered human tissues for either research or therapeutic applications."
As codirector of CELL-MET, a National Science Foundation (NSF) Engineering Research Center in Cellular Metamaterials at BU, Chen is part of an interdisciplinary team trying to build heart repair patches. They hope their work will eventually lead to a cure for heart attacks. But one of the challenges of lab-made organs and tissues is keeping them fed and flourishing—which is where Chen's team comes in.
"We have recently been investigating how to build progressively larger tissues, such as heart muscle, focusing in particular on how to build the blood vessel networks needed to penetrate through and nourish larger tissues," says Chen, who also heads his own tissue microfabrication lab and is a co–principal investigator for the NSF-funded Center for Engineering MechanoBiology. "We would love to establish a biomanufacturing infrastructure that would allow us to build designer organs and tissues in a scalable, cost-effective manner, in the way that we currently can do for electronic devices."
Kenneth R. Lutchen, ENG dean and a professor of biomedical engineering, describes Chen as an "intellectually fearless" researcher and innovator.
"His inventions have transformed our ability to understand how cells individually and as a collection in tissues react to mechanical forces—and how to then translate that knowledge to guide tissue engineering breakthroughs, especially related to cardiovascular systems," says Lutchen. "He is known for being grounded in how to connect the design principles of how cells and multicell systems work into new technologies that can impact disease conditions. The biomedical engineering community is indebted to these breakthrough efforts."
For all the future inventors inspired by his example and also hoping to change the world, Chen has one piece of advice: stick with it.
"Keep working on important problems," he says, "and know that every one of them, big or small, needs a solution."