Meet the CGS Alum Who Started a Nonprofit to Help Orphans in Tanzania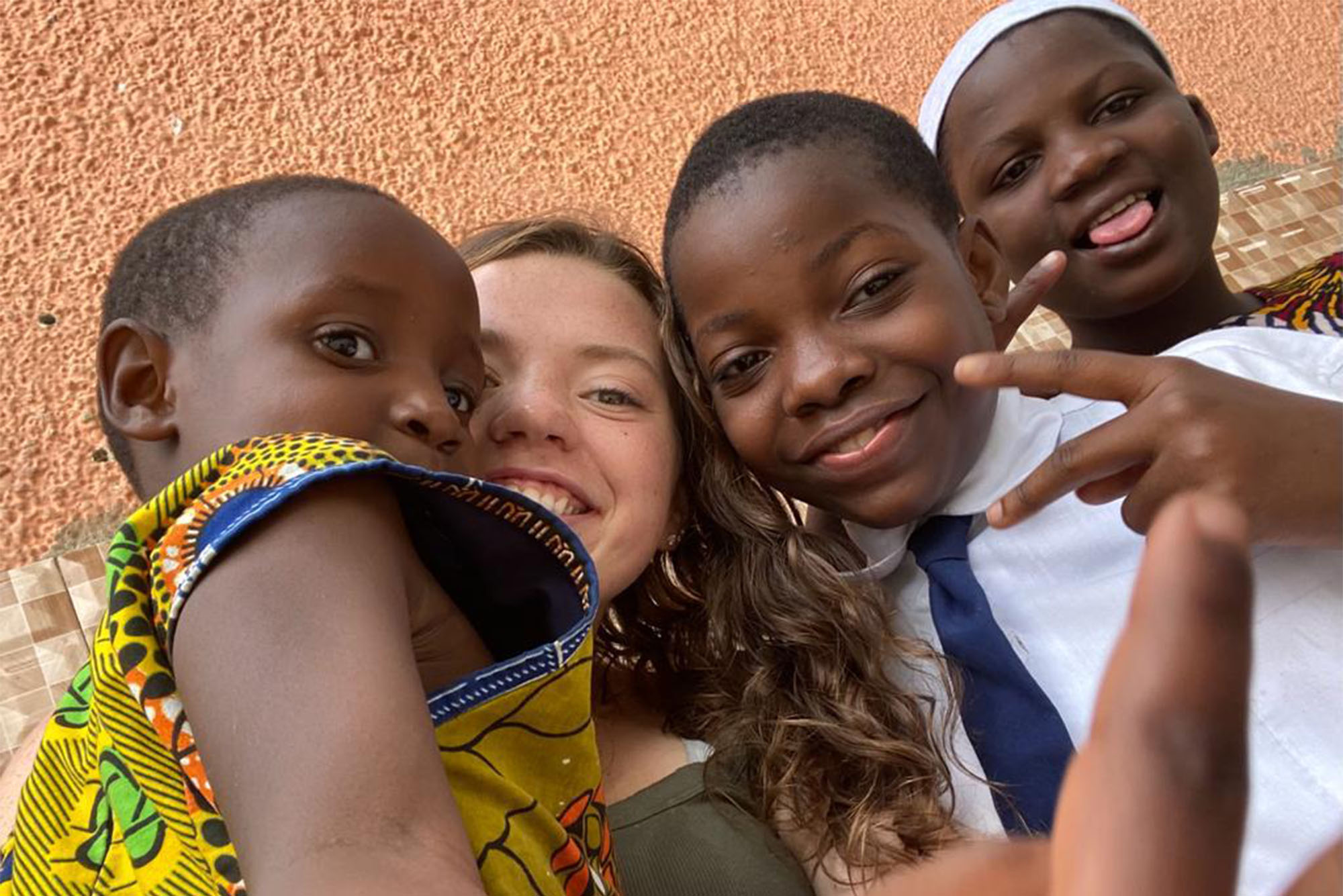 Alumni
Meet the BU Alum Who Runs a Nonprofit to Help Orphans in Tanzania
Tess Pollins, BU's first Samuel Huntington Public Service Award recipient, started Project Lots of Love as a CGS student
How many people can say they started a nonprofit at 20?
As a high schooler, Tess Pollins (CGS'20, CAS'22) found Boston University's College of General Studies' mandatory fall gap semester structure enticing. She knew she wanted to go to law school eventually, and figured it would be nice to take a break before embarking on seven more years of school. And, as a longtime advocate for community service, she also knew she wanted to spend that time volunteering.
Once she got her acceptance letter, it was time to start planning her gap semester. After some research, Pollins signed up for a two-month volunteer trip to Tanzania to work with children at a local orphanage in the fall of 2018. Almost as soon as she stepped foot inside Dar es Salaam's Chakuwama Orphanage—the eventual beneficiary of her nonprofit, Project Lots of Love —she realized she'd found a second home.
"I don't know quite what it was, but when I got to know the kids, I just felt like, these are my people," Pollins says. It was nothing like previous volunteer experiences, where she'd raise funds for an organization or participate in an initiative without making personal connections. "Once I had these kids in my life, I was like, this is it."
Typically, Chakuwama is home to anywhere from 60 to 80 residents, from babies to young adults. (Unlike in America, kids don't "age out" of Chakuwama's facilities, Pollins says.) Some are orphans; others have families nearby who lack the resources to care for them. Pollins spent much of her first two months supervising the youngest Chakuwama children during playtime. She'd help them with homework, take them to the doctor if they were sick, resolve conflicts—whatever she could do with the language barrier between her and the Swahili-speaking children. She also taught English at a nearby school, and added an extra month to her trip to make sure her students passed their exams.
Then her semester was up and it was time to head to Boston to start at CGS. Right before she left Dar es Salaam, she had the opportunity to visit the orphanage's second location in nearby Mbezi. It was much smaller than the main orphanage—just 2 bedrooms for 13 children—and not in the greatest shape.
"I saw the second home, and I was like, 'I'm literally leaving in 10 days, but I promise I'll come back and address this,'" she says.
Which is exactly what she did. Pollins spent her spring and six-week summer semesters fundraising to renovate the Mbezi home. (Most donations came from friends and family through Facebook, as well as her personal funds, she says.) When her summer semester in London ended, Pollins flew back to Tanzania to oversee the renovation.
She stayed at the orphanage while it was being renovated. She grew even closer to the kids, she says, and felt wheels start turning in her head: "I thought, 'Okay, well that was a nice little summer project, but how do I keep this momentum going?'" Pollins says. "I didn't want to just [leave it there]; I wanted to keep helping out in the future."
The answer? Incorporate. Later that year, Pollins officially launched Project Lots of Love, a 501(c)(3) organization recognized in both the United States and Tanzania. It's named for the values of love, optimism, virtue, and energy, which Pollins tries to inject into every project she undertakes. All donations to the nonprofit benefit Chakuwama Orphanage facilities and their operations.
By 2022, Pollins, a psychology major, was set to graduate. She'd been to Chakuwama once more and had eight semesters of Swahili under her belt. From previous visits, she knew the main orphanage's lease would expire in a couple of years. Finding a new building to house a range of children and staff would be a logistical nightmare. It made more sense to just build a new orphanage—but doing so would require more funding than Project Lots of Love could acquire through donations.
That's when Pollins found the Samuel Huntington Public Service Award. The award provides one to three graduating college seniors with grants to pursue year-long public service projects anywhere in the world. Pollins sent in an application detailing the logistics of her nonprofit and her plans to construct a new orphanage building. She won a $20,000 grant—making her BU's first-ever recipient of the prestigious grant.
Construction on Chakuwama Mpya, a home for Chakuwama's primary school–aged children in Dar es Salaam's Kigamboni District, is underway. The site will initially house 32 kids, who will live in smaller "family unit" rooms instead of dormitories. The setup is a result of Pollins' research: For a psychology honors project at BU, she researched a common attachment disorder in orphans and found that family unit-style facilities are most conducive to building healthy attachment styles.
"That's really important to me," Pollins says of the setup, "and a cool way to use my psych research, too." She expects the build to wrap up this summer.
It's likely the last project she'll complete for Chakuwama before starting law school at DePaul University in the fall of 2023. It also took on a new urgency last month when a fire at the main orphanage destroyed several bedrooms. Fortunately, no one was hurt, Pollins says, but 25 kids lost almost all of their belongings, including their school uniforms. She's fundraising to buy replacement uniforms and fix the fire damage.
Pollins plans to study family law at DePaul. As a kid who grew up in—and had negative experiences with—the Department of Children and Families system in Connecticut, she's always been motivated by the need to advocate for children, she says. She plans to focus on child trafficking. "That's a super-marginalized population that really needs to be advocated for but can't do it themselves," she explains.
She'll never stop working with Chakawuma and Project Lots of Love, however.
"Everyone always asks me if I'm going to move to Tanzania and work for the nonprofit and orphanage full time—but that's not my career path, it's my passion," Pollins says. Since founding Project Lots of Love, she's visited Tanzania once or twice a year to check in on everyone and the orphanages. Going forward, she imagines going every other year.
As a white woman who operates a nonprofit in Africa, she's also keenly aware of the "white savior" complex that can accompany charitable efforts on the continent. Project Lots of Love could not be further from that brand of "volun-tourism," she stresses.
"These are my people, and you always want the best for your people," she says. "You're always going to want to help them, however you can. I have no interest in going to another orphanage, for example, and helping there—my kids aren't there.
"The kids that were 12, 13 when I first met them just graduated high school," she continues. "I've seen them grow, which is so awesome. And even now, when a kid has freshly arrived at the orphanage, we'll establish a great relationship right away because [I'm a part of the community]. There isn't this question of 'Who is this random white girl?' It's like, 'Oh, that's just Tess.'"
Learn more about Project Lots of Love and donate here.